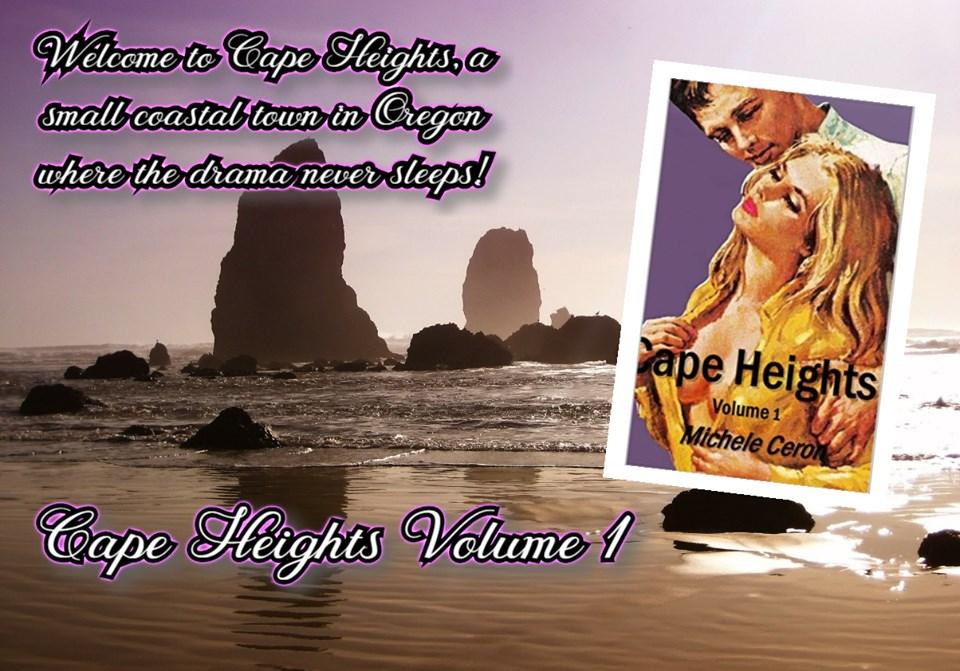 Michele Soap Writer
Members
Content Count

148

Joined

Last visited
About Michele Soap Writer
Professional flash photography hisses as the song Chapel of Love starts to play Going to the chapel and we're.......gonna get marrrrrried Flash to Charlie in a suit smiling as he puts cuff links on. Another flash of the camera goes off Going to the chapel and we're......gonna get marrrrrrrried Next we see Janet looking at herself in the mirror after she just finished putting her dress on with Marissa, Karen, and her mother Emma all standing around her. Another flash and pop of the camera

Hi everyone! Want a fresh new soap without all the censoring of daytime tv? Realistic dialog and intriguing characters and stories? Look no further than my original soap, Cape Heights, available on Kindle, Kindle Unlimited and in paperback! Volumes 1-5 are currently available and Volume 6 is almost finished! Volume 6 will include the very first Cape Heights wedding so get caught up on the first 5 volumes because the wedding will be a DOOZY! https://animoto.com/play/08cvEEBKxkpiJZNkiQ1Gjg?fbclid=IwAR2cd8r2lxgfBq86vKGAzlJbcOZ6vxBhgAMemDC6A3g4BWL2JuJTeSZtnCg https://www.amazon.com/Cap

yes lets stop all ways of life for a virus with an more than 99% recovery rate

I love how Ridge tells Brooke that they are "meant to be" and he "knew it from the first time he ever saw her" Oh really? How many times have the two of you broken up/divorced????? how many other women have you been with/married in between your many marriages with Brooke? If you were meant to be and you always knew it, why keep divorcing her?

What happened to Y&R???? I mean not that it was great before the shut down took them out of production, but you would think that when they did get to resume, they would have improved. Instead, it seems like its worse. It's even MORE boring! Not only that, but did they get a new hair stylist? Almost everyone has horrible hair. Nicki and Ashley both look like they are wearing wigs (maybe they are) and Victoria's hair right now looks like it hasnt been brushed in days. and the wardrobe is terrible, as well. Abby's garish bright mint green suit, Sharon's ugly bright blue drappy tank thing (wou

we already have the two dullest characters together: Mariah and Tessa LMAO A time jump would have been a great idea! They should have done that

I didnt watch the show during Cane and Lily so I dont know about that. I just feel like Billy and Lily actually have chemistry compared to most couples on the show right now who dont have much chemistry

you didnt see the Lily and Billy pairing coming? I saw that as soon as they started working together. I think they have chemistry so I'm looking forward to seeing it. I'm glad they didn't go far with him and Amanda. Yuck

Cape Heights Volume 5 was released at the end of the June! This volume is more of a love letter as more focus is put on the couples and the romantic stories rather than the drug cartel and other stories. With 2 major cliffhangers at the very end, you don't want to miss it! https://www.amazon.com/gp/product/B08BY2FRQ8/ref=dbs_a_def_rwt_hsch_vapi_tkin_p1_i1 The .99 sale on all volumes ended last weekend. Volumes 2 & 5 are now at the price of $1.99. The larger volumes of 1,3 & 4 are set at $2.99. Be on the lookout for more .99 sales in the future! I will probably d

oh damn I missed Malcolm and Olivia and Nick and Phyllis???!!!! Boo!

Hey I forgot to watch Y&R today and yesterday I was at work. Which classic weddings aired yesterday and today? I must admit, Danny and Cricket's wedding was terrible.

God Christine's wedding dress is hideous, even for the really early 90's. I totally forgot that Scott was her brother

today's episode........Shemar was at his yummiest! Good lord! And also during this period Neil was better looking. I think he looks better with a goat tee then a clean shaven face. I LOVED the brief romantic relationship between Neil and Victoria and I remember being PISSED that it didn't go anywhere grrrrrrr. The only person I liked Heather Thom with. Speaking of Victoria......loved seeing a classic episode with Amelia's refreshing face and portrayl rather than Heather's sour puss face

Wow, yea they dont even come close to Shemar. Especially Steve Burton who is ugly IMO

Today's episode took me right back to that day in 1994 when my eyes saw the most beautiful man in the world and I never looked away..........yum yum yum. Shemar is still beautiful even at like 50 something years old. I know. I think that every time Adam is on the screen. How is he Hope's son?