Just Paradise #4: Barbara Ryan Hath Arrived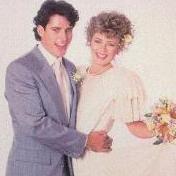 Entry posted by Days22 ·
687 views
Miranda Montgomery
is out getting coffee.
She is waiting in line to order.
Katsu Itami
is also there. He is sitting down doing something on his computer.
He takes a sip of coffee and notices Miranda.
He smirks as he stares towards her..
--
Billy
arrives at Brittanys
house.
She lets him in and hugs him.
BRITTANY: I'm glad you could make it!
BILLY: You forget I'm still new to town. I have absolutely nothing better to do.
BRITTANY: Well it just means that we can hang, like old times.
BILLY: Like really old times.
BRITTANY: Oh stop it. We're not that old.
Brittany's son Marcino
walks into the living room.
BRITTANY: Hi Baby. This is my very old friend Billy.
BILLY: Yes very. Hi Joshua. You're all grown up! It is nice to meet you.
MARCINO: Hello. Nice to meet you too, but please call me Marcino.
Billy and Marcino shake hands.
BILLY: Oh Yeah You want to be called that after your father. I like that.
--
At the police station:
Jesse
is with another cop.
COP: How is Natalia doing?
JESSE: She is still stable but still in intensive care.
COP: I wish that gang didn't get so bold.
JESSE: Me too. We need to clean up the streets here so much. I didn't realize when I moved here how bad it really is.
COP: It has been bad for a long time. I don't know how we'll clean it up.
JESSE: Ive made it my goal to figure out something.
--
IN ARIZONA:
Terrance
is there and is parked outside of a big house.
He calls Steve
.
TERRANCE: You wanted me to call before I did this?
STEVE: Yes. I just wanted to remind you, that you cannot let her on that Bo is in trouble. I do not want that out yet.
TERRANCE: I will do my best. It is hard not to act suspicious though.
STEVE: I know, but do your best.
They hang up.
Terrance walks to the house and rings the doorbell.
Someone answers the door.
TERRANCE: Hello, Are you Carly Manning?
Cut to Carly Manning
.
CARLY: I am. Is there a problem?
--
At the Ryan house:
Paul
and Emily
are in the middle of another argument.
EMILY: You do not even know what you are doing!
PAUL: I resent that. So much!
EMILY: You should be putting some of this loan away.
PAUL: The reason I got the loan in the first place was to start a business.
EMILY: But you have to be smart.
PAUL: I am Emily. I am already making connections.
EMILY: Business connections?
PAUL: Yes. Don't sound so surprised. I have been in business many times before.
EMILY: So have I, Paul and you are going about this all wrong.
PAUL: You are just upset that I am resurrecting my mothers company.
EMILY: Yes, I really don't know why you are doing that. You should be going into business for yourself and your family.
PAUL: That is a part of what I am doing.
EMILY: Well I do not like it.
Pauls mother Barbara Ryan
walks in!
BARBARA: You are just going to have to face it. This isn't about you, Emily!
https://www.youtube.com/watch?v=LnwwnaIcRSU
BRITTANY: Will you go get us some water Marcino?
MARCINO: Sure, mom.
He exits to the kitchen.
BILLY: I don't know, he sure is grown. You are very old like me.
BRITTANY: (Laughs) I refuse to believe it!
Marcino comes back with two water bottle for Brittany and Billy
BILLY: Thanks man
MARCINO: So how did you all meet?
BRITTANY: He and I and a bunch of friends went to school together.
BILLY: Yeah and your mom had her sights on me from day 1.
BRITTANY: Not funny Billy
BILLY: Well its true!
MARCINO: oh so you two use to date?
BRITTANY: Yeah, at one point.
The expression on Marcinos face changes.
--
At the coffee shop
Katsu approaches Miranda.
KATSU: Hi young lady I couldn't help but notice you
MIRANDA: (Caught off guard) Hi..
KATSU: You ever modeled?
MIRANDA: I have not.
KATSU: You really should.
MIRANDA: Well, thank you I guess.
KATSU: I may be able to help you do so..
Miranda is wary.
--
At the Ryan House
EMILY: Don't you knock Barbara?
BARBARA: I did. You probably couldn't hear it over all your hollering.
PAUL: Mom! I am glad you are here.
BARBARA: Hello son.
EMILY: You should warn me before she just drops in, Paul.
PAUL: I didn't know she was coming so soon.
BARBARA: I figured I would just…drop in. I know Emily hates surprises. I also can tell she is not happy BRO is coming back.
EMILY: Not quite. I just don't like that he took out a loan strictly for this even though we have been struggling.
BARBARA: Well you won't be struggling anymore. BRO will come back with a vengeance. Now if you want to take your negative attitude outside for some air I would love to talk to my son alone.
Emily gives both of them dirty looks.
EMILY: Whatever
She exits the room.
Barbara hugs Paul
BARBARA: So good to see you
--
Kayla and Steve are kissing it up on the couch
STEVE: Oh sweetness, you taste more sweet every day, you know that?
KAYLA: You may taste even better tough.
They do some more kissing before Kayla stops
STEVE: What's wrong?
KAYLA: I cant stop thinking about my new co workers step daughter?
STEVE: Did something happen?
KAYLA: Yeah she is a cop and she got shot in some kind of gang shooting yesterday.
STEVE: Shot in the line of duty. How awful.
KAYLA: It is and she is not in good shape right now though I am hoping she will pull out of it…all this has just made me worried about you.
STEVE: No reason to worry about me.
KAYLA: I really hope you are doing less for the ISA. You cannot do this kind of dangerous work forever.
STEVE: I swear I am almost retired. Soon enough Kayla.
KAYLA: I just don't want to lose you again
Their 6 year old son Joey walks in
JOEY: Is something wrong with daddy?
--
In Arizona:
Carly and Terrance are sitting down.
CARLY: This is about Bo?
TERRANCE: Yes.
CARLY: Is something wrong?
TERRANCE: No. I am just checking on how his investigating in Europe went. Just grading him for the higher ups.
CARLY: I think Bo of all people does his job well.
TERRANCE: This is probably true…but I need to know if you saw him in Europe while you were there.
CARLY: I did. Just one day. We had coffee.
TERRANCE: Did he divulge any information on his investigation?
CARLY: You're lying. Something is wrong isn't it?
--
Marcino watches from the other room as Billy and his mom are giggling and having a good time.
BRITTANY: It is going to be so nice having you in town.
BILLY: I am just so glad there is a familiar face here. My move here may have been fate.
Marcino is not happy about all of this.
He goes and picks up a picture of his mom and his dad, Bobby and sighs
--
At the coffee shop
MIRANDA: I don't think I would make a good model, sir
KATSU: I think that's blasphemy.
MIRANDA: I would not know how to pose and all of that
KATSU: Could easily be taught. Well My name is Katsu Itami. If you ever want a job. Look me up online. I'm easy to find.
Katsu goes back to his seat.
Miranda takes her coffee and exits but look back at Katsu before she does. He winks at her..
--
Emily hears Paul and Barbara giddy about BRO being reopened. She rolls her eyes and exits the house.
BARBARA: I am so thankful and happy you are doing this for me Paul!
PAUL: I am doing this for myself too. I really do need a source of income.
BARBARA: Well it seems like you managed to get a large loan.
PAUL: Not large enough, mom.
BARBARA: We will be successful. Don't worry son.
PAUL: I just wonder how my brother…slash…step father, Henry is going to feel about all this?
Barbara looks on with a half smile
--
Jesse is out in an undercover car
JESSE: Had to bust out this undercover car. I am going to find every gang member out on these streets and document them if it is the last thing I do.
He spots some younger males all dressed in similar colors.
He takes some pictures of all of them.
JESSE: Most of them are just kids. They do not know what they are getting into.
He drives off.
Meanwhile, a different group of young males are walking down a nearby alley.
Vin
, Greg
and
Chavo
.
CHAVO: You are the boss Vin. Just let us know what you want to do.
GREG: But please it needs to be smart.A full proof plan.
VIN: Our robbery will be full proof.
--
Back in Arizona
TERRANCE: Bo is okay. I am telling you the truth.
CARLY: I sure hope so.
TERRANCE: I do need to know what you two talked about.
CARLY: How do I even know you are who you say you are?
TERRANCE: I already showed you my badge. You can call his brother Roman or his friends Steve and Shane if you want.
CARLY: I find this all highly suspicious, but all I know anyway is Bo was on some mission. It involved the Dimeras. It almost always does.
TERRANCE: Good to see Bo followed protocol and didn't tell you too much.
Terrance gets up.
TERRANCE: Well I won't bother you any longer. Bo truly is fine though.
CARLY: Better be telling me the truth or I will track you down!
TERRANCE: Thank you for your time.
He exits and walks to his car.
TERRANCE: Oh man, almost blew that.
--
Steve hugs little Joey
STEVE: I am one hundred percent fine kiddo.
JOEY: Good daddy.
KAYLA: And I am sure he will stay that way
Kayla gives Steve a look.
JOEY: Can I have a sandwich?
KAYLA: Sure Ill go make you one.
The two exit the room.
Steve makes a phone call to Shane.
STEVE: Is there any progress on finding Bo's last documentations? I know he was keeping track of what he was doing….we have to find it. We find them and we find out why Bo came here…yes….find a way, Shane.
He hangs up in a huff.
STEVE: You just have to hang on wherever you are, dude. We will find you, Bo.
FADE OUT
CREDITS ROLL
*I do not own any non original character nor any pictures.