Episode#207
Greta, with Jan walking right behind her, walks inside of Salem Airport
Greta
"I'm not a child. You didn't have to escort me down to the airport."
Jan
"Just shut the hell up and get on that plane. I wanted to make sure you pulled no last minute surprises."
Greta
"Like what? Telling Steve he's my father?"
Jan
"No, more like keeping yourself in Salem. Your not wanted here. No one likes you. "
Greta
"Jan please, you don't have nothing to do with this. This is between me and Nicole."
Jan
"I don't have time for chit chat. Get on the plane now." Greta turns her passport in and begins to board the plane Greta looks back at Jan.
Greta
"You know one day I will be back. I have unfinished business here in Salem, And you will be sorry you helped Nicole."
Jan
"Bye Bitch, love ya" Greta shakes her head at Jan and boards the plane, heading out of Salem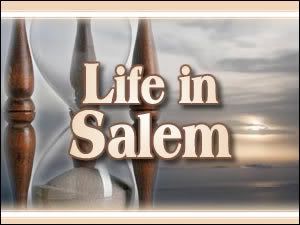 Episode: 207, Goodbye Greta!
Executive Producer: Tara Smith with ML C
Written by: ML C
Story Editor: Tara Smith
University Hospital
Bo is sitting next to his fancy face as she looks at him
Hope
"What happened? How did I end up here?"
Bo
"You really don't know?"
Hope
"No I don't. Am I hurt? I don't feel any pain anywhere"
Bo
"Nicole Walker found you past out on the pier"
Hope, confused
"Passed out?"
Bo
"Yes fancy face. Sloppy drunk."
Upon Bo saying that, Hope has a flashback of drinking her bottle of Gin down at the pier
Bo
"You were missing all day Hope. I was worried about you. I tried looking for you, I put an APB out on you. I was going crazy, I thought something happened to you. And the whole time you were getting drunk. What in the hell made you drink?"
Hope has flashes of her son Shawn dying, her grandmother Alice dying and the fact she Killed Gina. Hope decides to keep all this drama to herself.
Hope
"Bo I really don't know. I just needed to ease my mind. This has been a tough year for me."
Bo
"It's been tough for all of us. Look I'm going to check on the twins." Bo leaves the room wondering if Hope is really alright. Hope thinks to herself "I can't believe I got that drunk" As she says that Julie walks into her room
Hope
"Don't even say it."
Chez Rouge
Nicole is sitting at the Bar sipping on some white wine. She looks at her watch. Then Jan walks up to her.
Nicole
"Damn! It's about time. Is swamp thing gone?"
Jan
"Yes. I made sure she left Salem."
Nicole
"Good."
Jan
"Listen Nicole. I'm not going to be doing these kinds of things for you anymore. I am having a baby soon and I cannot be put under all this stress form your commands and devious plots."
Nicole
"Bye Jan, your getting on my nerves. You'll do what I say and when I say it. Now have a good Holiday." Jan rolls her eyes at Nicole and turns around to try and leave but only bumps into Lucas.
Back at the Hospital
Julie
"What am I going to say Hope?"
Hope
"You and I both know"
Julie
"You're right. What would Doug say about this? You drinking until you pass out. Hope this is not like you. You have to seek help. You have to much bottled up inside. Alice, Shawn, Gina."
Hope
"NO! Don't say her name. I don't want to hear it."
Julie
"You have to face the music one day. I hope it won't be too late. You need to tell Bo you killed Gina."
Hope
"Never. It was a mistake. I have two twins to take care of. I've lost so much already I will not lose my family too. S Bo can never know the truth and Julie you have to promise never to tell him."
Julie
"Never? You killed a woman. BO has to know."
Hope
"I'll tell him, when I'm ready."
Chez Rouge
Jan
"I'm so sorry."
Lucas
"No I'm sorry. I really wasn't paying attention to where I was going."
Billie( who was with Lucas)
"I'm going to get us a table. Nice to see you Jan"
Jan
"Likewise."
Lucas
"I'm almost glad I ran into you actually/"
Jan, smiles
"Really?"
Lucas
"Yes I am. Tomorrow is Christmas and it's going to be a really sad day for me without Kate."
Jan
"Oh I know. I am so sorry for your loss."
Lucas
"Thank you. Billie and I weren't going to celebrate Christmas this year. But I was wondering, how would you like to go on a date tomorrow?"
Jan
"On Christmas?"
Lucas
"Sure. It'll be different. And I won't be depressed all day thinking of my mother. You'd be helping ,me out."
Jan
"Sure, I would love too"
Forrest Alamain walks into Chez Rouge and places an order for pick up. He turns around and gazes into the crowd. Billie Reed catches his eye and he walks over to her.
Forrest
"Hello Billie"
Billie
"Hey there yourself Forrest. It's a surprise seeing you here."
Forrest
"Why do you say that?"
Billie
"With all those maids and cooks at the Alamain Mansion, I just thought there would be no need to for you to be here picking up food. Unless you have a date."
Forrest
"Will you be my date?"
Billie, blushing
"You're not serious are you?"
Forrest
"Of course I am. Be my date tomorrow for the Alamain Christmas gathering."
Billie
"I didn't know the Alamain's celebrated Christmas."
Forrest
"There is a lot you don't know about us Alamains."
Billie
"I bet. Sure I'll be your date."
Forrest
"Great I'll have my car pick you up then." He kisses her on the cheek and leaves. She walks over to Lucas and they both discuss how they both scored dates tomorrow for Christmas. Billie tells Lucas this could be good. It will take there mind off there dead mother.
Meanwhile, back at University Hospital
Security and staff are running on a skeleton crew beings it's the holidays. This is perfect for two mysterious figures entering into Stefano's room. The figures look at Stefano and let's the sounds of the machines beeping hit there ears. One of the mysterious figures speaks out loud
"Far too long, you played with peoples lives. Now it's time to turn the tables around on the Great Stefano DiMera………"