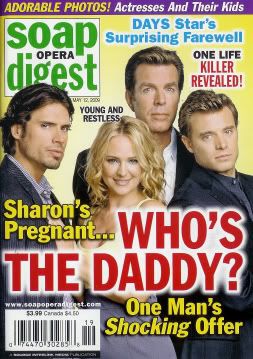 LATE-BREAKING NEWS
GH's Emma Samms Returns
Melvin on DAYS Exit
OLTL Serial Killer Revealed!
ATWT: Brad and Katie Learn the Truth
B&B's Bridget Goes After Owen
Krystal's Secret is Out on AMC!
GL's Shayne: "I'm the Daddy?"
DAYS's Dr. Baker: Dead?
In Defense of Ghange By Susan Flannery (she does a piece on Guiding Light)
CASTING NOTES
SOD is finally joing the internet bandwagon on this and saying, C. Stause (Amanda) is leaving AMC this summer (not a casting note, it's "stuff we know...". Amanda Baker (ex-Babe) will shoot a few scenes on AMC. They'll air in late May or early June. Jon Prescott (cutie) is up for a role on DAYS, character will turn out to be a Horton. Kristina and Morgan will be aged on GH.
HOT PLOTS PREVIEW!
AMC: Jake Declares His Love
OLTL: Rex Makes a Bold Move
DOOL: Philip Proposes to Stephanie
GL: Frank and Olivia Face Off
EDITORS' CHOICE:
The Discomfort Zone, OLTL
Performer of the Week:
Susan Lucci, AMC [the road-side breakdown]