Posted by
Y&Rbiggestfan
in
The Bold & The Beautiful
, 26 March 2015 -
· 21 views
EPISODE #66
Created By: William J. and Lee Phillip Bell
Written By: Casey Hutchison
Executive Producer: ML Cooks
--------------------------------------------------------------------------------------------------------------------------------------------------------------------------------------------------------------------
INT. CHANGING ROOM - AFTERNOON
Steffy is in her room, still not ready. She is contemplating.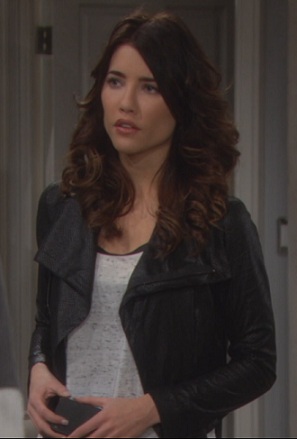 STEFFY:
I need to read this letter. Or should I? Then again, my mother is not going to be here. And this letter was her words to me. I don't know what she is talking about in this letter. But, I have always been the curious type.
She opens the envelope.
---
INT. CATERWAY TRAVEL AGENCY - AFTERNOON
Massimo is working in his office. Jennifer knocks on the door.
MASSIMO:
Jennifer.
JENNIFER:Hello Massimo.
MASSIMO:What are you doing here?
JENNIFER:We need to talk, this instant.
MASSIMO:Are you okay?
JENNIFER:You think I am okay?
MASSIMO:What's wrong?
JENNIFER:What's wrong? The only thing wrong in this world is that I do not know who my son is. Listen to me, I am done playing the games. I am done going around and around and AROUND in circles. You are going to tell me who my son is. Right now!
---
---
INT. L.A. SACRED CHURCH - AFTERNOON
Jason walks into the church. He stands in the middle of the isle. He looks up at the cross. He then flashes back to episode #59:
INT. MELINDA AND CARRIE'S HOME - AFTERNOON
Jason:
Were not going to do this again.
Melinda:
We might have to. If we get trapped like before.
Jason:
Dammit mom! I'm not doing this again, so you can ruin my life! I won't let you be a tramp again!
Melinda slaps Jason.
Melinda:
You watch your mouth when you are talking to me! Do you understand? Now, like I said before. If we get trapped, I will repeat the events, that I did with your first fiancée.
The flashback ends. 
Jason:Hiding my past from Steffy sucks.
Thorne enters.
THORNE:Hi.
JASON:Oh, Mr. Forrester.
THORNE:You know that you can start calling me Thorne. I am apart of Steffy's family.
JASON:I know. So, what brings you by this early?
THORNE:I wanted to talk to you since Thorne is not here.
JASON:About what?
THORNE:You respecting Steffy.---
INT. CHANGING ROOM - AFTERNOON
Steffy sits down.
STEFFY:Here we go.
She flips the letter open.
TAYLOR (V.O.):Dear Steffy, I miss you so much already sweetheart. Life just is not the same without seeing you each and every day. It pains me that I can not be there on your special day. I know that Jason is a good man, and that you will be happy for a long time. I want to tell you that I am so very sorry. I am sorry that I did what I did to you. I went along with the woman who faked your death. That pains me so much now. But, you do not have to worry about her now. She is gone. DEAD! I just want to tell you that I will always be in your life, no matter how many bars get in our way. I will try my hardest to bypass these charges, but it does not seem likely. I do love you honey, I always will. Please remember to look after Thomas for me. He needs you right now. You both need one another. Just because you two are adults doesn't meant the caring stops. I love you honey. Good luck to you and Jason. Piece be with you.
Steffy begins to cry as she curls up in a chair. Nick enters and goes to Steffy.
---
INT. CARTERWAY TRAVEL AGENCY - AFTERNOON
Massimo sits back down in his chair.
MASSIMO:You want to know who your son is.
JENNIFER:I knew you were going to make me jump through hoops, once again.
MASSIMO:That is because I LOVE the sport of it.
JENNIFER:I know you do. Just tell me. What do I have to do? Do you want me to get on my hands and knees!
MASSIMO:I wouldn't mind that.
JENNIFER:(Sighs)
Massimo unlocks a compartment in his desk.
JENNIFER:What are you doing?
He stands with a box.
MASSIMO:This box contains everything about your son.
---
INT. HOSPITAL ROOM - AFTERNOON
Dr. Broadkent walks out.
BROOKE:Thank you Doctor. Hi honey. You look exceptionally beautiful. Would you like me to get you a mirror? I could let you see that beautiful face of your's. Trust me, you really do look exceptionally beautiful.
HOPE:I would love to look at myself.
BROOKE:Okay.
Brooke gets Hope a mirror.
BROOKE: Here you are.
HOPE:Thanks mom.
She looks in the mirror.
ANNOUNCER:The role of Hope Logan is now being played by Brooke Newton.
The camera pans over to the windows. We see Deacon.
------