Posted by
Y&Rbiggestfan
in
Days of Our Lives
, 27 March 2015 -
· 40 views
EPISODE #3
Created By: Ted and Betty Corday
Written By: Casey Hutchison
INT. SALEM POLICE STATION - NIGHT
Roman walks up to Abe.
ABE:
Hello Roman. It is good to see you. What's up?
ROMAN:
Hi Abe, it is good to see you as well. But, we need to talk about something important.
ABE:
What is that?
ROMAN:
E.J. DiMera's death.
ABE:
What about it?
ROMAN:I got a clue about it. A clue we need to search and lead.
---
INT. KAYLA'S OFFICE - NIGHT
Julie and Kayla sit down.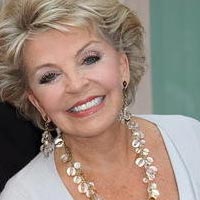 JULIE:
I am absolutely in love with your new office.
KAYLA:
You know..., I am too. So, you said you wanted to talk about the past. Where do you want to start? We can start anywhere. And by anywhere I really do mean anywhere. We can even start at Doug, if you would like.
JULIE:
I was actually hoping we could start at Patch.
KAYLA:
Excuse me?
---
--- 
EXT. SALEM PARK - NIGHT
Adrienne bumps into Justin.
ADRIENNE:Sorry Justin.
JUSTIN:That's okay Adrienne. It seemed like you were in a hurry.
ADRIENNE:Actually, I was in a hurry to see you.
JUSTIN:Why?
ADRIENNE:We need to talk about Elsa. 
---
INT. CLUB T.B.D. - NIGHT
Abigail grabs her coffee. As she turns around she bumps into Chad.
CHAD:You might want to watch where you are going.
ABIGAIL:Chad, I could have spilled this on you, and it still wouldn't match up to the fires of hell you feel every day. Anyways, nice talking to you. I guess I will see you around. As usual. Well, I have to go to the hospital. Some of us work for our money.
CHAD:Abigail wait.
ABIGAIL:What do you want?---
INT. KAYLA'S OFFICE - NIGHT
Julie crosses her legs, and sets her purse on the side of her chair.
KAYLA:You want to talk about Patch?
JULIE:Yes.
KAYLA:Why is that?
JULIE:Well, we were talking about love between Doug and I.
KAYLA:You think I still love him?
JULIE:Kayla you will always love Steve. No matter if he is in the ISA or not.
KAYLA:I will have good feelings about Patch, but this whole love thing is far out.
JULIE:Really?
KAYLA:Yes.
JULIE:Even with all the history?
KAYLA:Even with all that history.
JULIE:How about we take a walk down memory lane.
KAYLA:If it makes you happy then fine.
JULIE:(Laughs) Oh good!
JULIE:Now do you think that you and Patch will always love one another?
KAYLA:You make a good point.---
EXT. SALEM PARK - NIGHT
Adrienne sits.
JUSTIN:What do you want to talk about concerning Elsa this time?
ADRIENNE:You act like this is a problem that will just go away.
JUSTIN:Oh really?
ADRIENNE:Yes you are. Every time I want to talk about her, (sighs) you avoid the subject. You avoid it like I should just get over it, as well. I am here to tell you that is not fair to me Justin. It is not even fair to Sonny. Our poor Sonny.
JUSTIN:What does he have to do with this?
ADRIENNE:Because, you avoided him for so long when he was in the hospital.
JUSTIN:Why do you have to bring that up?
ADRIENNE:Why?
Adrienne stands.ADRIENNE:Why?! Why?!
Adrienne slaps Justin.
ADRIENNE:Why did you have to sleep with another woman?!---
INT. CLUB T.B.D. - NIGHT
Abigail sits with Chad, at a table.
ABIGAIL:What do you need to talk about? And make this quick.CHAD:Have you heard from Jordan?
Abigail stands. Chad stands in a hurry.
ABIGAIL:I have.
CHAD:Has she asked about me?
Then Abigail's pager beeps. She looks at it.
ABIGAIL:I have to go.
BUT BEFORE SHE WALKS OFF...
CHAD:What's the answer?
ABIGAIL:No.
Abigail walks off.
CHAD:(Sighs) You don't have it good with the ladies Chad.---
EXT. BRADY PUB - NIGHT
Kate is about to walk in, when her phone rings.
KATE:(Sighs) Who could this be.
She looks at her phone.
KATE:Unknown number.
She answers.
KATE:This is Kate Roberts. Who is this?
STEFANO:It's me Katherine. Your BFF Stefano, as the kids say.
KATE:What do you want?
STEFANO:I'm coming back to Salem. I thought you would like to be the first to know.
KATE:What about the taxes?
STEFANO:I won't be in Salem long enough for the police to catch me.
KATE:Oh really?
STEFANO:That's right. Seya soon sweet cheeks.
------