Changing of the Guard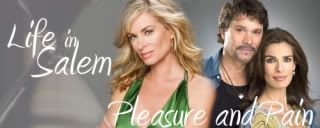 Early this year, LIS show runner, Tara Smith, told readers that "Life in Salem "was coming back to the airwaves after being on hiatus for over a year. Her writing partner ML Cooks rejoined her on the writing team. Since returning, Tara has been unable to devote the time that is needed to run LIS.
ML has created a very good long-term story document for LIS and he will continue LIS. These stories are simply to good to be wasted. ML Cooks will serve as showruuner for LIS for the foreseeable future. Tara is leaving her role as Headwriter and Executive Producer but will remain in a consulting capacity.
LIS will be launching in a few weeks. There has been a lot of confusion as to what is really going and ML promises to clear the air in coming days.
Stay tuned for previews, announcements and other clarifications.