Episode#275: Elvis's Next Move
---
Kendall OR Greenlee...

50 members have voted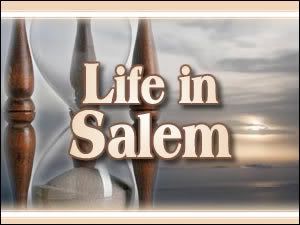 Episode#275: Elvis's Next Move
-Down in the Secret Room beneath the Spears Mansion, Jan and Nicole continue to try to withstand living together. Jan paces and says that they have to get out of here soon, because she's engaged and Lucas is going to wonder what happened to her. Nicole just brushes it off, and Jan angrily tells her to listen, and that she is going to get out of here no matter what it takes!
-Sami rushes into her room at the Salem Inn, and she says this is perfect, she'll be able to clear her name!
-At the DiMera Mansion, Megan is still thinking about how she will get Bo all for herself, and Peter comes out and asks where everyone is, and Megan says "Oh not another one", and tells Peter that everyone's just busy. She says that once they get back though, they are gonna have a bombshell, especially for him.
-On the side of the road, Kristen is still angry over their car breaking down, and Renee tells her it will all be fine. Elvis is still on the phone, and he says that they have to get it down there FAST, and there isn't much time!
*Life in Salem Opening: http://www.youtube.com/watch?v=eo2A7rZhZGA *
-Dorian is sitting in a luxury, deluxe room at the Salem Hotel. She drinks some wine and says that Victor's life is about to get a whole lot worse….
-At the Kiriakis Mansion, the mysterious figure who was there earlier sneaks in, and sits down in the living room…
-Nicole tells her that they tried that already, Jan can't just bust down the doors. Jan says that she doesn't care, she has to get back to Lucas, her son, and make Greta pay! Nicole groans as Jan continues to try to find a way out of the room, but is continuously unsuccessful, and Nicole tells Jan she told her so.
-Sami takes out her phone and dials a number, but after a minute, she curses and says she couldn't get ahold of her. She runs out of her room and bangs on another door, and yells for Nicole to open up! After a few minutes of constant knocking, she walks up to the front desk in the Salem Inn, and asks the secretary if Nicole Walker is still staying here….and the secretary responds that as far as she knows, Nicole is still in the hospital after being shot. Sami mutters:
Sami:Of course…thanks!
Sami again runs off, thinking to herself that Nicole is her last hope…for once…
-Peter asks Megan what she means, but Megan just smiles and says he'll see, and she walks off…
-Elvis just tells the person on the phone to "get it done", as Lexie watches and raises an eyebrow. Elvis hangs up his phone and Lexie approaches him and asks him who he was talking to, but Elvis makes a quick excuse and just says he was talking to the towing company, and he walks off.
-Dorian says that she couldn't just let Victor sit around living a peaceful life…and now that she's in Salem, its time for some payback….
-On the side of the road, Elvis walks away from Lexie and says to himself he hopes his father forgives him for what he's set in motion…