FTL IS DOING A CROSS OVER!
Detective Remy Boudreau (Lawrence Saint Victor) will exit at the end of this year and head over to the town of Pasadena. You can see Remy on the hott blog S.T.E.A.M!!!

Be sure to follow Remy over to the blog and see what steamy adventures he has.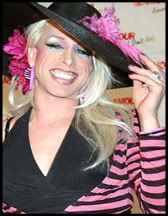 Also coming over from S.T.E.A.M is the character Rufus played by the lovely Alexis Arquette. Rufus is a character like no other in Springfield history! Expect to see Rufus arrive shortly after Remy's exit.
S.T.E.A.M