Kendall OR Greenlee...

51 members have voted
Starting Today, on Life in Salem...
A new era begins...
With the first episode written by new LIS Co-Executive Producer/Head Writer Jay hits the airwaves!
Tune in and see what unravels underneath him today on LIS!!!!!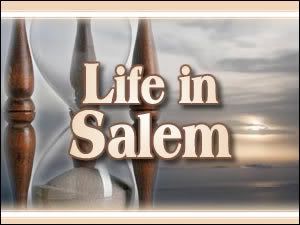 Episode #154
-Clint and Viki are sitting at the Pub when Victor walks in. Viki spots him at the door and Clint ask what she's looking at and directs him toward Victor. Clint rolls his eyes
-Sami goes to see Marlena to let her know about the situation with Helena. Marlena is furious at what Sami tells her. Marlena is going on about this commenting that "I am your mother, Sami, and I will always protect my child". Sami remarks, "that's the thing mom, Helena was only protecting hers, in her own way I guess." Marlena looks puzzled. "EJ is Helena's son", Sami tells her. Marlena looks shocked!
-The screen sub-titles "Port Charles, New York", and we see a young man talking on the phone. He hangs up the phone and says, "Salem, here I come"
*Life in Salem Opening*
-Victor comes over to the table and says "Viki, I am so glad to see you again, how are you feeling?" "She's fine!" snaps Clint. "Viki and I were just talking about going back to Llanview." Viki looks as Clint as to say "no we haven't!" Viki begins to speak and Clint tells her not to talk, to let him do all the talking. " I don't know you, and I don't know what you think you had with my ex- wife, but whatever it was, it's best you leave it in the past"
-Marlena says "I knew it!" Marlena reminds Sami about when Stefano held her captive. Marlena begins to explain to Sami some of what she remembers.
"Stefano was talking about this woman, Helena." Marlena says, and suddenly slowly remembers something Stefano said years ago
She flashes back to her captivity on the island and she remembers Stefano having a breakdown. Stefano was throwing glasses and screaming, holding a picture of Helena " my two Lena's, Marlena and Helena… Where the hell is Helena?? I don't know, but Marlena, my other lovely Lena is here with me and she is going nowhere. She is all I have left, I won't lose her as I have lost Helena….". Marlena tells Sami about the flashback and Sami says "I wonder what this woman did to Stefano"
-The same man in black that we saw on the phone boards a plane.
-EJ is walking when he is grabbed. One of Stefano's men takes him to Stefano's lair where The Count himself is waiting for him. He tells EJ that they have to talk.
-Viki apologizes to Victor for Clint's words. Victor says it is alright. He tells Viki that he wishes he could remember something about their past. Clint, not feeling the situation remarks "oh lord", and Victor says "Lord, I remember…..Dorian Lord" Viki almost faints.
-Marlena says they have to find Stefano NOW. As she sits and thinks for a moment suddenly she says she knows where he might be! She and Sami are off to Stefano's lair. Marlena tells Sami that they will let her in and not to worry, no one will harm them because of who she is.
-Helena arrives at Stefano's lair. She knocks out a guard and enters the room when Stefano and EJ are talking and say's "Hello, my men…" Both DiMera's stare at her in shock.
-Marlena and Sami walk in on the awkward moment between the "family". Marlena exclaims when seeing Helena "You!" to Helena. Helena looks at Sami and screams "YOU!" to Sami. Suddenly a voice is heard saying "Me!" coming from a familiar man's voice, and the screen pans to him, who turns out to be Nikolas Cassadine…