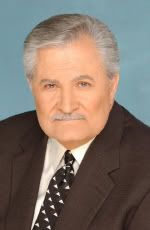 ANOTHER CUT HAS STRIKED LIS...JOHN ANISTON FIRED!
As fans have probably already noticed over the past couple of weeks, John Aniston(Victor) has exited "Life in Salem". He exited after his character was killed by his former henchwoman Suga, and after a heartbreaking reunion in the hospital with his love Celeste...but he didn't die before he married Vivian Alamain one last time! Aniston isn't the first cut from LIS...in the past three months, many vets AND newcomers have been axed in the form of Stephen Nichols, Mary Beth Evans, Philece Sampler, Brent Weber, Charles Shaughnessy, Patsy Pease, Kristina Wagner, Dan Gauthier, Julie Pinson, Julianne Morris, Janet Zarish, Sarah Buxton, Ben Masters, Thaao Penghlis, and LeAnn Hunley(though Penghlis pops up as Andre DiMera from time to time). And even in the months before that, Deidre Hall, Jason Brooks, and Joe Mascolo were all fired.
"This past year has been a whirlwhind for LIS...alot of upheaval...but in the end, I think its for the best for the show, and some of those people could be back someday. As for Victor, I've loved writing for him for three years...but in the end, I think that there wasn't much left to be done with him...and more importantly, I felt that his death would send alot more possibilities for MANY MANY characters in the LIS cast...because alot of them were connected to Victor in some way, and his death is a way to start off new stories...but I will miss writing for Victor...he was a huge presence on LIS, always." Tara Smith said
Also, Robin Strasser(Dorian Lord) is out as well. She exited shortly after Victor's funeral, when she left Salem to head back to Llanview. "I really enjoyed having Dorian on LIS...she played a big role in some stories...and she wrapped up that OLTL crossover that started three years ago...but it was simply her time to go." Tara said
Both have already last aired, HOWEVER, there are fast growing rumors that while a few more minor cuts may be on the way, we'll be seeing some returns over the next couple months....but the show issued no comment.However, there was one return on the four-hundreth episode: Farah Fath has reprised her role of Mimi Lockhart! Fath used to be a contract player on the soap until late 2006, when Jan and Cassie framed her for pushing Cassie out a window, and she was carted off to prison...but now Alexis has searched her out, and could Jan and Cassie FINALLY be exposed?!