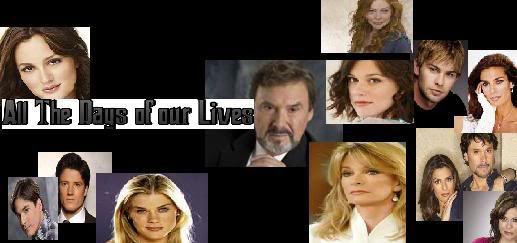 Announcer: On All the Days of Our Lives, February...
Clip of Bo, Hope, Gina, Marleana, Roman, Frank, Stefano, Adrianna, Sami, Lucas, Chelsea, Stephanie, Max and Nick.
Announcer: Becomes deadly!
Clips of Chelsea on an operating table, near death; Lucas hanging onto a ledge for dear life; Marleana holding a gun at Stefano; Hope hitting Dr. Rolf on the head with a tray; Gina holding a gun at Bo; Adrianna being pushed in the water; and a person in a dark room yelling for help.
Announcer: And the death that will rock Salem!
Clip of somebody falling out of a helicopter, and yells are heard.
Announcer: Plus a return!
A person is in a dark room, yelling for help.
Announcer: And all this!
Clip of Nicole Walker kissing Eric; Stefano waking up; Adrianna repeadly shooting at someone; Roman kissing Isabella; and Gina and Hope starring at each other in a room.
Announcer: All this and more on All the Days of Our Lives, only on SONBC!