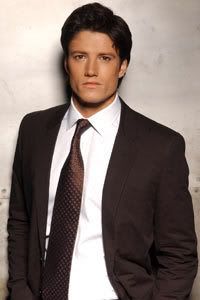 CUTS GALORE ON LIS! JAMES SCOTT OUT!!!! AND OTHER CHARACTERS PUT ON RECURRING/BACKBURNED!
During the past few weeks as The War ended and the aftermath settles down, LIS can now report that huge cuts have been made to the cast. First of all, gone completely is James Scott(EJ Wells Cassadine DiMera). His contract with the show expired and was not picked up, and EJ, a major character on LIS and one of the main characters in The War, was killed off in the finale of The War.
"It was a blast writing for EJ," EP/HW Tara Smith says "But, I knew from the start he wouldn't stick around forever. I made him the lovechild of infamous villians Stefano DiMera and Helena Cassadine, and also explored his relationship with Sami. As readers know shortly before his death EJ and Sami gave into their love and made love, and also became officially a couple, but EJ was shot in a struggle on the island with Sami's uncle Steve. His death has already had a huge impact on Sami and will for some time, as he was the best man she had entered a relationship with. But also the impact it will have on Steve and Kayla is immense and sets up a new story for them in the coming months triggered by EJ's death."
But how will Helena feel when she finds out Steve Johnson killed her favorite, and last, son? "Let me just say that she will have alot in store for Steve and Kayla."
Also expect many actors and actresses to take an extended vacation from LIS, although a few will be gone permanantly. "We have shown many of these characters heavily, and now it is time to give them a break to give time for us to focus on other characters. Roman(Drake Hogestyn) has already been rendered catatonic while Stefano(Joseph Mascolo) is in a coma, herefore shoving them out for a time. Stefano will be playing a huge role still, but he won't be up and about. Meanwhile Charles Shaugnessy's short term run with the show is ending shortly when he returns to Europe to lead the ISA, but Kim(Patsy Pease) shall go with him, because her role on LIS has ended for now."
Mary Beth Evans(Kayla Brady Johnson) and Stephen Nichols(Steve Johnson) shall take a hiatus from LIS soon, along with recurring player Shayna Rose(Stephanie Johnson), but shall return in upcoming months with a HUGE story triggered by EJ's death as mentioned above. "Their hiatus shall set it all up, but when they return their new story shall take full course. It will be huge."
Helena Cassadine(Constance Towers) has vanished after The War ended, and will not be back anytime soon. "She is on recurring, and in months she shall have a role on LIS once again, just perhaps not as big as her role in The War was. We don't want to cut Helena fully, but we showed her alot during The War and now its time for a break." Constance Towers has been placed back on recurring as she was before The War.
Expect more cuts to be announced soon, but also expect for some MAJOR returns. Especially Horton and DiMera returns. In other casting news, Eileen Davidson has returned from her several month hiatus as Kristen DiMera. "Kristen shall grow into a huge character on LIS in time, we just had to get The War done and her pay for the crimes she committed earlier this year." Tara said