Kendall OR Greenlee...

51 members have voted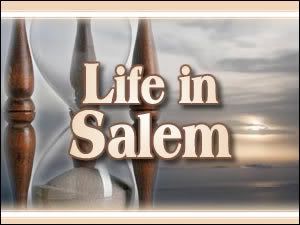 Written by: Jay
Episode#157
- A little later, Nikolas shows up at the hospital again. He sees Sami who greets him and asks him if he's there to see his Grandmother. Nikolas replies, "Actually I'm not"
-Helena is in her room looking around. She sees the guard assigned to her room reading a magazine. She stares at the guard, at his gun, at his nightstick and she quietly says to herself "It shall go down!"
-Steve and Kayla are at the pub. Viki and Clint come in. Arguing Viki tells Clint, "I HAD D.I.D" and Kayla listens. She tells Steve about DID and he says "I couldn't imagine having someone look just like me and I didn't know it."
-EJ is in his room staring at the wall when the door opens and Nikolas comes in. "Hello cousin", he says.
*Life in Salem Opening*
-EJ looks at Nikolas and says "Who the hell are you in the first place?" "Your Cousin", Nik says. I'm Nikolas Cassadine. I know Helena is your mother." "Don't you dare speak about my mother! she's dead". EJ says angrily assuming Helena died In the explosion " No she isn't." comments Nikolas.
-Viki and Clint are sitting in the pub. "What they looking at?" says Clint, looking over at Steve and Kayla. "Nonsense, Clint. What has gotten into you? You were very rude to Victor Kiriakis earlier, twice in fact." Viki tells him "Look, Viki, I don't want to be reminded of Nikki Smith, or Tommy, or Jean Randolph for that matter. I'd rather just go back to Llanview. Let your past stay in the past, Victor Kiriaskis and all!"
-Helena starts to scream. The guard says "ohh no lady, your not tricking me, your not going for my stick or my gun." She says" I am in pain….please help. Me" He takes off his gun and stick to prevent Helena from ambushing him and he bends over to help her and Helena gets his pressure point and knocks him out. She says "now, to get into these clothes.
-Sami goes in to the lobby. She calls Marlena, and updates her on the situation. Marlena tells her that she is coming to the hospital. Kate comes in to the hospital. "Sami, WHAT THE HELL?!" Kate screams when she sees Sami, thinking she died at the docks. "A whole lot happened, Kate. Sit down and I'll tell you." Sami says with a fake smile, playing it cool for now
-Nik tells EJ that he found Helena's journal about her plans to go to Salem, and in which she reveals that she has a son. "My father saw this woman and didn't tell me that she was my mother…I had to find out for myself. I have vague memories of her but nothing else until I met her." EJ explains, gritting his teeth in anger
"I'm sorry about that, but we have business to handle. Your father had made my Grandmother's life a living hell. I never knew about that until now." Nikolas tells him
EJ says after thinking for a moment "Wait one damn minute, your grandmother, my mother, must have been the problem if father never told her she was my mother…" The two exchange looks.
-The guard comes out of Helena's room and heads toward the elevator. "Is everything ok in there?" The doctor asks. The guard tips his hat and leaves. When in the elevator it is revealed to be HELENA! Helena takes off her hat with a small maniacal chuckle, and says "Stefano, I'm coming."