Downtown Pasadena,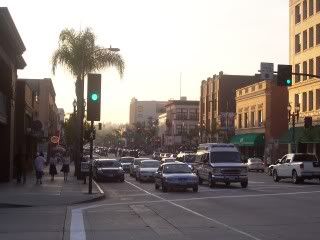 Natalia with Ria pulls up to the address Alexis gave her. They both get out of the car and look at the tall skyscraper that stands before them. Alexis walks around the corner and greets them.
Alexis

"Hello." Stopping dead in her tracks, surprised to see Ria. "What is she doing here?"
Natalia

"Hello, this is my good friend Victoria. I know you two may have had some words in the past, but she is here in good faith. We come in a package."
Alexis
"Is that so? You know I really don't like surprises."
Ria

"And I don't like yo-." Natalia puts a hand over Ria's mouth
Alexis
"I don't think this is going to work."
Ria, pushing Natalia's hand away.
"Don't worry Natti girl. I got this." She then looks at Alexis
"I was going to say,...that I didn't like how we first met. It was unwomanly of me and for that I apologize."
Alexis, impressed, arches an eyebrow
"I hope this isn't some sort of trick"
Ria
"Naw girl. I am over Karim. You can have him." She then thinks, "Sloppy Seconds Bitch"
Alexis
"Then I guess we can bury the hatchet. By the way, I like your look."
Ria
"I have been told that thanks."
Natalia
"I was hoping you would say that. I was thinking maybe Ria could be one of our models."
Alexis
"I like the sound of that. I got a girl coming over any minute who's going to be one of our models too. In fact here she is now." She says seeing Jodie pull up in her Saturn wagon. Jodie gets out the car and walks over to her soon to be employer Alexis.
Alexis
"Everyone this is Jodie. Jodie meet my west coast partner Natalia and one of our newest models Ria."
Jodie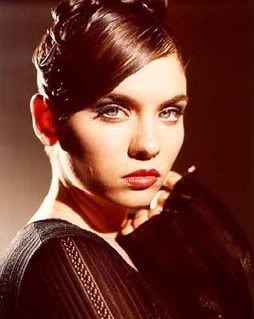 "It's nice to meet you too. I believe I read about you in the paper Something about you were trapped in the Stink So Good Landfill site." She says looking at Natalia
Natalia
"What can I say? I draw attention to myself."
Alexis
"And that's something were going to have to change. We can't afford negative publicity at this point. Especially since we are going through an expansion period. So please everyone, before you sign on the dotted lines, make sure you can maintain your lifestyles so there is no problems. We are in it to win it. "
Natalia
"Well I can say that there won't be any problems on my behalf. I got too much riding on this." As she says that, she has a flashback of sleeping with Bryan, Alexis's dead sisters ex boyfriend.
Jodie
"I don't have anything to hide" Trying to reassure herself that no one will find out about her HIV status.
Ria
"Well aint no skeletons in my closet. What you see is what you get." Ria has a remembrance of the conversation she had with Lisa at The Jump Off regarding "AlphaPhiFuckem"
Upon hearing everyone's oath of truthfulness, Alexis has her own remembrance of hitting a car the night of the rain storm in the u haul she was driving. The same night her sister was runned down. Alexis shakes the thoughts of the possibility that she is responsible for her own sisters death
"Great. The realtor is waiting inside, let's go in and check out our new office building." Everyone walks inside except for Natalia. She stays back and looks up at the skyscraper she's about to enter into.

As she eyeballs the entire 69 story structure, she thinks "Finally, my dreams are coming true"

Episode:59 Sweet Cheeks
Written By: ML Cooks, with Monique Bitches
Sierra Madre.

Mona's underground Bunker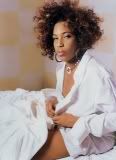 Mona with a shovel in her hand is digging what seems to be a tunnel into the wall. Sharan, is still tied up to the bed as Daniel is still chained up in a standing position.
Daniel

"please, I am begging you. Please let me go. I didn't hear nothing, see nothing nor Do I know nothing. Just please let me go."
Mona stops digging, and wipes sweat that is rolling down her face
"No can do. If I let you go, then what kind of fun will I have. I won't be able to get my thrills."
Daniel
"Haven't you tortured me enough? You shot me, got me hooked on Meth, played with my mind."
Mona
"Enough? Don't think so. I am just getting started." She takes her shovel and bashes Daniel's knee cap with it. Daniel screams out in pain.
Sharan

"Why are you doing this?"
Mona
"It's ok my pretty. You don't have to worry about nothing."
Sharan
"Like hell I do. You're a mad woman. Some one is going to find us."
Mona
"Don't ever count on that happening. I've went through too much to get you here with me. We are going to be a couple for the rest of our lives so you better get used to it." Mona walks over and tries to kiss Sharan on the lips. Instead of pulling away this time, Sharan goes into the kiss with Mona , as Mona presses her lips against Sharan's, Sharan bites down on Mona's bottom lip. Mona jerks away and holds her lips as blood drips from it.
Mona
"Why would you do that to me.?" Mona slaps Sharan across the face
"I see you like it rough mami. I like aggressive females."
Sharan
"Why are you doing all this?"
Mona
"In the name of love and revenge."
Sharan
"Revenge? What do you mean. I didn't do anything to you."
Mona
"No but your fiancée did."
Sharan
"What did he do?"
Mona
"Your asking me too many questions." Mona picks up her shovel and continues to dig her tunnel through the mountainside
Pasadena Police Station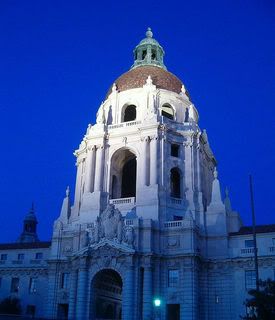 Kevin storms into the holding areas and sees Dondre laying on his cot.
" Get up Bitch!" Kevin says pointing a gun at him.

Dondre slowly gets up with his hands up
"A gun, in the police station? For real?"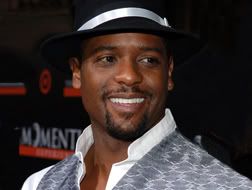 Abe comes barging in along with his other subordinate officers
"Son, put the gun down. Don't do this."
Dre
"You hear your pops talking to you son? Put the gun down."
Kevin looks directly into Dondre's eyes, he keeps having flashbacks of Sharan's calling out Dondre's name last night while making love.
"You just don't know when to quit. First my brother's fiancée then mine? "
Dre
"Look man I did not kidnap Sharan. I don't know what happened to her."
Abe
"Son put the gun down. You're only going to make things worse."
Kevin doesn't flinch. He now has images of shooting Dondre and how great it would feel to get rid of him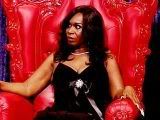 Then Sister Patterson Williams walks in. Officers tries to hold the sister back but she pushes the officers off her
"Get you dirty hands off me fool. I don't know where they've been." She says to one of the officers. Pat walks over to her son and grabs the gun out of his hand. Abe looks on in shock
Pat
"Boy what is the matter with you. I didn't raise no killer." She slaps him. "What if Miss Jenkins finds out about this. Boy you know the Lord don't like ugly."
Abe grabs the gun from Pat's hand. Kevin still has a murderous look in his eyes as he has a stare down with Kevin
Pat
"Boy you better look at me when I am talking to you." She slaps him again. Kevin finally breaks away from Dondre and looks at his mother.
Pat
"What's the matter with you. You hard of hearing. I don't want to have to jack you up. You going to make me cuss. You know the good Lord won't like that. "
Kevin, without saying anything just walks out the city Jail.
Dondre
"He just can't do that and walk away. He pulled a gun on me."
Abe
"Shut the hell up. You kidnapped Sharan. You wanna tell us where she is? It will make things much easier for you and the tax payers."
Dondre
"I didn't kidnap Sharan. I don't know where's she at. That's the truth."
Abe
"Well it looks like you'll be in here a very long time." Abe walks away
Dondre
"This aint right man. I didn't kidnap Sharan! Let me out of here!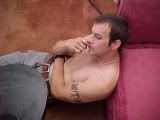 Ty walks into the Police station. He sees Abe and walks over to him interrupting his conversation with an officer
"We need to talk."
Abe
"Well if you have a seat right over there, I'll be with you in a few."
Ty
"Not good enough."
Abe looks at Ty with a frowned face
"Come into my office."
The officer wonders why the chief is letting Ty command him like that. Abe closes the door behind him
Abe
"Don't talk to me like that in front of my employees."
Ty
"Don't be petty. There are other things going on. I hope Chris is in jail?"
Abe
"Yes he is."
Ty
"Good, make sure he stays behind bars for life for killing Daniel. In fact I want you to make sure he gets the death penalty."
Abe
"I can't do that. That's for a court to decide."
Ty
"Not no more. You will make it happen or I'll just have to expose the skeleton's in your closet."
Abe
"Your bluffing, and if you do tell the world what I did, I'd take you with me. Check mate."
Ty is a little caught of guard with Abe's bold words.
Ty
"I'm telling you know chief. I am nothing to be played with. You will make Chris get the death penalty or I will take you and your whole family out."
Abe
"Where is Mona?"
Ty
"That's a good question."
Abe
"A lot of crimes happened last night. Is she behind all of this?"
Ty
"I have not been in contact with her. Which brings me to Santino. I haven't heard from him either."
Abe
That's because we found his car at the bottom of the Sierra Madre mountains. He seems he drove over the cliff and his car exploded upon crashing,"
Ty
"What?!" He says yelling. He stops takes a deep breath and regains his cool." I don't even believe this. First Daniel and now Tino."
Abe
"So you know nothing about Sharan being kidnapped either?"
Ty
"Listen, I can't talk to you about this. When shall I expect my father to be released from his jail term."
Abe
"It's not that easy you know."
Ty
"You're a smart man. I am sure you figure something out."
Abe
"You can't do this. People are going to start asking questions."
Ty
"Doesn't matter to me. Make it happen. You got two days to bail him out, if you don't, I'll make a live news announcement on WMLC telling the world you are a child molester."
Abe
"Carl will be out before then. Don't worry."
Ty
"Good, I knew you would see things my way." Ty gets up and leaves, as he walks out the City Jail, he wonders why he hasn't heard from Mona, and what happened to Tino. TY decides to go visit Mona at her mountain side resort.
Westwood Park, Marks' House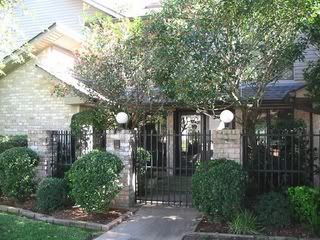 Mark is going through his closets and packing up Dahlia's things. He comes a cross a photograph of them together. Mark smiles as he flashes back to the very day the photograph was taken

"I don't know what I am going to do with out you. I let you down in so many ways." His thoughts are interrupted with a bang on the door. Mark sets the picture down and goes to answer the door. It's Rufus.
Mark
"What the hell are you doing here? I thought I told you at Dahlia's funeral to leave town."
Rufus

"Is that any way to greet me." Rufus lets herself in.
Mark
"Some one could have saw you."
Rufus
"Your point?"
Mark
"Listen, what happened was long ago. I am a changed man."
Rufus
"I bet you are. But that doesn't really matter to me. I am here for the big payback. You know what you did was wrong."
Mark
"Let's not live in the past. Let by gone be by gones. I have nothing for you."
Rufus
"I'm not going anywhere. I am not going to leave you like you left me. High and dry in my darkest hours. I am just here to return the favor sweet cheeks. Now give me a kiss" Rufus walks over to Mark and Kisses him on the lips!