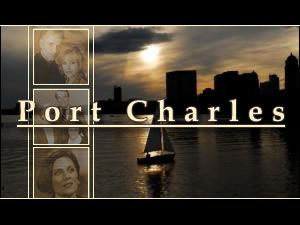 Endgame- Episode 49
Saturday, June 16, 2007
Lucky stood at the counter waiting for the food he had ordered for he and Sam. As he stood waiting, Alexis approached him from behind. Mike set the paper bag on the counter and Lucky reached into his pocket to pay Mike.
"Here… let me get that, Lucky." Alexis said as she reached into her purse for $20.
"No Alexis, I got it." Lucky refusing Alexis' money, he laid a 20-dollar bill on the counter for Mike. Without another word, Lucky started to walk towards the door to leave the diner. Alexis was quick to jump him about Sam before he walked out the door.
"How's Sam?" she asked as Lucky stopped in his tracks.
"Sam's fine … and she still doesn't want to see you, Alexis. I'm sorry."
"I just want you to know that I don't lay blame on you, Lucky. You did what you had to do and I understand that. I just want …"
"I know, you just want to have Sam back in your life. I'm sorry Alexis, I really am, but Sam isn't ready to see you or anyone else. She doesn't know you and she may never be ready to be the person you want her to be." Lucky turned and opened the door to leave but he was stopped once again, this time by Jason.
<HR>
At the MetroCourt, Jax reaches out his hand, and Anna willingly shakes it. He then decides to kiss her hand just as Lorenzo steps off the elevator. Alcazar notices the two of them talking, and is instantly annoyed that she appears to be into the hunky Aussie. He walks within earshot of their conversation by strolling towards the bar.
Jax and Anna continue flirting, much to the disdain of Lorenzo. Jax hands Anna one of his business cards and invites her to call him anytime she pleases. Anna admits that she doubts she will, but Jax is able to call her anytime. Jax goes in for a kiss, but Anna turns her face, making sure her cheek is the one kissed, not her lips.
After Jax gets on the elevator, Lorenzo goes over to the table and suggests Anna not get involved with him. Anna puts Alkie in his place, informing him that what she does, and who she chooses to do it with is no one's business but her own.
<HR>
"Let me guess, you're heading back to Wyndemere with Sam?" Jason questioned Lucky seeing he was carrying the paper bag in his hand.
"Wow did you come up with that all by yourself, Jason? Alexis! Give this man a cookie!" Lucky snipped at Jason. "Look I have someplace to be …," he added as he took a step towards the door.
"You're not leaving, Lucky. I want some answers from you about Sam and I want them now!" Jason demanded, stopping Lucky with his hand.
Alexis stepped in and tried to deter Jason from Lucky, so he could leave. "Jason, let this go, please. This isn't doing any one any good. This is not the time or the place to do this. We can't be mad with Lucky for Sam not having her memory."
"I am so tired of hearing that Alexis! If it wasn't for Lucky & Nikolas, Sam would have been home with us months ago!"
"Look, genius, if it wasn't for me, we all wouldn't have Sam. She showed up on my doorstep broken. I nursed her back to health. If it wasn't for me, she'd be dead … for real. So if you want Sam to have any type of relationship with you or Alexis, you'll back off!"
"Why don't you back off, Lucky?" Jason said as he pushed Lucky against his chest hard enough Lucky stumbled back, but not off his feet.
"Oh you're asking for it, Jason!"
"Yeah, instead of talking why don't you just bring it, Lucky!" Jason pulls his arm back, decking Lucky in the jaw with a right hook, knocking Lucky off balance and into one of the tables.
Lucky staggered as he composed himself and rubbed his hand against his jaw. "You son of a bitch!" Lucky screams just as Mike came out from the kitchen to see what was going on. Jason is taken by surprise when Lucky spears him to the ground and begins punching him. Jason pushes Lucky off, knocking him into the table again. Lucky charges after Jason again, picking him up and slamming him into one of the tables.
"Hey! Hey! Lucky, Jason … separate corners!" Mike yelled at them as he came up on them.
Alexis steps in and pulls Jason away, while Mike dealt with Lucky. "Stay out of this Mike, if the big man wants a piece of me, I'll be more than happy to oblige!" Lucky shouted at Jason as Alexis tried to calm him down.
"Not in the diner! If you guys want to fight it out, take it outside!"
"Both of you...CALM THE HELL DOWN!!! I think this has gotten a little out of control, don't you?" Alexis said hoping to calm the situation down a notch or two.
<HR>
At GH, David takes advantage of bumping into Lucy, by using this time to tell her what he's learned about Serena. According Aiden, Serena took off for LA, before venturing up to Toronto, then heading to Manhattan. She hasn't been seen since going to Manhattan, but someone said that she recently purchased a ticket to Port Charles, so she should be here within a day or two. Lucy cannot contain her excitement (and frustration) but hugs David anyway. David smiles internally, happy that he was able to help Lucy. He then asks if Lucy has any free time, he'd love to take her to dinner at the PC Athletic Club. She graciously turns him down, but thanks him for everything that he's done. As she's walking away, David figures it couldn't have hurt to ask.
<HR>
Back at Kelly's, Mike straightened up the tables and chairs as Jason and Alexis took a seat at a table together.
"I don't know what to do Alexis, I really don't."
"We have to be patient Jason, Sam will come around."
"Certainly not with Lucky feeding her mind with God knows what! How do I know he's not filling her head with all kinds of nonsense about me … about you, Alexis?"
"Lucky is not that kind of person Jason. But even if he was, we have to have hope that Sam will realize that we matter to her. She'll come around, Jason, eventually." Alexis sighs as Jason walks out of the diner.

On the next Port Charles: Endgame
- Ric asks Sonny to end his war with Lorenzo
- Lucy is hurt when Kevin rejects her
- Bobbie and Noah spread word of their engagement
- Lucky kisses Sam