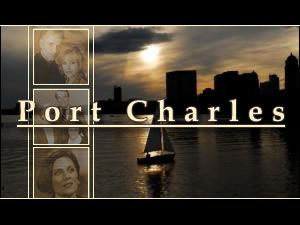 Endgame- Episode 49 - 53
Monday, June 18, 2007
Special Father's Day Episode
***Disclaimer: This is an EXTREMELY long episode, but very important to future storylines. Please read carefully.***
<object width="225" height="150"><param name="movie" value="
http://www.youtube.com/watch?v=SIbZOeaokeU"
></param><param'>
http://www.youtube.com/watch?v=SIbZOeaokeU"
></param><param name="wmode" value="transparent"></param><embed src="
http://www.youtube.com/watch?v=SIbZOeaokeU"
type="application/x-shockwave-flash" wmode="transparent" width="225" height="150"></embed></object>
Port Charles begins with Sonny walking downstairs just in time to see Carly and the boys settling in downstairs. They decided to have a nice formal dinner this time as a way to shaking things up. Michael's attitude is still a problem, but he's more than willing to try and make Sonny's special a nice one. Carly asks if Kristina will be joining them for dinner, Sonny explains that she's supposed to be on the way.
<HR>
Alexis was picking up a few of Molly's toys when Kristina raced from the hallway and towards the door. Alexis stopped her before she got too far. "Where are you going young lady?" Alexis asked as Kristina stopped and closed the door she just opened.
"I'm going to see Dad. Milo is coming to pick me up." The young teenager replied as she stepped closer to her mother.
"No, you're not. You're going to spend the day with the family. It's Father's Day."
"Yes I know I was planning on spending it with Dad." Kristina whined.
"Well what about Ric? Maybe it would be nice to appreciate him as your stepfather than just your Uncle Ric."
"Yeah, maybe. But Dad's expecting me."
"Would it hurt you to spend some time with your family and then spend a few hours with your father?"
Kristina sulked. "I suppose I could do that. If you really want me too?"
Just as she agreed to stay, Ric walked through the front door of the lakeside cabin. He came up to Kristina, gave her a hug hello, then went to Alexis, and greeted her with a quick kiss. "Where are you off too? I saw Milo was parked outside." Ric asked as Kristina was hesitant to tell him she had plans to go see her father.
"I was going to see Dad, but Mom convinced me to stay and spend some time with you first, Uncle Ric."
Ric went to her and gave her another hug. "I appreciate that, Kristina. I really do. What happened to Daddy Ric? I'm Uncle Ric now?" he questioned.
Kristina hesitated; she didn't want to hurt Ric's feelings, so she chose her words before telling him why she came to call him Uncle Ric and not Daddy.
"That was a long time ago. I guess I'm just growing up."
"It's okay. Daddy, Uncle, doesn't matter. I will always be there for you like a father should, and that's what matters the most."
The moment was broken when Molly's cries could be heard from the back bedroom. "I'll go get her." Alexis said and she left Kristina and Ric alone together to talk.
Kristina released from Ric's embrace. "I guess I should go and tell Milo to pick me up later today." She raced outside as Alexis emerged from the hallway with Molly in her arms. The young child still wiping sleep from her eyes as Ric reached for her.
<HR>
Monica was standing at the French Doors looking out when Alan came up behind her wanting to know what was wrong. She turned around and smiled wistfully, surveying everyone in the room. She watched as Tracy, Ned, AJ and Edward bickered about amongst themselves about ELQ business. The Spencer's were in one corner, Luke spinning stories and Alice gazing adoringly at him. Noah and Bobbie were quietly holding hands and talking with Robin and Patrick. Monica looked quickly into Alan's eyes and replied that nothing was wrong, she was happy that everyone was here. Monica was torn between wanting to celebrate this day with her husband, but also ready for this entire charade to just be over. She secretly hopes Jason will drop by, but doesn't really think he will.
The doorbell rang and Alice went to get it. "This better not be strippers," commented Edward to Luke. Alan hushed Edward and everyone turned, anxiously awaiting the visitors. They were shocked to see Lucky walk in with a presumed dead Sam. Everyone gasped as Lucky introduced Sam to the group. Luke stood up and took Sam's hand. Looking questioningly at Lucky, he kissed Sam's hand and said suspiciously, "Charmed I'm sure." No one, except Luke, noticed that Sam's eyes briefly narrowed.
<HR>
Back at Sonny's, Sonny notices that Carly seems a little distant and wonders what's wrong. The last thing Carly wants is to tell Sonny that she's pregnant, especially since the person who should know first, isn't aware yet. She comes up with an excuse, going into how re-launching Deception is a bit more complicated than she originally thought. Sonny can agree with her on that. Corinthos-Morgan has been taking more steps towards legitimacy, which is just as tough. Michael chases Morgan upstairs (Morgan stole Michael's Sony PSP). The loving parents laugh. Sonny caresses Carly's hand and thanks her for allowing the kids to spend the day with him. Carly admits it's nice to spend time as a family again. Jason enters soon after interrupting the moment between Sonny & Carly. Carly notices the bruise on Jason's face and asks what's wrong, Jason responds what isn't.
<HR>
Back at the Lake house, Alexis speaks with Ric.
"Don't take Kristina's calling you Uncle too hard. She's young and things may change." Alexis tried to re-assure Ric.
"It's okay. Sonny is her father and she knows he will always be her father. I don't want to give her the impression that I am trying to replace Sonny in her life. She can have both of us in her life and love us equally."
Kristina comes back into the house and joined the family on the couch. "So, what are we going to do now? I told Milo to pick me up this afternoon around 4pm. So we have all day to spend together." Kristina smiled.
Ric suggested they go swimming in the lake and maybe BBQ outside to celebrate. The family agreed to the plans, so Alexis and the girls went to change clothes to go swimming, while Ric went into the kitchen to get the food they'd be cooking on the grill.
<HR>
Jason admits that he didn't come for dinner; he came by to pick up Michael and bring him to the Quartermaines. Sonny tenses up, but Carly tells him to calm down. Carly promised Monica that she'd allow Michael to spend time with the Q's, and she intends on keeping that promise. Jason calls Michael down, who had already changed his clothes. Carly kisses the boys goodbye, she tells them that she has a few errands to run and will see them at home. She wishes Sonny a happy Father's Day yet again before heading out.
<HR>
Kristina came running from the hallway and raced out the door towards the lake, and Alexis followed with Molly in one arm and Molly's arm floaters in the other. Ric came from the kitchen with his hands full and walked ahead of her to sit the stuff down so he could help her with Molly.
The family enjoyed the together time they had before Kristina was carried away to visit with Sonny. Just as they were sitting down to their meal, the phone rang.
Alexis got up from her seat to answer it. "Alexis Davis." She answered.
"Alexis, it's Sonny."
"Happy Father's Day Sonny."
"Thank you Alexis. I was calling to find out when Kristina would like to get picked up. We're about ready to sit down to dinner."
"So are we. She told Milo she'd be ready around 4. Is that good?."
"Okay, I'll send Milo for her."
"Ok….and Sonny," Alexis begins. "Thank you for understanding how important it us that Kristina spends time with Ric today. It means a lot to the family to know that she is here with us."
"No need to thank me, Alexis. Kristina was the one who wanted to change the plans. She really wanted to spend some time with Ric. She's the one you should be thanking, Alexis."
Alexis hung up the phone with Sonny and went back to the table with the family. The sound of laughter could be heard from the deck of the lake house as it echoed through the trees. This was the first time in a long time that the family enjoyed spending the day together. It was without interruption, and Kristina and Ric's relationship was stronger because of it.
<HR>
An uncomfortable silence descended as Lucky and Sam walked further into the room and sat down. "Well, I know I need a drink. Anyone?" Tracy stood up. "Well, except you AJ." Tracy said pointedly as she went to the bar and fixed herself a gin and tonic. Tracy tossed back the drink and poured herself another.
"Tracy, do shut up. It is Father's Day and I want to spend it with my son. Is that too much to ask? Can you keep your mouth closed today as a gift for our Father?" Alan asked, walking up next to her. He turned and made Monica a drink and took bottled water for himself.
Edward waved his hands, "Yes Tracy, please. I just want peace and quiet today. It's going to be hard enough without Jason here, so stop trying to create trouble."
Sam began shifting uncomfortably. Lucky attentively asked Sam if she was all right. She responded that she was. She said it was hard because she felt everyone was looking at her and she didn't know why. Lucky hugs her and tells her not to worry about it. At that moment, Jason walked into the mansion and and her eyes locked with his shortly before she turned away. Everyone in the room looked from Jason to Sam except for AJ, who went to hug Michael and asked Michael how he was doing. Michael's attitude still doesn't improve, but he sees that AJ is trying to make an effort, so why be difficult.
Jason looked at Lucky sitting closely to Sam and glared stonily at him. "What the hell is he doing here?" Jason asked his parents. Anger poured out of every cell of his body. He explained that he couldn't be here with Lucky. "It's either him or me."
Trying to be the peacekeeper, Alan stepped forward, "Jason, please stay. We can all get along." Monica laid her hand on Jason's arm and pleaded with him to stay, for the family's sake. They wanted him to stay.
Lucky stared back at Jason and refused to move away from Sam. Jason turns to Alan and with a low tone wishes him a happy Father's Day. With a glare at everyone in the room, Jason spun on his heels and stormed out. The front door slammed so hard that a painting fell off the wall, knocking a vase onto the ground. As everyone raced into the foyer, no one noticed the devious smile forming on Sam's lips.
<HR>
At Wyndemere, Nikolas is sitting in the living room with little Spencer. This is Spencer's first father's day with him and he couldn't be any more happy. Unbeknownst to Nikolas, Carly has just arrived at the castle with a gift for him. She makes her way to the living room, but stops when she hears him speaking to Spencer.
Nikolas reflects on the time he's spent with his son, including the time he didn't get to spend with him because of Courtney. Nikolas promises to be the best father he can be, and will always put his son first. He takes another picture of himself and Spencer and shows his small son. "See Spencer, that's you and daddy. We'll always be together, no matter what. I'll protect you from all that mean you harm. You're my son and I love you."
Nikolas walks over near the mantle and picks up a picture of Laura. "If only my mother could see us together. It would make her day. I can't wait for her to actually meet you….one day." Nikolas goes to lay Spencer down in the playpen as Carly finally walks into the room, wiping her eyes.
<HR>
After dinner, Kristina showered and changed her clothes and waited for Milo. As the limo pulled up outside the lake house, she quickly ran to Ric and embraced him. "Happy Father's Day." Kristina said.
"Thank you sweetheart. Now you go off and have fun with your Dad." Ric replied as Kristina released the hug and smiled at him.
Kristina raced off towards the door, but turned around before leaving. "I love you, Daddy Ric."
Alexis and Molly joined him as they watched Kristina climb in the back seat of the limo. Milo giving them a nod of re-assurance as the back window slid down and Kristina waved goodbye.
"We're going to be just fine, Alexis ," Ric says as he kisses his wife tenderly. "Just fine."
<HR>
Sonny tries to call Alexis when Kristina arrives, but Ric answers instead. "Hello Ric. I'm uh…Kristina made it safely. Tell Alexis for me." Kristina gives Sonny a hug before running out to find Morgan.
"No problem," Ric says as the camera pulls up on him. Ric feels that Sonny is about to hang up the phone, so he blurts out, "hey Sonny."
"Yeah?"
"Happy Father's Day….."
Sonny takes a look around and smiles at his children. He turns back to the phone and says, "Happy Father's Day to you too….little brother." Sonny then hangs up the phone and goes out onto the deck with his children. The camera cuts to Ric as he jokingly laughs and quite pleased at the response he got from Sonny.
<HR>
"Carly," he says. "What are you doing here?" Nikolas is happy she's there, but it's kind of surprising seeing as how she hasn't spoken to him since she learned that he was keeping Sam alive. "I don't mean to sound—"
"I know," she interrupts. "I haven't been a real people person as of late and I'm sorry." She can't help by cry. He's just so damn good with Spencer. He's a wonderful father. "I umm…I thought of you today and it really put some things into perspective for me."
Carly continues talking and then stops, realizing that she's been rambling for about 5 minutes. "I came here to give your gift…for Father's Day."
She hands Nikolas a large rectangular box with orange wrapping paper. Nikolas slowly begins to open the package. He takes off the lid and is very surprised by what he finds inside. "What's this," Nikolas asks holding up what's inside the box.
Carly is unable to hold back her emotions any longer. Tossing the hair from her eyes, she says "It's our child. Happy Father's Day Dad."
Nikolas looks in his hand and closely examines the ultrasound. At a loss for words, he says "This is…it's our….," his voice trails off. He looks at Carly for approval and she nods her head, tears flowing down her face. Nikolas runs over to her and picks her up while spinning around. He kisses her passionately before bringing her over to the sofa. Nikolas picks up Spencer and walks over, showing him the gift. "Look Spencer," he says, "you're gonna be a big brother!"
Port Charles closes with Nikolas and Carly kissing while holding Spencer.

On the next Port Charles: Endgame
- Ric asks Sonny to end his war with Lorenzo
- Lucy is hurt when Kevin rejects her
- Bobbie and Noah spread word of their engagement
- Lucky kisses Sam