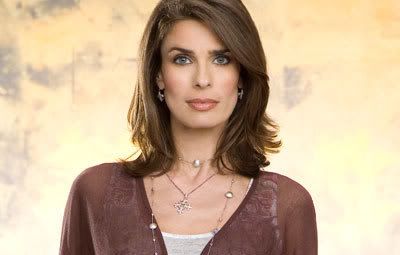 ALFONSO PROMOTED!
In a shocking turn of events, Kristian Alfonso(Hope Williams Brady) has been promoted back to contract status on LIS! Alfonso was on contract with the soap from 2006-2008, until she was dropped to recurring in June. "Hope needed to pay for her crimes, and also we needed more room for other stories and characters. But, Hope is an important vet and important part from LIS, so its time to bring her back into play....though its going to be interesting because just as she becomes a main player again, Bo is growing VERY close to Kristen! It will be so exciting to have her back full time with LIS, and also expect this to mean more time for Susan Hayes(Julie Horton)." Tara Smith explains
This is effective immediately.
OTHER CASTING UPDATES!
Andrew Hyatt Massey(Larry Welch) has returned to LIS! Massey played Larry on Days from 1983-1985, and then again from 2002-2003. On LIS, he has guest starred before, as he was the mysterious "Gloved Hand" in Summer 2006, and was responsible for the death of Patrick Lockhart. "Its great to have Andrew and Larry back, they play a role in whats going on with the DiMera's this month....its going to be huge!" Tara Smith says
This run is rumoured to be another short one.
Also, expect to see some newcomers soon: Famous actress and singer Brandy Norwood, most famous for her role as "Moesha" on the sitcom with the same name, shall join the cast as Dr. Phyliss Stanville. Dr.Stanville shall be a character who will interact with Megan(Kimberlin Brown) and Jill(Lisa Robin Kelly). She is on recurring. Also, Janet Zarish, best known for her role of Lee Halpern on "One Life to Live", is joining LIS as Lea Zaslow. Lea is another recurring character, who will be interacting with Greta(Julianne Morris), Jan(Heather Lindell), and Nicole(Arianne Zuker).