Entry posted by daysfan ·
239 views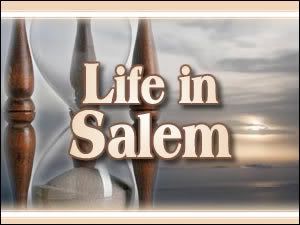 Written by: Tara Smith and ML Cooks
Episode#429: Seasection
-Robin looks at April in astonishment and tells her this is RIDICULOUS...she says she can't just storm back into Salem after years of being gone, suddenly as some star lawyer, and then just take on Laura's case...she never even met Laura! Alexis says thats funny, she thinks Robin did something similar last year! Alexis then goes on to say well...she's sure Laura will take whatever help she can get!
-Eugenia walks into the graveyard at St.Luke's...she walks around, looking at all the graves, until she finally gets to Blake/Bradley's....she sheds a tear as she looks down at "her" son's grave once again...she continues to tell herself she can't give up now...she's come so far...she just needs to put the pieces together! She looks around, and flashes back to one of the last times she was here: When she found Jan here! She thinks to herself that still was odd....she says she knows Jan had a miscarriage once, but she's not the most caring person...she then remembers Jan telling her that their babies were born on the same day!
-Hope walks into the living room of her house...she shakes her head as she thinks about what happened with Jill tonight, and continues to wonder why Megan was so anxious about everything, when she usually couldn't give a damn! Bo walks in from the kitchen and smiles at her, and she walks over and they kiss passionately! Bo asks where she's been, and Hope says something came up but its nothing to worry about...Bo says good, because he needs to tell her something!
-Dr.Stansville takes Jill into one of the operating rooms, and Megan peaks in and asks Dr.Stansville if the baby will make it...Dr.Stansville says she doesn't know, but Lexie was right, she DOES need to perform a seasection...and she needs Megan to get out! Megan argues that her and Bo's precious child's LIFE is on the line, and Dr.Stansville again orders her to get out! Megan reluctantly leaves, and Dr.Stansville says that she has to save TWO babies, plus Jill now, and still keep one of them hidden from Megan! She looks at Jill, who now has blood all over her face, and says its time to begin....she tells Jill to hang on....
*Life in Salem Opening*
-Alexis introduces herself to April as Alexis Kefer...a...friend of Laura AND Mike's! Robin snorts, and says this is so ridiculous....Alexis smirks at the irritated Robin and tells April maybe she should take her to Laura...and on the way, April can tell her all about what went down years ago between her and Mike! April says gladly, and the two leave as Robin grits her teeth and wonders what the hell April Ramirez, after all this time, is doing back here in Salem!
-Celeste unlocks her suite door at The Salem Inn.
She looks behind her and rolls her eyes at her sister, Sister Patterson Williams.
Celeste
"You always know how to draw attention to yourself don't you dahling?"
Sister Patterson
"I want to know and I want to know it now? What strange language be those I saw on the cards? What kind of solitaire do you call that?"
Celeste
"I wasn't playing solitaire dahling. I was searching for answers."
Sister Patterson
"I am here my child. Your beautiful sister is here and I have the answers you seek. Me and my third eye. You see, he has brought me here Sister Celeste. He told me to come here and help you."
Celeste, arching an eye brow
"I doubt that. Why now dear old sister? Why now after all these years? Why at this point in my life? Where were you when I needed you at other crises in my life?"
Sister Patterson
"OLD? I beg your pardon! Sister, don't even do it. From what Brother Bo said, you haven't even mentioned me. He didn't even know I existed? How can you deny a child of God?"
Celeste
"I see you are still not the brightest crayon in the box. You and this self righteous act. Doesn't it get old?"
Sister Patterson
"Don't you know no good chile'? You don't talk to me like that. I am Sister Patterson."
Celeste, pouring a drink
"That's no news to me. I don't know what went wrong in your life for you to act like this."
Sister Patterson
"It was nothing wrong dear sister. It was right. I found God."
Celeste
"Keep telling yourself that?"
Sister Patterson
"I want to know what is going on with you. Why are you drinking the devil's yak?"
What in the hell's the matter with ya?
Celeste
"I've been through a lot. A lot has been taken from me. I have been betrayed and back stabbed."
Sister Patterson
"Living in this town I am not surprised. This shanty little establishment produced a devil. Anything can happen in these parts from what I hear. Even Miss Jenkins has told me this."
Celeste
"Miss Jenkins? How is the old woman doing?"
Sister Patterson, slapping Celeste
"You know me well enough to know that no one and I mean absolutely no one talks about my Miss Jenkins honey. How dare you?"
Celeste
"You know Alexandra is a doctor, I think it would benefit you if she could examine you. You're not thinking clearly."
Sister Patterson
"Neither are you. Playing solitaire with cards that had faces of witchery, evilry and thangs. "
Celeste
"You're not helping any. Seeing you for the first time in over 35 years should not be spent arguing."
Sister Patterson
"This is no argument honey. This is the truth being talked. That's all I know how to do. I speak the truth at all times. I know her name. He told me. My third eye knows it, HEAR ME AND HEAR ME NOW LORD HAVE MERCY DEAR SISTER"
Celeste
"Dahling, what the hell are you talking about?"
Sister Patterson
"She goes by the name Vivian Alamain. She's a dirty one isn't she? A slut bucket, a heathen, tramp, trollop, she devil. She's to old to be acting like a vile old witch. She's a dirty whore, street walker, a loser she knows about evilness very well. I know all about it."
Celeste
"I'll just say it for you. She's a Bitch. I know…She is horrible dahling. How did you know...? Please STOP! Dahling DON"T answer that question. I already know."
Sister Patterson
"I know that's right."
Celeste
"She stole everything from me. Victor. My livelihood. She has everything right now. She's sitting on top of the world, looking down at us and laughing."
Sister Patterson
"The devil never wins. She will not win. What goes up must come down. She will get hers. God, believe it or not, is helping you right now. He's preparing you for something. Everything happens for a reason honey."
Celeste
"I know dahling. It's just, the way Victor died, and how Vivian tricked him into marrying her again. I don't know how she did it. AGAIN. I know my Victor was not that naïve. "
Sister Patterson
"The devil is slick and has lots of tricks up its sleeve. Mama Celeste, it may be a long road, the journey may be tough, the road bumpy, but I promise you Vivian won't be looking down for long. She's going to get what's coming to her. My third eye tells me so."
Celeste
"Thanks Sister. I feel much better now."
Sister Patterson
"I have some crises of my own back in Pasadena, so I must be going."
Celeste
"So your third eye sends you here to give me advice and you leave just like that?"
Sister Patterson
"I have a court date."
Celeste
"Court? Dear God what is going on?"
Sister Patterson
"They tried to deny my God, but I was not having it. I have to go to court, me and my third eye."
Sister Patterson walks up to her sister and looks in her eyes with sincere admiration and then hugs her. Celeste wraps her arms around her sister. '
Celeste
"This feels nice."
Sister Patterson
"It has been a long time."
Celeste
"We must stay in touch. Let me know if there is anything I can do dahling.."
Sister Patterson
"I got my troubles together honey. My God won't let anything happen to me. I want you to stay strong and know that Vivian will be a loser." Sister Patterson then turns around and immediately walks out the suite and leaves. By the time Celeste said "I love you" her sister was already out the door. Celeste finishes her drink as she stares at the door and thinks of her arch enemy Vivian Alamain. She thinks back to what her sister said and smiles
"Loser. That's right dahling. You're going to lose."
-Dr.Stansville takes a deep breathe...and begins the seasection on Jill!
-Eugenia begins to think harder about everything she already knows about that night...she remembers Jan mentioning Josh was born that night, and she remembers that evening she spoke to Celeste inside the Church...she remembers Celeste talking about saying that Eugenia's baby was definitely trying...but also remembers Celeste implicating that another baby was born that night...that wasn't crying! Eugenia is silent for a moment as she thinks, and she then says:
Eugenia:No, no, it couldn't be...thats impossible...
-Dr.Stansville performs a seasection on Jill, direly trying to get the babies out...
-Hope asks what....Bo sighs, and tells her he knows they just got back together a little over a month ago, and she and the girls just moved back in and everything...but he has to take a little trip! Hope asks what kind of trip...and Bo says it involves one of his cases...he needs to find someone that isn't in Salem! Hope asks which case it is, if he can tell her...he then replies that its the case of trying to prove that Vivian set Peter up to die!
-Dr.Stansville yells to the nurses that she almost has one of the babies out....she finally gets it out to see that its....a girl! Bo and Jill's baby...Dr.Stansville sighs!
-Eugenia tells herself no, she's just trying to create hopeless theories now...she begins to walk away, but stops...she tells herself NO, no way...its impossible! She says that its ridiculous to think that the babies were switched or something...she however then says quietly that Josh sure does look like Blake's daddy...but that makes sense anyways! She thinks back to what "her" baby looked like...she says that he did look alot like Lucas...but no, no, NO....Josh is Jan and Lucas's...she's just thinking way too much into this! She then, however, says that Josh does look awfully big for a supposedly premature baby...and Blake looked very young for how far along she was with him! She brushes it off as saying there's no way the babies could have been switched anyways, Jan was locked up in the Secret Room when they both gave birth...however, Eugenia's eyes go WIDE and she says:
Eugenia:Unless....Greta switched them...
-Dr.Stansville tells the nurses to take this baby girl to the nursery, and to make SURE that woman outside doesn't see her...as they take Bo and Jill's baby away...Dr.Stansville finally gets Bo and Megan's baby boy out! She again sighs, and tells another one of the nurses to get Megan in here...soon enough, Megan walks in, and her eyes light up at seeing her son! Dr.Stansville says:
Dr.Stansville:This....is your baby....your and Bo's...son....
Megan grins as Dr.Stansville hands her the baby!!!