Episode#359: Sami Loses Her Patience
---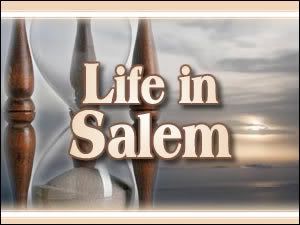 Episode#359: Sami Loses Her Patience
-Down in the Secret Room, Greta is there, as Jan eats and gives Josh his formula...Greta says that in just a matter of days, Lucas and Eugenia will be getting married....Jan laughs and says to not be so sure...anything can happen. Greta snorts and tells her she's dreaming if she thinks she's getting out of here before the wedding....Jan tells Greta that she doesn't mean anything like that....she's sure Lucas is going to remember his love for her and back out before it actually happens!
-Lucas sighs and tells Belle that he knows Jan is her sister and all, hell she's Will's aunt and was almost his step-mother...but she's long gone...Belle says she's not trying to defend Jan, she hates her...its just....something just feels off...Lucas says that he spent months trying to find Jan, waiting for her...but now its the time to move on, because she's not coming back, the revelation of her being Tony and Marlena's daughter seemed to be too much for her to take....Belle then says:
Belle:Okay, Lucas, I know Jan...she and I feuded over Shawn for YEARS....she is a crazy psycho, yes, but she would not just run off because of some revelation...thats just not Jan...I may sound crazy, but I think more is going on here than any of us know!
-Eugenia is upstairs, playing with Bentley....the two spend time together, and Eugenia thinks to herself that as crazy as Jan sounds, she sure has a wonderful son, just learning to talk....Eugenia thinks about how she wishes her son was here, but says she CANNOT think about that, as she has so much happiness ahead with Lucas...and nothing will ruin that!
-Sami tells Nicole that she's tried to play nice, which is a really big thing for her to do for Nicole considering she's pretty much hated her...she tells Nicole that she DOESN'T care about Greta Von Amberg or whoever locked her up in a Secret Room....she is GOING to go back to Salem and clear her name...she tells her that she is messing with SAMI BRADY, and if she won't go back...then she's got a war on her hands!
*Life in Salem Opening*
-Greta laughs and calls Jan an idiot....she tells Jan that Lucas is madly in love with the soon-to-be Mrs. Roberts....there's no way he's suddenly going to remember his big love for Jan...she yells to Jan that he's MOVED ON...Jan thinks to herself that he won't once she escapes this Secret Room and returns to Lucas.....
-Belle tells Lucas that while it may be a possibility that she ran off, its just NOT Jan.....she says that from what she's heard, Greta Von Amberg returned shortly before then...she asks if Lucas is sure she had nothing to do with it! Lucas says that he thought of that, and looked into it, but didn't come up with anything...Belle asks him if it doesn't seem the LEAST bit odd that Greta returns, is found injured and bitten by a raccoon outside the Spears Mansion, then in fact Jan AND Nicole dissappear....Lucas says that he doesn't KNOW, he just knows that he can't find Jan and has to move on...Belle apologizes, and Lucas says its alright, he knows she's just trying to think through it...but Jan's gone now, and Eugenia is his future...Belle slowly nods...
-Nicole tells Sami to not threaten her, she can beat Sami anyday....Nicole turns away from Sami, but Sami grabs Nicole by the HAIR, and tells Nicole that she will NOT have htis....she tells her that she is LITERALLY the one hope she has...there is nothing and no one else to prove her innocence! Nicole shoves Sami back and orders her to never touch her again...she again asserts that she is NOT going back to Salem...Sami tells Nicole she's going to pay for this as she leaves....Travis sighs and turns to Nicole as Nicole apologizes for all this...and Travis says:
Travis:You know, Nicole...maybe you should go back.