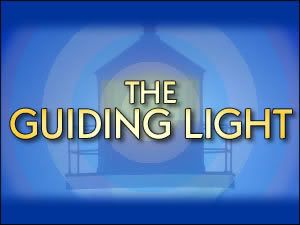 The Guiding Light: Episode 080
Saturday, July 28, 2007
Written By: Josh Hawkins & Dan Gobble
<HR>
<object width="320" height="240"><param name="movie" value="
name="wmode" value="transparent"></param><embed src="
type="application/x-shockwave-flash" wmode="transparent" width="320" height="240"></embed></object>
<HR>
Graduation night for the Senior Class of 2007 has finally arrived, as the auditorium begins to fill up Shayne, Marina, Tammy and Lizzie stand by their lockers for final time. Shayne silently thinks back to the haunting words he saw the day before. Lizzie says that she is so glad that somehow, dispute everything they came together this year and became best friends. The group share one final group hug!
At Towers, Trevor Bowden sets down at a small corner table. The place seems deserted that evening and he questions if the place is usually this dead. The waiter informs him that it's graduation night at Springfield High.
Meanwhile, at the Bauer house Ed and Rick are in the kitchen rushing a very pregnant Michelle and Mel out the door! Hope appears from upstairs and questions where the family is headed off to in such a hurry. Ed explains that Tammy Winslow is graduating from high school and that they all thought it best to go and show their support to her and Cassie. Ed invites Hope to attend but she says that she has other plans and leaves.




Hope steps off the elevator at Towers and crosses the dining room where she finds Trevor waiting for her. He speaks, "Well aren't you a sight for sour eyes? It's been a long time Hope." She is taken back when he kisses her. After awhile of small chitchat between the two a third dinner guest arrives, "Hello son." Hope smiles as she embraces Derek, "You've kept your father and I waiting."


Derek sits down as it is revealed through dinner that Hope is Trevor's ex-wife and that she has another son in addition to Alan-Michael!


As the students are preparing for the processional Phillip and Olivia, despite Lizzie's wishes arrive at the graduation. Olivia sees his daughter there in her cap and gown and whispers to him, "I'm going to go." When he urges her to stay Olivia assures him that she'll be all right and that with Alan and the mansion empty it is the best time to proceed to the next step in their plan.
At the back of the auditorium Michelle is becoming restless and complaining that she's not feeling well, as Tammy is finishing up her Salutatorian speech Michelle informs Ed that she's going into labor! Ed insists that Rick and Mel stay as he heads out with Michelle, catching the eye of both Danny and Bill!
"I worried for weeks about what I would say when I got up here tonight," Shayne began his speech. "High school is about going from young adult to adult, preparing for college, but more importantly it's about the relationships we build here and the ones we take away from this place. Tonight our lives will change like never before, it's the friendships that mean the most. I encourage my fellow classmates to find what you loved about this place and hold on tight to it because never again will you have the opportunity to have what you do right now. We thought this moment would never come, but it's here and as we go on we remember the times we had together…"
As the Superintendent of Springfield Public Schools began calling out the names for the diplomas, Michelle Bauer burst through two double doors at Cedars on a stretcher, clinging tightly to Ed's hand.


"Marina Nadine Cooper."


"Joshua Shayne Lewis."


"Elizabeth Lillian Spaulding."



"Tammy Nicole Winslow."

As their graduation caps went flying into the air, Michelle delivered a baby girl!
:Fade to Black:
<HR>