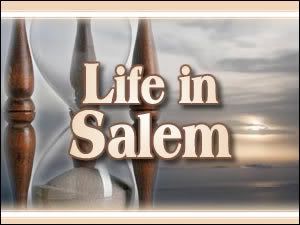 A *HUGE* SHAKEUP COMES TO LIS! ML COOKS RETURNS! MORE CUTS ON THE WAY! A HUGE EVENT IS ON ITS WAY! AND RETURNS?!
Things have been quiet lately at the "Life in Salem" studios. Barely any announcements and only some episodes airing. However, massive word is breaking of the biggest shakeup to hit LIS in a long, long time: Former Co-Head Writer and Co-Executive Producer ML Cooks is heading back to Salem and he's spicing things up!
Longtime fans of LIS remember ML when he joined the LIS crew in late 2007, hot off the heels of former Co-HW Jay Vandeburg's sudden exit from the series. Cooks is more widely known as the creator, executive producer, and Head Writer of original series "S.T.E.A.M.", a soap which Tara Smith has also worked on since early-mid 2008. On LIS, he was famous for the stories that he and Tara penned together, such as the Secret Storm in the Winter of 2008, Nicole impersonating Marlena Evans and Tony DiMera's secret child, and probably the most remembered of all: Hope Brady becoming an alcoholic and smoking crack!
In the Summer of '08, ML broke even more barriers for Salem: He launched a spinoff, called "Affairs of the Hearts". AOTH had a much smaller cast and proved to be a hit, achieving fairly large views at the time, with only 15 episodes! But they were very intense episodes, the finale ending with the death of Dr. Marlena Evans! However, just as the series was closing production, a shocking announcement came: ML Cooks was exiting LIS all together! His last episodes aired in November, and Tara Smith was sole HW of the show once again. However, after nearly a year of being gone, ML has returned!
"In the past year...I feel like I've done some great things for LIS," Tara Smith commented "But I also feel like I've done some bad things, and I think over the Summer, I achieved some greatness with Victor's death, but outside of that, LIS has slipped into a hole it has a hard time getting out of. I felt so stuck, but luckily, ML has returned to save the day! And this time, he has full control...I am still involved but not writing any episodes! His material started with Episode 440, and he's ready to clean this show up! I promise you it will be a great ride. The past year has been chaotic for Life in Salem, and will it end anytime soon? Not necessarily, but its going to all come together."
However, with ML's return to the soap, there also comes word that even more cuts are on their way! In the past year, LIS has seen over 20 cast members axed, and sadly, it may not be stopping! The most notable cuts have been that of center characters like Deidre Hall(Marlena) and John Aniston(Victor)...its not stopping there! There will be massive cuts, but this time, there is a difference: Not as many of them may be vets as there have been in the past! Newcomers and established characters, but not veterans, have all been handed their pink slips!
"In an effort to clean the cast up, and get it more organized, ML thought it would be best to send some of these characters off...they've had their time, and alot of them just need a rest. He's handling their exits quite well, and more will be revealed soon!" Smith said.
However, with all these massive cuts, there are also rampant rumors of some HUGE returns coming LIS's way! "So many characters have been cut, under me and him, we do need some returns...thats one thing ML is doing that I never did, and I am glad that he is doing it! These returns will definitely be big!" Smith continues "And yes, a couple of them are veterans."
Also, the storytelling will change a bit, but for the better: With all the action and camp on Life in Salem in the past year, it will be toned down, and more character driven stories will arrive...all of these plots on LIS will come together and head for some fantastic material! "All I can say here is that a BIG event is coming LIS's way...an event full of climaxes that wrap up alot of stories but sends these characters off in a whole new direction! ML has a plan, and its a great one. We have seen alot of action under my reign, and while there will be some, there won't be nearly as much under ML. I'm really excited. Stay tuned!" Smith encourages.