SONBC ANNOUNCES PREMISE FOR "PORT CHARLES: AFTER MIDNIGHT"

NETWORKS FIRST PRIMETIME DRAMA BEGAN PRODUCTION JUNE 22

PREMIERES IN LATE JULY

Series Reveals What Happens With "Port Charles'" Favorite Characters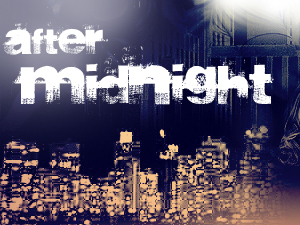 Manhattan, NY – (July 7, 2007) – Jennifer Snyder, Head Writer of "WICKED" and Consulting Producer/Associate HW of Port Charles: End Game, announced a 'first ever' will be brought to SONBC. In collaboration with Ryan Chandler, Executive Producer and Co-Head Writer of "Port Charles," the two talents will write and produce Port Charles: After Midnight, a night time spinoff of the SONBC Nominated "Port Charles."
"Port Charles: After Midnight" will mainly focus on the lives of doctors and nurses at General Hospital as they encounter one crisis after another while working in the ER. In addition, there will be some non-hospital players involved as well. "My idea for the night time spin off will deal mainly with the hospital and the staff who encounter many challenges as they try to work together to save lives. Friendships between the new doctors and nurses will form as some of the cast of "Port Charles" will become entangled in the storylines on After Midnight," states PC:AM Head Writer, Jennifer Snyder.
"We will also be bringing back history as we re-introduce to the viewers The Nurses Ball. As history returns, so does the tradition of Lucy Coe spearheading the plans for the huge extravaganza. We are excited about bringing back the Ball, and we know the fans have missed it immensely."
"The plans for the first season have already been laid out, and you can expect to see many After Midnight characters appearing on Port Charles," says Ryan Chandler. "We have some great surprises set up for viewers, as well as some casting choices that will make you all quite happy."
"Port Charles: After Midnight" will be a weekly episode, but episodes could appear more than once a week, as needed. If more than one episode is set to appear, an announcement will be made following an episode of Port Charles," Chandler says. "Since PC: After Midnight is prime time soap, Jennifer and I can push the envelope and give After Midnight a racier and sexier edge. If you think Port Charles is hot, wait till you see After Midnight."
"Port Charles: After Midnight" began production on Friday, June 22 and will premiere Friday, July 27. Jennifer Snyder, consulting producer/associate head writer for "Port Charles" and Ryan Chandler, head writer & executive producer, "Port Charles'" will write and executive produce "Port Charles: After Midnight".
Expect a cast announcement to be made shortly.