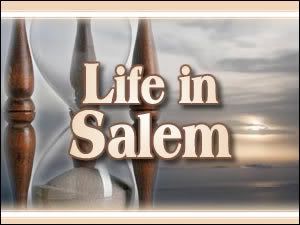 Episode#200
-Nicole sits in her room at the Salem Inn, and she watches the news and snorts at the news about Roman and Stefano, saying this was a long time coming. She picks up her cell phone and calls Greta, but no answer. She then leaves a message saying:
Nicole: Hey princess, its me. Have you made your decision yet? You don't have much time left, and its either leave Salem and all of its citizens behind for good, or your secret to daddy comes out. You better hurry…
-Tony and Anna are still with the others in the waiting room, and Bo says he needs to see his brother. Kim tells Bo to just be patient, and that Marlena needs this time with him. Tony then says to Anna:
Tony: That blonde woman, earlier…something seems so familiar about her…I just can't put my finger on it…but I keep thinking of Aremid…
Anna: I'm not sure, Tony…although I think she's Stefano's adopted daughter.
Tony: I…think I remember her being mentioned years ago…Kristen Blake, but I still feel like I knew her better…
-Kristen asks Vivian what the HELL she is doing here, and Vivian says she heard about Stefano on the news, and that she is his ex-wife after all…and she slowly says she sees he lived through all of this madness. Celeste slowly asks Vivian if she hears dissappointment in her voice, and Vivian lies and simply says:
Vivian: Oh no…I am glad…it gave me a chance to come here and see my ex-husband after all.
Kristen: You really don't need to be here, Vivian.
Vivian: Oh yes I do…just incase…something happens…
-Marlena continues to sit with Roman, and she then stands and takes out her phone and leaves a message for Belle to come to the hospital and tells her about Roman's condition. Marlena sighs after she hangs up, and sits back down. She says Stefano may be gone and Helena may have vanished, but Kristen is back and it feels like new trouble is just on the horizon…
*Life in Salem Opening*
-Anna says they just need to figure all of this out, and they will as he tries to cure his DID. Tony nods slowly, and tells Anna he thinks they should go. Anna agrees, and says these have been some past couple of days. Tony and Anna say their goodbyes to everyone else, and then leave the hospital.
-Kristen snaps to Vivian NOTHING will happen, and Stefano will rise again soon. Celeste watches the argument, and Vivian tells Kristen that you never know what'll happen, and even Stefano might not survive this round. Kristen scowls, and Vivian says now that she's seen Stefano its time for her to leave.
Kristen tells Vivian to please do, and Vivian walks out of Stefano's hospital room.
Once Vivian is alone, she says:
Vivian: Well, if Stefano doesn't croak on his own…I will have to make it happen.