Kendall OR Greenlee...

51 members have voted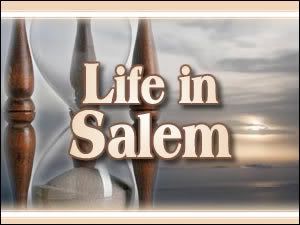 Written by: Daysfan
Episode#162
-As Stefano , Lexie, and Megan all walk around in the foyer of the palace, and Lexie says this is bigger than any other mansion or compound she has seen that belongs to Stefano. Stefano says yes, and this was the main DiMera home. Stefano glances around and asks for his daughters to leave him alone for a few moments, and both say they will and walk out of the room. Stefano slowly sits down in a chair, and Stefano flashes back to a woman(Annette Bening) and a man(Andy Garcia) making love on the couch…
-Helena stares at the DiMera palace for a moment, and she suddenly flashes back to the same woman and man Stefano flashed back to, and she remembers the woman yelling at the man:
" One day you will pay for this. Pay dearly! No one uses Helena Cassadine this way. For now, you can continue on with your life in prosperity and always rising from the ashes. But I am a vindictive woman, and I will be back when you least expect it. However for now I curse you, Stefano DiMera, and your damn family. When I return for my revenge, you won't rise from the ashes. The Phoenix will lie on the ground cold and dead!" she shouts as they stand in the doorway of the palace, and she turns and marches out
Helena whispers to herself that now is not a time to focus on the past, and focus on the present, and that is defeating Stefano. She chuckles evilly as she walks off.
-EJ looks at Nikolas and smirks, and says looks like the good Cassadine may actually have the same goal as him. Nikolas says he doesn't want Helena to go free, but he does want to try to handle this himself and he can't let anyone get in the way. Nikolas tells EJ that includes him. EJ laughs and says Nikolas is not a match for him. Nikolas then comments they'll see about that, and they'll also see who goes down. Suddenly a voice says both of them will go down, and they turn to see Bo standing there!
-Tony has brushed off the flashback in Aremid and both Anna and him continue to search the study. Anna says they have searched almost everywhere and found nothing. Tony says they haven't checked the locked drawers in the main desk yet, and Anna asks if he can get them open and Tony says with a smirk of course he can. However as he tries to get one of them open, suddenly he has another flashback to a gunshot going off and yelling…
*Life in Salem Opening*
-Lexie, after going to a private room, quickly takes out her cell phone and dials a number. She then a few seconds later says "Hello. Yeah, it's as we thought, he came to the main DiMera palace in Italy. It's huge, just hurry but be subtle. We can't have this blow up in our face now. He seems to be not suspecting anything from you at this point, and believes I am loyal. Just be careful." she warns and then says goodbye, and hangs up. She whispers to herself her father will get what is coming to him.
-Stefano sighs and takes out a gun, and as he stares at it he says "Helena, my dear, you were foolish to think the Phoenix could perish. You were wrong. I have hurt so many people in Salem and imprinted things in their lives that will last permanently, but it is nothing compared to what will happen to you…"
-Bo asks them what the hell they think they are doing knocking out two people, who are even police officers. EJ remarks they are taking care of business, and Bo tells them he knows who they both are: the Cassadine boys. Bo tells them to step aside while he makes sure Roman and Abe are alright, and not to go anywhere, and after they awake he'll see if they have to be taken down to the station or not. However as EJ slowly steps out of Bo's way, he takes off running! Bo takes out his gun and yells at EJ to freeze, but EJ pulls out his OWN gun and begins to shoot at Bo! Bo takes cover at the front of the car, and Nikolas takes this chance to dart off! Bo yells "Damn it!" as both run off.
-Tony stares off into space for a few minutes, and Anna notices something is wrong and asks if he's alright. He answers after several seconds he is fine but Anna says maybe he should sit down. He agrees and she asks what happened. Tony answers he keeps having odd flashbacks ever since they got into this room…of a gunshot going off. Anna asks what it could possibly mean, and Tony says he has no idea and he believes this is the first time he was ever here.
-Megan comes back into the foyer, and Stefano greets her. She asks Stefano why they are being so slow in everything, and he assures her it is all part of the plan. He says he can't put anything more into motion until everyone arrives in Italy, but that will be very soon. He says Roman should already know he is here, and Helena of course does. He tells her all in due time things will unfold.
-Bo manages to wake Roman and Abe up and inform them of what happened. Roman tells them it's obvious they will be heading to Italy too, so they need to get there fast. Abe agrees, and tells Bo they could use his assistance. Bo says he needs to talk it over with Hope first ,especially with the state she is in about Alice, and they still have to find Gina. Roman then says he needs to tell Marlena about all this, he just hasn't had a chance. Bo says he will talk to them later, and they agree. Bo heads to his house to talk to Hope while Abe and Roman drive off…
-EJ arrives at the airport and boards a private jet he had arranged on the way there, and it flies off to Italy! He says on the plane that he knows his nephew Nikolas will head there as well, but he'll deal with him soon enough, but for now he must handle his father and mother. Meanwhile, Nikolas also arrives at the airport and boards a plane to Italy, and it takes off!
-Anna puts her hand on Tony's shoulder and asks him if it could be anything more. He shakes his head, very unsure. As he stares at the wall in front of him, he begins having the flashbacks again over and over. Anna can tell something is wrong again and says "Tony?" and then repeats herself, but he stays silent as the flashback continues to replay. Finally, he has the full flashback!!!!(CLICK HERE FOR TONY'S FLASHBACK: http://www.youtube.com/watch?v=-PiACBAXSl4 )