Kendall OR Greenlee...

50 members have voted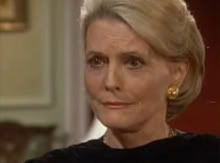 TWO CHARACTERS EXIT LIS AS ONE FAMILY IS PHASED OUT!
Coming in immediately after "Episode#291: A Deadly Fall"....two characters and one actress have been cut from the LIS cast! Constance Towers(Helena Cassadine), who has played the top villianess from 2006-2009, and Stefan Cassadine(played by Stephen Nichols from 2008-2009) have both exited! Nichols shall remain on as his main character Steve Johnson, but his time playing dual roles has ended. The two characters exited when, in a showdown with Steve and Kayla after Steve escaped Helena's prison, they both lost their lives. With these two characters gone, the Cassadine family has been officially phased out of LIS.
"I simply thought it was time....there were more plans for the Stefan impersonating Steve storyline, but I felt it was a failure and wasn't working, so after playing it out a bit I decided to end it. With how LIS is now, the Cassadines don't really have a place here before...they were once a big family on the show, since we've had Helena, EJ, Nikolas, and Stefan all here(and Mikkos in a few old flashbacks), but they're played out and its time for the GH crossover to end. I enjoyed having them here on the show, though, and I wish Constance all the best in the future." Tara Smith told reporters
Both character's last airdate was on Episode#291.