Salem University Hospital.
In the waiting area,
Marlena, looking at Anna and Tony
"So you think Jan Spears is my daughter, our daughter Tony?"
Tony
"Marlena I know it sounds crazy but Nicole being our missing child doesn't add up"
Marlena
"It would make sense as to why Faye is here."
Anna
"Marlena, just let us do the paternity test."
Still waiting on news on Jan, Lucas walks over toward Tony, Anna, and Marlena.
"I overheard my fiancée's name. What's going on?"
Anna
"Lucas, there is something you must know."
Marlena steps in front of Anna's face and stops her from speaking any further,
"Please don't. Don't drag any more people into this. Not until we find out for sure."
Tony
"Does that mean you are willingly to get the paternity test done again?"
Marlena
"Yes."
Lucas
"What the hell is going here? I hear Jan's name and now a paternity test?"
Marlena
"Well Lucas you might as well know."
Lucas
?Know what? I don't like the sound of this."
Tony
"Lucas, Nicole may not be my missing daughter with Marlena."
Lucas
"Ok, so what does Jan have to do with this?"
Marlena
"Jan might actually be my missing child."
Then Nicole walks out of her room.
Nicole
"Don't bother."
They all turn around and look at her. Faye and Brandon follow Nicole out of her room.
Anna
"Ready to confess Nicole?"
Nicole
"Anna, shut the hell up."
Anna gives her a smirk.
Tony
"What's going on Nicole?"
Nicole
"I can't keep this charade up any longer. I give it up. I lied to all of you. I am not the missing Dimera child with Marlena." Every one is stunned at Nicole's confession.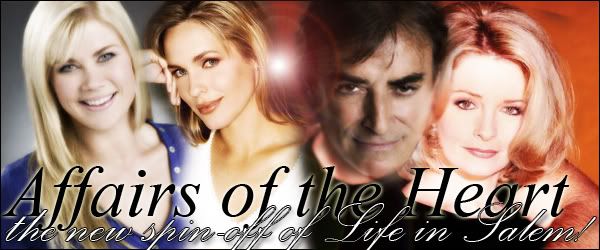 http://www.youtube.com/watch?v=YPJ-PgKs-Fc
Episode 10: The confession
Written by: ML Cooks
Will, with his daughter Arianna and Destiny walk up to the Spears Mansion. Will continues to hold baby Ari as she continues to cry.
Destiny
" I think something is wrong with her Will."
Will
"Please don't say that. We can just lay her down in one of the rooms. It looks like no one is home."
Destiny
"Will can you please stop. We can't keep hiding and running. Arianna is sick." Destiny feels the baby's forehead. It feels warm to the touch.
"Will I really think Ari is running a fever. Her cheeks are all red. We need to get her to the hospital."
Will
"We can't do that. I'll lose my daughter. They'll call the police on me for sure."
Destiny
"You're going to lose Ari anyway if you don't take her to the hospital. She needs medical attention. You have to give this up. You have to tell you parents what's really going on. We need help."
Will
"You're right. I can't let my baby girl get sick.." He kisses her forehead and sheds a tear.
"It's time to man up. It's time to take responsibly."
Destiny
"I will stand behind you all the way . I am with you. "
Will
"Thank you." Will and Destiny walk off to the hospital.
Downtown Salem
Titian Building
Jeremy walks in to the entrance way and sees Alexis at the receptionist desk. He walks over to her. She gets a little nervous as she remember her one night stand with Jeremy's father Mike.
Jeremy
"So you are really that mad at me huh? I' called you numerous times last night. What were you doing?"
Alexis, having flashbacks of her sexual tryst with Mike,
"I was out with some girlfriends. "
Jeremy
"I've been doing some thinking."
Alexis
"and that is?"
Jeremy
"I really like you Alexis and I think our argument was really stupid."
Alexis
"As do I. "
Jeremy
"I was thinking and hoping I could make things up over dinner tonight. What do you say, 8 o'clock at Chez Rouge.?"
Alexis
"Oh your aunts restaurant again?"
Jeremy
"Where ever you want to go. We can dine here at the Pent house Grill."
Alexis
"Sounds fine. 7 o clock then."
Jeremy
"I'll be here."
He gives her a peck on the cheek then leaves. Alexis takes a deep sigh and wonders if she will be able to maintain dating Jeremy.
Back at the Hospital
Anna
"I knew it. "
Stami
"What a liar."
Nicole
"You're one to talk."
Marlena walks up to Nicole and slaps Nicole across the face. Nicole rubs her cheek.
"How dare you play with all of our lives like this?"
Faye
"Nicole, how could you do such a cruel thing like this?"
Brandon
"Yea this is low even for you sis."
Nicole
"I did it for the money. I'm sorry, I know it was wrong."
Tony
"You damn right it was. I am a Dimera damn it! Don't think for one second you're going to get away with this."
Faye
"There's no need to threaten my daughter. I will not have that."
Tony
"Who do you think you are? You're straight from the trailer park. Look at you."
Brandon swings at Tony but Tony back ups
Tony
"Your pathetic. Try harder next time."
Brandon
"Nothing better not happen to my sister. I'll come after you."
Tony
"You're making me laugh son. Your sister should have thought of all of this before she decided to play God with our lives. She will pay for this."
Marlena
"Tony please. Don't make this situation worse. We don't need to be violent. Nicole will pay for her crimes the good old fashion way."
Nicole
"What do you mean?"
Marlena
"I'm pressing charges on you young lady."
Lucas
"Alright wait a minute, everyone calm down here. Let's get this paternity test in order. If Jan is the missing Dimera child then we all need to know."
Nicole
"Jan is the missing Dimera child. That much I know."
Anna
"Your word means nothing no more."
Nicole
"Can you please stop talking to me you old hag?"
Brandon
"That's enough." Brandon grab his sister and shoves her into her room."
Tony
"Now that the liar is gone, Let's get the paternity test done."
Lucas
"I really don't know how Jan is going to take this." Lucas says as they begin to turn around and walk to Jan's room. When they turn around, Lucas is stunned to see his son with a baby and a young girl.
Lucas
"Will, what are you doing here? What is going on? Who's baby is this?" Will doesn't know what to say as his daughter Destiny continues to cry.
Meanwhile, After Faye and Brandon go get some food from the lounge, Nicole gets out of her bed and walks into the hall way to look for Greta's room. She finds it and walks inside. Nicole is stunned that it's really Greta she sees before her.
"It's really you. You've come back. You dumb fool."
Greta, slowly opening her eyes,
"No Bitch. You're the dumb fool. Pay backs are a bitch and you will get your's."
Nicole
"Look at you. You look sick. What the hell happened to you?"
Greta
"Worry about your self. Worry about what you are going to do when I come for you. Enjoy your last days here in Salem."
Nicole
"Greta, you're tripping. Get a hold of your self. I've just been exposed, so nothing you do is going to matter now."
Greta
"You just wait."
Nicole leaves at Greta's ominous warning, a chill runs through Nicole's spine.
Greta, hollering after her
"I'm going to kill you Nicole walker."