Episode#217: The DNA of a Jackpot
---
Kendall OR Greenlee...

51 members have voted
Chez Rouge
Julie is dining with her son.
David
"This is a really nice place Maggie has here."
Julie
"Yes it is. So how long do you plan on staying here in Salem?"
David
"I really don't know. I am afraid if I stay too long I'll get caught up in the craziness of Salem."
Julie
"What do you mean? Salem is not crazy"
David
"Mom, this is the same town that saw Dr. Marlena Eva's possessed by the Devil"
Julie
"Oh yes. Oh my, I completely forgot about that." As Julie eats her food, she looks at the entranceway and sees Lucas, with Jan walking in.
Julie
"You have got to be kidding me."
David
"What's the matter? Isn't that Bill Horton's son with Kate Roberts?"
Julie
"Yes and she stole Shawn's sperm and got her self pregnant. From one Horton to the next. Well I'm not having it." Julie says getting up and approaching the two.
David
"And she tried to Salem isn't crazy. Yea right" He says sipping on his wine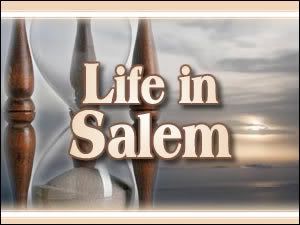 Executive Producers: Tara Smith with ML Cooks
Episode 217: The DNA of a Jackpot
Written by ML Cooks
Story Editor: Tara Smith
Penthouse Grille
Victor and Celeste are slow dancing to a classical tune.
Celeste
"A man of your age is surpassingly light on the feet."
Victor
"Your not so bad yourself Ms. Perrualt."
Celeste, laughs
"Who would have ever guessed, me and you would end up on the dance floor together."
Victor
"In a million years I wouldn't have guessed it. But I will say this should have been happening some time ago. Celeste you are beautiful."
Celeste
"Thank you darling. It's been years since a man has told me something like that."
Victor
"Well some one is blind then. We need to do this more often."
Celeste
"I would like that. New year, new beginning's"
Victor
"And Maybe new romances too." Suddenly they hear
"Over my dead body." They both turn around and see Vivian.
University Hospital
Dr Mike Horton walks into Anna's room. Anna slowly opens her eyes and looks at Mike
Mike
"Hey there. How you feel?"
Anna
"Like I got shot."
Mike
"There. I see you got your sense of humor still. I'd say you'll make a full recovery."
Anna
"Great."
Mike
Now how did this happen to you?"
Anna has a flashback of walking into the Dimera mansion and seeing holding Kristen at gunpoint, Tony walks up to Kristen and they struggle for the gun. The gun goes off and Anna is shot.
"I really don't remember." But what Anna really does remember is getting Jan's DNA samples, or so she think she did.
"Mike I need a huge favor."
Mike
"Sure, what is it?"
Anna
"I have some DNA samples in my pants pocket. Please take them to the lab and tell me who's DNA it matches too."
Mike
"This is a bit odd. Anna, what is going on?"
Anna
"Please, don't question me. I really need those results" She says pulling the hair samples and saliva filled q-tips to Mike
Anna
"The sooner the better"
Mike, frowning
"I'll have the results by the end of the day."
Anna
"Great. And keep this between us."
Mike
"Sure" He says wondering what in the hell is this DNA thing all about.
Back at Chez Rouge
Julie approaches Lucas and Jan
Lucas
"Aunt Julie. It's good to see you again" He says hugging her.
Julie
"I wish I could say the same Lucas. Your going out with your cousin's baby's mother."
Jan
"Excuse me? What does that have to do with anything."
Julie
"From one Horton to the next huh."
Jan
"How dare you!"
Julie
"No how dare you? Don't you have any self respect? Any class for yourself? I mean who in their right sane mind would steel sperm? Lucas I urge you to think twice before dating this little trouble maker."
Lucas
"You know Julie, I have. I have thought about this long and hard. This is my life, and if I want to share it with Jan then that's my business. I don't come up to you telling you how to live your life. I'm a grown ass man so please respect that." Lucas grabs Jan's hand and they walk away as Jan looks back at Julie smiling.
Pent House Grille
Victor"You again. Are you stalking me?"
Vivian
"Of course not. It just so happens every where I am there you are. Salem isn't that big you know."
Victor
"I wish it were. The less I see of you the better. You make me sick Vivian. Your like a vulture. Always looking for easy prey. Stefano is dead and the first thing you want to think about is his will and the Diemera millions."
Celeste
"I suggest you preoccupy your mind with other things besides the Dimera's Vivian. Like keeping Alamain afloat. You have no business being worried about Stefano's money."
Vivian
"Like hell I do. Stefano owes me. I did a lot for him."
Celeste
"And I gave birth to his daughter."
Vivian
"Your not the only woman has woman he has evil spawn with."
Victor
"Vivian that's enough. I want you to leave know before I throw you out myself."
Vivian
"This isn't over Celeste. Stefano's money belongs to me."
Celeste
"We'll see about that darling." Vivian walks off. She thinks to herself "Celeste and Victor? What is the world coming to? I just know in my world, I will win Stefano's millions. Celeste doesn't stand a chance against me
The Carver House
Abe, who was playing a video game with Theo pauses it as he gets a knock on the door. Abe gets up and answers it. He sees Lexie
Abe
"Lexie, I wasn't expecting you. You should have called. What are you doing here>"
Lexie
"Abe, you really have to ask me something like that. Why else would I be here. I'm here to see our son." Abe steps outside and closes the door behind him so Theo doesn't know his mother is here
Lexie
"Abe, what are you doing? I want to see Theo?"
Abe
"Lexie, I don't think that will be best."
Lexie
"Why not?"
Abe
"The less of you he sees the better off it will be for him."
Lexie
"I am Theo's mother. You just can't cut me out his life."
Abe
"If it means Theo will have a better life then yes I can. I'm suing you for full custody of Theo."
Lexie, tears forming in her eyes
"Abe, no, you can't do this. I am Theo's mother. He needs me. You can't cut me out like this."
Abe
"I'm sorry but yes I have too. Your not a good mother and I don't want my son anywhere near the Dimera name." And with that Abe walks back inside his house. Lexie stands outside with tears rolling down her face. She says "You can't do this to me Abe. I won't let you take my son away from me."
Back at The Hospital
Dr Mike Horton walks back into Anna's room
Anna
"Please tell me you have the DNA results back."
Mike
"In fact I do. The DNA you gave me did not match Jan Spears or Tony and Marlena's DNA, but some other DNA strands mysteriously appeared that seemed to have come from Nicole Walker, and that DNA matched Tony and Marlena's as well." Anna is stunned as she realizes Nicole is the missing Dimera child.
Outside the room is Nicole, over hearing everything. A devilish grin appears on her face as she says "Jackpot"……