Episode#203
Downtown Salem, Titan
Victor is wrapping up a phone call as Vivian Alamin walks in.
"I want the "New face of Bella" campaign up and running by the end of the day. Time is of the essence." After saying that Victor hangs his phone up and looks at Vivian
"What the hell are you doing here you old Battle Ax?"
Vivian
"Is that anyway to talk to an ex wife? I did give birth to Philip you know."
Victor
"For the Love of God, Please don't remind me. You stole Kate's embryo so please, don't act like you did us a favor. Now state your business Vivian."
Vivian, getting more relaxed, by sitting in a lounge chair
"You know Stefano is on his death bed."
Victor
"I've heard that so many times it's pathetic. He's the Phoenix. He'll keep rising from the ashes."
Vivian
"Not this time. The old man is going to croak for real this time. You should go take look for yourself."
Victor
"My good adversary is about to finally meet his maker." Victor pours himself some scotch.
Vivian
"I'll take one of those too."
Victor
"This isn't the Brady pub."
Vivian
"Why are you being so cold towards me?"
Victor
"Because your always up to no damn good Vivian. I don't understand why you felt like you had to come all the way down here to tell me about Stefano."
Vivian
"I know he's your enemy and you might as well line up with his other enemies. Stefano's will is at stake. I don't want to subject myself to your rudeness any longer so I'll be on my way."
Victor
"The sooner the better" Vivian grabs her purse and leaves Victor's office. Victor gets on the phone to Niko and tells him to bring the car around front, he's going to see Stefano Dimera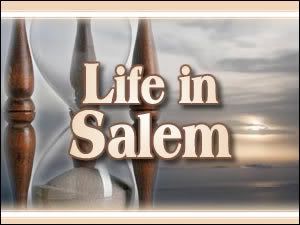 Episode : 203
Executive Producer: Tara Smith, ML C
Written by : ML C
Story Editor : Tara Smith
Salem Police Dept
Celeste walks in to see her daughter Alexandria. Lexis is thrilled her mother has come to see her. Celeste asks her daughter how she is holding up. Lexie responds by saying she could be doing better if Sami would come to her senses and turn over the video tape of Tek's accidental shooting. Celeste ask if Sami is up to her old tricks? Lexis answers back by saying She really hopes not. She told Sami to think of Theo. Lexie says she might have gotten through to Sami but we all know Sami is full of surprises .Celeste reassures her daughter, telling her to have faith, and she is sure Samantha will come to her senses. Celeste then goes on about her father Stefano "He's really going to die this time. The world we be free of that evil man. "Lexie responds by saying although Stefano is her father, she must admit, that maybe Stefano dying is a blessing everyone needs. Celeste agrees and takes it one step further by saying" I've done a lot for Stefano. He better have left something for me and you in that will. Lexie looks at her mother in a surprised state over her mothers greed like statement. Lexie wonders where this is coming from.
University Hospital
Marlena and Belle look at Kristen sitting next to Roman holding his hand
Marlena
"I though I asked you not to come see Roman."
Kristen
"Marlena I really don't want to fight. This is not good for John...er, Roman."
Belle
"Mom she's right."
Marlena
"Just get the hell out Kristen. Before I throw you out."
Kristen
"Don't get your panties in a bundle" Kristen says getting up
Kristen
"Belle it's great to see you again. Maybe you can talk to your mother. She seems to have some built up tension inside her. She really need to let it go."
Marlena
"Just get out Kristen."
Belle
"Please, just leave Kristen" Kristen finally caves in and leaves
Belle
"I can't believe she's back in Salem."
Marlena
"Oh I know, and I know she's up to something" She says as she gazes at Roman
The Dimera Mansion
Anna sets a pot of coffee on the table in the living room as Tony is sitting on the couch starring of into space. Anna walks over and sits down next to him She calls out his name but he doesn't respond. She tries again to get his attention but he still has a blank stare on his face. She shakes him. Finally he looks at her. "Where were you just now honey?" "Who the hell are you?" He replies back. Anna says oh God not this again. Who are you today? Tony replies back "How sweet of you to ask cupcake. Today I'm Vince and I'm sorry to tell you, your precious Tony is long gone. He's never coming back" Anna looks on at Tony wondering how much longer Tony has to fight with his alt. personality
Hope and Bo's House
Bo searches the whole house looking for his fancy face. After calling out to her and not seeing her, he decides to call the family and friends. After calling Kayla, Kim, Shane and Marlena, they all say they have not seen his fancy face. Bo wonders where the hell she could be after she left so abruptly the yesterday morning before. He realizes in fact he hasn't seen Hope at all yesterday." Something is not right." He calls into the station to put an APB out on Hope.
Meanwhile, down at the Pier, Nicole stumbles onto Hope, who is passed out drunk on the ground. She sees an empty bottle of gin laying next to her. Nicole panics, not expecting to see such a pillar of the community passed out drunk down at the Pier. She calls for an ambulance………