Episode#301: Saving Peter
---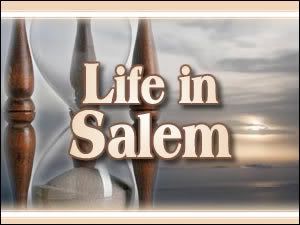 Episode#301: Saving Peter
-Valentine tells Andre that she's not going to sit around and help him ruin everyone's lives again, and Andre says oh contrare, she definitely is! He tells her if not, he can always have a little something happen to her, and Valentine sighs and finally succumbs to Andre's orders!
-Jeremy stands outside Alexis's room as Mike tries to save her…he thinks about how he hopes she lives, and a voice asks Jeremy what he's doing here, and he turns to see Maggie!
-Mike continues to work on Alexis…
-Stefano, Renee, Elvis, Kristen, and Megan all arrive down at the hospital…Stefano asks Tony how the hell this happened, and Kristen accuses him of doing something to Peter! Billie defends Tony to Kristen, saying he was trying to help Peter! Tony explains that he and Peter were both down at the pier, and suddenly he got shot! Stefano's eyes widen, and he slowly looks around, and sees Kate and Crystal a short distance away!
-Lexie tells the other doctor that he HAS to make it, she can't disgrace her family and let him die! She orders them all to just keep working, they have to save him, and they continue the surgery…
*Life in Salem Opening*
-Steve and Kayla approach Bo's house, and they kiss each other…Kayla again says she's so glad to have Steve back, and Steve agrees, he says it just seems like she's been on the edge since Stefan and Helena both died…Kayla says the whole showdown at their apartment just shook her up, and Steve assures her it'll be alright, and they knock on Bo's door, but are suspicious when no one answers!
-Andre whisks Valentine off from the airport!
-Jeremy sees Maggie, and he sighs and explains how he found Alexis stabbed on the corner of a street. Maggie gasps and asks if he knows what happened, and Jeremy says no, but he rushed her here, and now Mike is operating her…Maggie says she was coming down to see Mike, but she hopes Alexis is alright! After a moment of silence, Maggie tells Jeremy that she's proud of him, he asks why, and she says he hates Alexis but still brought her all the way to the hospital in her time of need!
-Mike tries to remove the knife from Alexis, and continues muttering it'll be alright…he thinks to himself that this is him making up for ruining her relationship with Jeremy, he does owe her this much…he slowly takes out the knife, and tells the nurses to prepare to stitch everything up, they can't lose her now…
-Stefano looks from Kate and Crystal to Tony, and he realizes whats happened! Renee asks Stefano if he's alright, and Stefano nods, he begins to walk off and says he needs a moment alone…as Kristen continues to accuse Tony of doing this to Peter and he fights with his siblings, Stefano approaches Kate and Crystal! He asks Crystal what the hell she's done!
-An emotional Lexie continues Peter's surgery, and the other doctor continues to say this doesn't look good, he probably won't make it! Lexie angrily lashes out and yells that he's GOING to make it, and she screams out as she tries to continue on, and the doctor says that Lexie's getting too emotional, and the nurses try to remove her from the room! Lexie however breaks free and yells:
Lexie:NO! I WON'T LEAVE HIM TO DIE LIKE THIS! HE'S MY BROTHER, MY BROTHER! SO MANY PEOPLE THAT I'VE LOVED HAVE DIED WHEN I SHOULD HAVE BEEN ABLE TO SAVE THEM ON THE OPERATING TABLE, AND I'M NOT GOING TO LET THAT HAPPEN AGAIN! PETER'S GOING TO LIVE, HE'S GOING TO LIVE!
-Steve and Kayla continue to knock on Bo's door, but no one comes to the door. Kayla says his car is here, he should be answering…they find that the door is unlocked, and slowly go in…they walk around, searching for Bo, and they find him in his bedroom….Steve says he may be sleeping, but Kayla looks at him and says no, something's wrong!
-Jeremy shakes his head and tells Maggie it was nothing, he hasn't even thought about the situation with Alexis since he found her like that…he's just been focused on keeping her alive. Maggie tells him she's still proud of him, and they both turn when Mike comes out and tells them he has news on Alexis's condition!
-Stefano harasses Crystal, and tells her TONY was the target, not Peter, who's been a loyal son! Kate tells Stefano that Peter somehow arrived at the pier at the last minute, and Crystal shot him on accident. Crystal begs Stefano's forgiveness, saying she'll kill Tony, and she's just trying to get done what he asked, and this wasn't supposed to happen! Stefano tells her that because of her mistakes and screw ups, Peter could die! Crystal sees someone approaching and hides, and Stefano and Kate turn as Billie walks over and asks Kate what the hell she's doing here, and talking to Stefano!
-Tony and the DiMera siblings continue to argue, and Elvis tells Tony he's probably hoping for Peter to die with how much he hates his own family! Tony tells Elvis he doesn't have much room to talk, he heard about him nearly killing Stefano during his wedding to Vivian Alamain! Renee jumps to Tony's defense just a bit but the arguing continues, but suddenly Anna runs in, clutching her head, and tells Tony she's so glad he's alright…and she informs him he may be in danger!
-Lexie, after her outburst, rushes back over to Peter, and tries to calm down and says they need to keep going if they want him to survive at all…the staff hesitantly walks over to Peter to continue with the surgery, but suddenly….he flatlines!