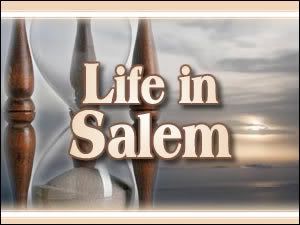 A week of heartbreaking news on Life in Salem......
A husband vows to tell his wife earth-shattering news....
*clips of Bo with Marlena, Roman, and Allan*
Bo: I'll be the one to tell Hope about Alice.
And finally, the most heartbreaking and tearful news of them all arrives....
*clips of Marlena, Bo, Roman, and Allan entering Julie's hospital room*
Bo: Hope, I need to, uh, speak with you privately.....
Marlena: And I must speak with the rest of you.
*clips of Bo taking Hope outside and into an empty room and having her sit down on a bed, and stares deep into her eyes while Roman puts his hands on Marlena's shoulder inside Julie's hospital room as tears start running down her cheeks and the Hortons stare in confusion*
Tune into a huge and emotional week on Life in Salem.....