Brady Pub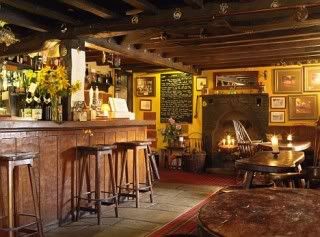 Carrie, Brandon, Eric, Sami, John, Rex, Cassie, Belle, Will, Faye, Abe, and Nicole are all down at the Brady Pub. Carrie and Brandon have called them all there to make an announcement.
Faye
So, you've got us all here. What's this all about? Is something wrong?
Brandon
No, Mom, not at all. We have...good news.
Sami
Carrie, please don't tell me you're pregnant already!
Carrie, shocked
Sami! That's not it!
Nicole
Jealous, Sami? It's too bad that it's not you sinking your claws into my brother.
Sami
Shut up, Nicole.
Abe
So, what is it? What's this good news, son?
Brandon
Well, this is sudden, but we wanted to tell all of you at the same time. I've gotten a nice job offer in Colorado; it's really great. I'm going to be able to counsel a lot of kids down there, and it'll give my charity work a big boost. I've taken it, and I'm moving immediately.
Everyone in the room is stunned and amazed.
Faye
Wow, Brandon, I can't believe it! That's great!
Carrie
And I'm going with him.
Belle
What?! Wow! I suppose I shouldn't be surprised, but whoa. That's great, Carrie!
Abe
It feels like you two just got back to Salem, and now you're leaving again. You can never stay long, can you?
Brandon
Well, we've been here a while, and we're going to miss everyone, but this is a job offer that I can't pass up.
Abe
I understand, Brandon. I'm going to miss you, though; I could've really used my son to stand with me when I get married.
Brandon
Yeah, I know, and I really wanted to be there. I know that Maggie is the love of your life, and your day is going to be great, with or without me; but we're still family, no matter what. I'll be there in spirit.
Faye is touched as father and son talk, feeling remorse for depriving them of this for so many years.
Carrie
He gave me a choice, and I wanted to come with him; I love Salem, and it's my home, but I love Brandon, too. I couldn't let him get away from me.
She looks at John, who is sitting in a wheelchair. She crouches down.
Carrie
Is this okay with you?
John
What do you mean? Of course it is.
Carrie
Well, it's so sudden, and you just woke up; you just found out about Marlena. And here I am deserting you.
John
No, no, that's not true. You need to do what you feel is right; never let love escape you, Carrie. Life is too short to pass up things like that; like Brandon said, we're still family. And I'm not helpless. I can get past all of this on my own. I know that all of my children have their own lives.
Carrie feels tears coming to her eyes at her father's maturity and strength. She hugs him.
Carrie
I'm sorry. I really am...every time something like this happens, I rush out of town.
John
That's not true. Not one bit.
Eric steps forward, sighing.
Eric
I guess this is as good of a time as any to make my own announcement.
Sami
Ah crap; I knew by the look on your face that this was coming.
Eric
I'm leaving Salem, too. It was really sudden, but I've been thinking about it for a while. I need a break, at least; I don't know where I'm going, but I'll get there somehow. I know that I'm doing this at the totally wrong time, but I feel like I need to do it.
Nicole stares at her first true love for a moment; they haven't been together in years, but that connection is still there. It always would be.
Nicole
I understand, Eric. I think we all need a break from here sometimes.
Eric, smiling
Thanks, Nicole.
He looks to John.
Eric
But, Dad, if you need me to stay, just say the word. I feel bad about this, and if you want me here in Salem, I'll stay for however long you need me. If you don't want me to leave, then I won't. Just speak up.
Carrie
Yeah, same here. Just tell us.
John, smiling
No, all of you are grown. I'm glad that you care about me, and that you've been here for me like you have, but I am grown, too. You have your own lives, and I have mine. We'll always be family, we'll always love each other, but that doesn't mean you have to stand by my side every minute of every day. You don't even have to be in Salem; both of you go and live your lives. Do whatever you need to do to be happy, and know that I'm happy and fine, right here. If you need me, you know that I'm always right here. And this time, I'm not going anywhere.
Eric
Thanks. It means a lot to me; it really does.
Sami
I'll miss you. I'll miss both of you. I know that we've all had our spats and disagreements-
Nicole, interrupting
Understatement of the century.
Sami, glaring at her
But we are family. No matter what, we are all family.
Brandon, smiling
You're right, Samantha.
Sami looks at her ex-husband for a moment, remembering all of their good times and bad times.
Sami
Thanks for everything, Brandon. Take care of my older sister...and take care of yourself.
Carrie
Unfortunately, we have to get a move on; there's no time to waste.
Eric
Yeah, same here. I know I'm darting out the door, but it's kinda what I have to do.
Rex
Don't worry, we understand.
Everyone begins to hug as they say their goodbyes; Eric hugs his twin sister, then he hugs his father, before hugging both Rex and Cassie. He then hugs Nicole.
Nicole
Stay safe out there, okay? Don't go the route that Greta did.
Eric
Bad joke, Nicole.
Nicole
Okay, okay, I'll lay off the insults for you. But seriously, be careful out there in the world. And...don't forget about me, okay? I know you and I are over, but I've never forgotten you. And I never will.
Eric
I don't think I could forget you if I wanted to. And I don't want to.
Nicole smiles at him as they hug one last time, and across the room, Brandon leans in to hug Sami.
Sami
Like I told you earlier, thanks for everything. You've been my rock more than once; I fell in love with you. You helped prove my innocence. The list goes on and on, even if I haven't returned the favor too much.
Brandon
Don't worry about it, Samantha. Thanks for being a friend...and a wife.
The two share a tight embrace, and Nicole walks over to Carrie.
Nicole
I know you and I aren't exactly friends, because of the whole thing with Austin, but I'm really glad you're with my brother. You two make a great couple.
Carrie
Thanks, Nicole. Everything with Austin is in the past, and it should stay that way. Who knows? You and I may even be family one day?
The goodbyes continue, and Brandon hugs both of his parents.
Brandon
Stay safe, Mom. Watch over Nikki, especially in this trying time for her.
Faye
You know I will. I love you.
Brandon
I love you, too.
He turns to Abe.
Brandon
Have a great wedding day, Dad. I know you'll be a great husband; you always were. And can you do me one favor?
Abe
For my own son? Anything.
Brandon
Make peace with Lexie. Somehow convince her to let my brother back into your life.
Brandon walks off, and Abe doesn't say or do anything for a moment, in thought. He simply nods his head.
Carrie and Sami tightly hug.
Carrie
Take care of Dad, okay? He really needs it; thanks so much for stepping up and taking charge of your family like this. My little sister really has grown up.
Sami
Yeah, I'm trying; thanks. I'm sorry for everything that I've put you through over the years.
Carrie
It's okay. We're over it now, and it's in the past. Now it's time to look forward to the future.
Everyone says their final goodbyes, and Eric, Carrie, and Brandon all leave the Brady Pub, leaving their families and friends behind. All of them move on to their next phase in life, saying goodbye to Salem.