Episode#285: New Years Eve
---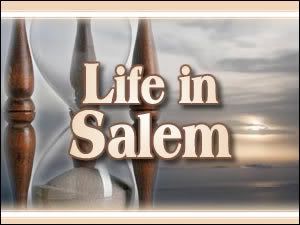 Episode#285: New Years Eve
-Its New Years Eve in Salem!
-Bo wakes up in bed after being asleep for hours…he looks around and the room looks messy but its only him in there, and he wonders what the heck happened!
-Alexis and Eric are at Eric's apartment…they slowly wake up….and they notice they're in bed together! Alexis's eyes widen and she asks if they had sex last night, and Eric nods and says that they did. Alexis jumps out of bed and looks at the time, and asks how they slept all day! Eric shakes his head and simply says he doesn't know, but he guesses after they got here last night it just….happened. Alexis asks Eric how he can take this so lightly, and she's trying to be a better person and get back into Jeremy's good graces, she just had a one night stand with yet ANOTHER man!
-Down in the Secret Room, Nicole and Jan are sitting down there, and Jan has her hand on her stomach…Nicole asks her whats wrong, and Jan answers she's just feeling a little sick. Greta suddenly arrives and wishes them a happy new years, and Nicole growls and asks where the hell she's been…Greta says she's just been letting them tough it out down here, and Nicole tells her not for long!
-At the Salem Inn, Sami is spending a quiet New Years Eve alone…still trying to recover from all that's happened lately. However, she hears a ring at her doorbell…and she goes to answer it to see the police! Sami's face goes pale and asks what does she owe this visit, and they tell her that the investigation is over…there's no evidence supporting her claims about Stan, she's under arrest for the murder of Marlena Evans!
*Life in Salem Opening*
-Victor takes Celeste to the Penthouse Grille for New Years Eve, the place where they met nearly a year ago….Celeste thanks Victor so much for taking her here, and also tells him how much she loves him. Victor has an elegant table prepared for them, but he sees Dorian at another table!
-Bo gets up and around, but continues to wonder what happened, and he feels ab it of a headache…he thinks for a moment and the last thing he remembers is being at the Cheatin' Heart with Jill Stevens!
-Eric tells Alexis that technically she's single, she can sleep with whoever she wants. Alexis asks Eric if he's stupid, and tells him that she wants Jeremy back, she wants to be faithful to him, but like an hour after she pleaed with him to take her back she hopped into bed with a guy she barely knows! She asks Eric how she could do this, how could he let her do this, they told each other of their problems and he takes her home so they can have sex! She asks if he's a pervert, and Eric tells her to hold up, she did it willingly…he says maybe she doesn't want to change and be faithful as much as she thinks!
-Greta tells Nicole that she, and Jan for that matter, need to stop always saying how they'll be getting out of there….she says they've been down here this long, they aren't leaving! Nicole tells her to just wait, and Greta tells them they're both so funny…but sad. She says its happy and fun for her though, she gets to watch Jan, and her biggest rival Nicole, suffer and rot…she wishes them a happy New Years before leaving, and leaving food behind for them, but Jan simply says she's not hungry and walks into the bathroom as Nicole wonders whats wrong with her…
-Sami tells the officers no, she can't be arrested, she's really innocent! The officers say they've delayed this for weeks, and they've investigated records…Marlena's penthouse…they've searched and examined everything they can, but they find nothing to support her statement. They then give Sami the normal procedure, and she tries to protest, but they take her into custody!
-Victor tries to ignore Dorian as he and Celeste share their romantic dinner…she just simply winks at him….
-Midnight is approaching in Salem and 2009 is almost here!
-Alexis tells Eric that's such a load of crap, and he doesn't know her at all. As she puts her clothes on and gathers her things, she says that they can just forget this ever happened. He asks her if she expects them to just go along, and she says yes, she does! She says that she is not doing this again, she's not going to let ANOTHER one night stand affect her life! Alexis quickly leaves Eric's apartment…
-A short time later, Sami is brought down to the police station…she constantly protests it, but the police all ignore her….she begins to cry, and as she is booked she breaks down, but they drag her to her cell, and the clock strikes midnight just as Sami Brady is thrown into jail for Dr. Marlena Evans's death…