The Blue Note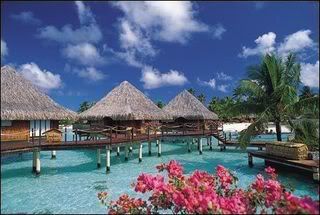 Ria enters the front doorway Pierre greets her
"Evening Madame?"
Ria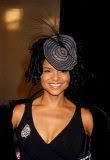 "Hey, I have a reservation for Winters."
Pierre
"Ah yes, your other two parties have not arrived yet."
Ria
"Thanks" She replies back as Pierre escorts her to the patio dining room. She sees Kevin looking out over the deck. She walks over to him
Ria
"I just want to say that I heard about Sharan and I am sorry for what happened."
Kevin

"Are you really?"
Ria
"Yes I am. Is that hard to believe?"
Kevin
"I don't know what to believe these days.'
Ria
"If there is anything I can do please let me know."
Kevin
"There is actually. Tell me why your ex part time lover kidnap Sharan."
Ria
"Dre? He kidnapped Sharan?"
Kevin
"Uh, yea. You said you heard what happened."
Ria
"I did but I didn't know Dre kidnapped her."
Kevin
"Well he did."
Ria
"No, no, no. He wouldn't do something like that. That's not like him."
Kevin
"You would be the one to defend him."
Ria
"It's not about that Kev. I just know Dre and he would not kidnap Sharan. That doesn't make sense."
Ria has a flashback of catching Dre and Ria kissing at Ashley's funeral and Kevin has is own flashback of Sharan calling out Dre's name while making love to her.
Ria
"Kevin, I have something to you." She says aloud as she thinks" Yup, I'm going to do what this Bitch did to me. Exposing my affair with Dre. Nosey ass Bitch."
Kevin
"I am listening."
Ria
"I don't want to make things more complicated but I feel you need to know what Sharan did."
Kevin, looking at her
"What do you mean what she did?"
Ria
"I caught Dre and Sharan kissing at Ashley's funeral."
Those words are like a knife through Kevin's heart. He stares out into the pond and doesn't say anything.
Ria
"Kev, I am really sorry you had to find out like this."
Kev
"I bet."
Ria
"For what it's worth, I really don't believe Dre kidnapped Sharan."
Kevin
"Ria, just leave me alone." Ria smiles and leaves The Blue Note and heads to the City Jail to see Dondre.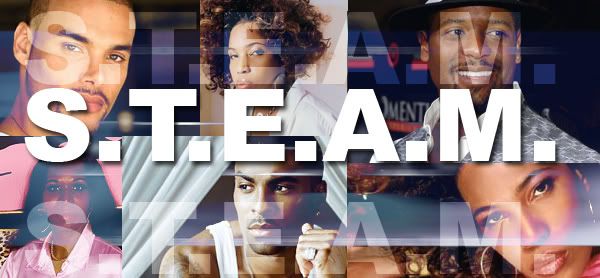 Episode : 61, 3some
Written by: ML C with Monique Bitches
Lavender Hill,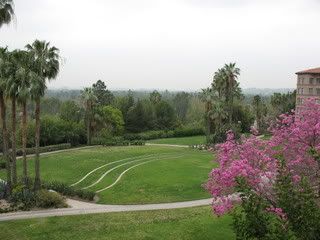 Ty's Mansion


Jenn continues screaming as she looks upon a burned body in a wheel chair. Ty, who just pulled up in his limo runs over to Jenn
Ty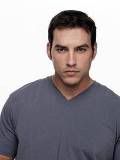 "What the hell is the matter?" He says as he approaches his front door. He sees a charred body in a wheel chair

"What the hell?" A maid grabs Jenn and escort her to the living room. Ty pulls out his cell phone and calls Dr. Diego Serrano.
Down the street, the lady wearing red high heels, who delivered the body to Ty's door step pulls out her cell phone and makes a call.
Sierra Madre

Mona's Underground Bunker

Mona who is relentlessly digging a tunnel through the mountain side stops and puts her shovel down upon hearing her cell phone ring.
Mona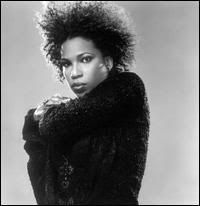 "Holla at me"
Miss Red High Heels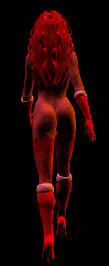 "Package has been signed, sealed and delivered."
Mona
"Excellent. I know Ty is going to sh!t bricks when he finds out who the charred body is. Good work, stay out the way and I will be in contact for the next move." <Mona hangs up her cell phone and says
"Checkmate" With a smile on her face
Meanwhile Diego, with his medical bag has arrived at Ty's mansion.
Diego

"You are full of surprises. What the hell is this?" The doctor says looking at the charred body
Ty
"I don't know doc. I came home and Jenn was screaming her heart out ."
Diego begins to take vital signs as Ty rolls the body in the house.
Diego
"Well do you know who did this?"
Ty
"Maybe" Thinking of Mona.

Sabryn pulls up to the workers entrance of her Fashion House, S.G.

Avoiding the media blitz that's camped outside her building, she gets off the elevator on floor 25. Gilbert greets as she rushes into her office. Gilbert closes the door behind him.
Gilbert


"Is everything ok?"
Sabryn
"No. Alexis is trying to destroy me."
Gilbert
"I know all that. But you was like a cheetah coming in here"
Sabryn
"Oh, I just didn't want to face anyone yet. So tell me, how's S.G. doing?"
Gilbert
"It's getting worse. Our stock value has dipped 50%, we've lost another 10 percent of the market share and we have now sunk to 5th place in the fashion industry. and Alexis's Divine Design is now number 4 and she hasn't even launched her West Coast office yet. The tabloids and news papers are having a field day with every twist and turn your soap opera like life takes."
Sabryn
"I can't believe this is happening to me. I don't even know where to start to save face. This is a disaster and Alexis is exploiting this to the fullest degree."
Gilbert
"25% of stores in the country have pulled our clothing lines off the racks and word keeps coming in the more stores will be taking our clothes off the rack. S.G. is now officially in the black. Point blank, S.G. is broke."
Sabryn
"It's happening so fast. It's time to make cuts. We can start by closing our Pasadena store around the corner."
Gilbert
"Are you sure? It's number 1 in the country for SG"
Sabryn
"We can open up a little boutique downstairs here. Bring those customers here, closer to me. My customers need to meet me so I can show them I'm not a bad person."
Gilbert
"Well if you're sure. I'll draw up the papers then."
Sabryn
"I'm sure. We need money and we have to consolidate. Sell the store."
Alexis walks in

"What a nice office you have."
Gilbert
"I'll call security."
Sabryn
"No need Gilly. I've been waiting for this Bitch."
Gilbert
"Oh God not again. Sabryn you're pregnant!"
Sabryn
"Gilly, please leave us alone."
Alexis
"Yea, Gilly do that." Gilbert leaves the room as Sabryn and Alexis square each other up
The Jump Off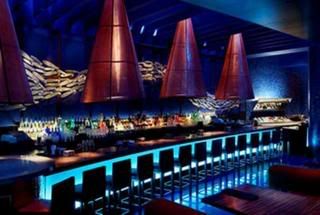 Natalia walks in and sees Bryan wiping down shot glasses. She walks over to him
Natalia
"Welcome to freedom"
Bryan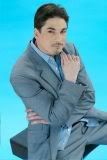 "What are you doing here? The bar isn't open."
Natalia
"That's ok. I can't drink no way."
Bryan
"And why is that?"
Natalia
"I am pregnant."
Bryan drops the shot glass that's currently in, or was in his hand as he flashes back in his mind, to having sex with a woman on one of the pool tables in his club, then Natalia telling him that it was her he slept with.
Bryan
"You can't be serious."
Natalia
"I am. Oh, don't worry. It's not yours."
Bryan
"There is a God."
Natalia
"What does that mean?"
Bryan
"A child with you? Sabryn will kill us both."
Natalia
"Maybe you but not me. "
Bryan
"Look I don't want no problems. You took all my money so you have no business here. Forget about that night, lose that DVD you got of us, forget my name. Just stay the hell away from me and Sabryn. We are going to be a family and I will not let no one mess that up."
Natalia
"A family? Sabryn's pregnant?"
Bryan
"Just leave."
Natalia
"Congratulations. I'm so happy for the two of you."
Bryan
"That's scary."
Natalia
"Well I just came by to see how you were doing but if you're going to be rude about it, I'll be on my way."
Bryan
"Yes, do that."
Natalia, squinting her eyes at him
"I wouldn't be so cocky if I were you." She says as she leaves, leaving Bryan to wonder what she meant about her last statement.
Bryan
"I swear I am not going to let Natalia ruin things for my family. And there's no way she can blackmail me again because I can turn the tables on her, with Mark."
Westwood Park, Mark's House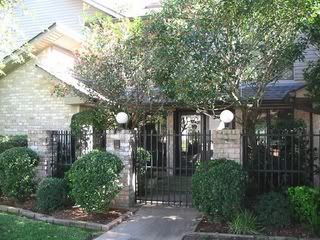 Rufus walks up to Mark and plants a kiss on him. Mark pushes Rufus away then sucker punches him
Mark

"What's the matter with you man?"
Rufus

"What's the matter with you?"
Mark
"Listen, I'm not that same person anymore. You need to get out of here."
Rufus
"Your not the same person? Yea I saw you with Natalia. She's pregnant too. With your child. Sorry about Dahlia. Well then not really because with her dead, that' will be one less person I will have to take care of."
Mark
"What do you mean take care of? "
Rufus
"You know what it means. I'm here to get my man back." Rufus walks up to him again and kisses him. Mark again pushes Rufus off him and walks away.
Rufus
"What's the matter?"
Mark
"I told you, I'm not bisexual no more. I am into women only."
Rufus
"How convient. You only want to be with whomever got your meal ticket huh. That's how it was between us huh? That's the reason why you left me. The well dried up"
Mark
"It was not like that."
Rufus
"Shut the hell up. You can't play with people's emotions like that. As soon as you found out, I was cut out from my parent's money, bam, you disappeared. You was only with me for the money."
Mark
"You got it all wrong. I found God."
Rufus slaps Mark across the face.
"You better find me. I don't want to have to make heads roll in this city. You already know I am nothing to be played with. " As Mark's secret little gay lover says that, Natalia begins banging on the door. As Natalia bangs on the door, she wonder's who tooter booter, is in Mark's driveway.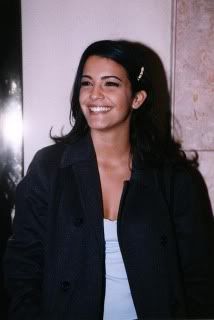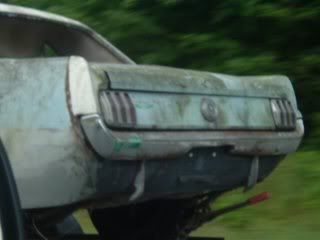 Rufus peaks in the peep hole.
"Isn't this lovely? We can tell her our good news. Maybe, we can even have a three some."
Mark shakes his head, his bisexual secret is about to come to light.