BREAKING NEWS: NEW CO-EP/HW!
---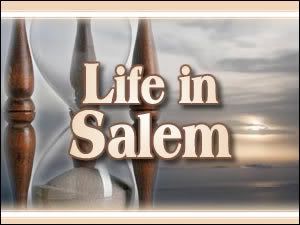 Only weeks ago, the recently-hired Co-Executive Producer/Head Writer Jay quit the SONBC soap Life in Salem to go write his own OLTL blog. Since then, Creator/EP/HW Daysfan//Tara Smith has continued on her own as she did before Jay came to LIS. But suddenly she was contacted by aMLCproduction, who has created and writes sister network SONOP's soap S.T.E.A.M., hoping to join the soap as the new Co-EP/HW. Smith happily accepted his offer and welcomed him to LIS.
"I was so overjoyed, and surprised. I didn't expect to be contacted by someone in such a short amount of time," Smith said "But I was so happy, and he has not written any episodes yet but he has so many story ideas and has watched Days for years and years, he will add a breath of fresh air to LIS. And he is thrilled just as much as I am and assures readers no MAJOR shake-ups will happen."
ML's first episode will air at an unknown date, and also S.T.E.A.M. fans need to not worry, for ML will continue to write that soap as well.