Kendall OR Greenlee...

51 members have voted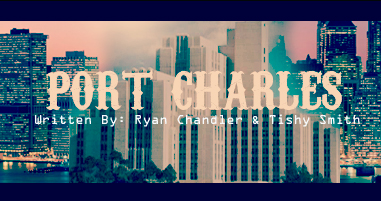 First Edition - October 24, 2007
Welcome to the first edition of the PC Chronicles, a weekly look into the world of Port Charles. Executive Produced by Ryan Chandler & Jennifer Snyder and Written by Ryan Chandler & Tishy Smith, we are here to dispense information about Port Charles. We will talk about the Quartermaines, the Cassadines, the Spencers and everyone else you want to discuss. All the stories that you have questions on, just PM Ryan or Tishy and we will answer it for you.
<HR>


CASTING ROUNDUP



EXTENSION: Stephanie Gatschet's (Serena Baldwin) short-term contract has been extended. Though the actress has lingered since her arrival, her character has some new found direction, as fans have seen as of late. Though she hasn't been upgraded to contract status, she is expected to begin taping more over the next couple of weeks.

GOINGs: JACKIE ZEMAN (Bobbie Spencer-Drake): Due to storyline reasons, the character of Bobbie will be off the canvas for a few months. Zeman, who has worked tremendously over the past two years is going to take a long needed vacation. "She will be back." says Tishy Smith. "Port Charles will have changed a bit since her departure."

ASHLEY JONES (Sarah Webber): In what will be a storyline dictated exit, Ashley has been released from her contract. Ashley's Sarah was brought on to break up Patrick and Robin. Since the Patrick and Robin storyline went in another direction, there has been no story for Ashley. "We have appreciated everything Ashley has done in the year she has been with us. Unfortunately, I made the mistake of bringing her back with no real direction. She has been a true professional. We wish her well in all her endeavors." Ryan Chandler has to say about Ashley Jones on her exit. Looks like those rumors of an AJ/Sarah pairing officially can be squashed. We can confirm the actress will return later next year.
<HR>


BLIND ITEMS:



UNHAPPY DIVA?: There is a rumor going around the studio that one actress doesn't like her surroundings. Sources say she was under the impression her storyline was going to be bigger than it has been. Rumor has it that she may be looking for a way out of her contract. TPTB are actively looking for her replacement if she gets out of her contract.

TO RE-SIGN OR NOT TO RE-SIGN?: We hear that the contracts of two actors are coming up. One has enjoyed a pretty good run in a front burner story and is heading for a new romance. Though he's enjoying his story, he only signed on for a year and 3 short term extensions have already happened. If he does leave, expect the role to be recast right away.

The other actor signed a short term contract and is ready to leave. Setsiders say he feels his character has run it's course with the writers, and doesn't want to re-sign if he's not going to have a prominent story.

EXIT RIGHT?: There's talk of a dramatic change in the look of the canvas coming up. A few actors could find themselves receiving their walking papers
<HR>


QUESTIONS:



Each week, Ryan & Tishy will field questions from the viewers. Hopefully you'll gain a bit more insight into the show.

Q: Emily has been written in a very different way and is far more aggressive. Why is that?

We want to make Emily a true Quartermaine in every sense of the word. One complaint we've read about the character of Emily in the past is that she is very weak. Well our Emily has gone through a lot in the year she's been off canvas. We'll eventually a little more of her growth in the future.

For now, she is very angry at Monica. It's because of Alan & Monica that Emily wanted to become a doctor. Emily sees Monica's actions as just another betrayal to Alan and the family. She is going to channel that anger in a very unique way.

Q: Robin is now pregnant. With her HIV status, how could she not pass it to Patrick and her unborn child?

We've done a lot of research on this story. With the type of HIV that Robin has, she has a very small chance of passing the HIV to either Patrick or her child. Both Robin and the baby will take a protocol to make passing HIV a smaller chance. So it is possible that she doesn't pass the HIV to either Patrick or their baby."

Q: What is the mystery involving Sam and does she have feelings for Lucky?

Sam is proving to be a Cassadine through and through. As readers know, she is being controlled by Helena. Helena's hatred for the Spencers has flowed through her veins for decades. She finally has an opportunity to hurt Luke where it counts.

As far as Sam's feelings for Lucky....she does have feelings for him, but how much of that is legitimate and how much is a ruse? Thanks to Helena's influence, you have to question if they are real or not. This will be a huge story for us coming up.

Q: The story between Lorenzo and Sonny is heating up. What is going to happen in this mafia story? What can we look forward to?

The Mob War will play through November. Without giving too much away there will be a lot of drama. Some will be unresolved, some will end. There will be causalities. The fact of the matter is, the mob just doesn't fit into our vision for the blog and it hasn't since it was created back in January 06. Anna was brought on to rid Port Charles of it's criminal essence and there's a chance she could succeed next month.

Q: What is the state, in your opinions, of the mySON TV blogs, and how do you compare them to real daytime dramas right now?

We feel as if everyone is putting forth their best effort right now. Gone is the feeling of "competition". We're all supporting each other by providing constructive feedback and showing the writers that what their doing isn't being wasted. One thing that's different than it was maybe earlier in year is that showing of support.

As far as the real daytime dramas go, I get more enjoyment from reading some of the blogs than I do with their real life counterparts. Many of us blog writers follow the "Single Vision Theory" and that's why the blogs are doing as good as they are.
<HR>
CLOSING

We just want to thank everyone for continuing to support not only our blog, but the other mySON TV blogs as well. We also want to give a special thanks to Salem Lives writers PhoenixRising & Roman for giving us the inspiration to do this kind of entry. If it wasn't for them, we probably wouldn't have done the Chronicles. Their Salem Lives Insider has been a great feature at mySON TV and we hope the PC Chronicles will as well.
- Ryan & Tishy