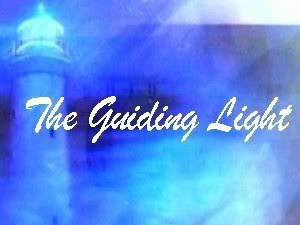 SUMMER UPDATE
<HR>
Tulsa, OK – (August 4, 2007) - With the SONBC blog "The Guiding Light" slated to return to production on August 6th, executive producer and co-head writer Josh Hawkins sat down to open up about storyline changes, a shift in episode production, a return of a daytime veteran actress, a recast and one storyline that will rock Springfield!
<HR>
Late Summer/Early Fall Storylines
SONBC:
Welcome! This is the first interview you've done in a long while.
Hawkins:
I know! We've all been missing out, huh?
SONBC:
I think we have. Let's talk about the hiatus, was it planned?
Hawkins:
No. We had behind-the-scenes production issues which are addressed below, as well as preparing new episodes and getting some storylines under control.
SONBC:
Of course, like having your teens attend prom in "Springfield May" when it reality it was July.
Hawkins:
Exactly what I mean! I saw a way to wrap up the stories into a nice little package, deliver it and move foward to present day, eight weeks after the fact.
SONBC:
Now there are some stories that might not work for, like Michelle's baby, Gus' paternity resolution and Shayne's betrayal, how will that work?
Hawkins:
(Gasps!) You doubt my writing. (Laughs) Kidding, things will be explained in Episode 081 at the beginning. I've added "Since You Been Gone" paragraph to fill in the blanks from some stories, other stories are being written into the eight week gap. Which ones I won't say.
SONBC:
You hold your cards close to your chest don't you?
Hawkins:
I just think that the stories Dan and I have written are top notch, classic "The Guiding Light" and I don't want to spoil everything. I need to feed you some crumbs so that you'll come to the dinner table to eat!
SONBC:
Okay, that's fair! What can we expect to see on Monday?
Hawkins:
Well because we're dealing with Crystal Chappell leaving for about a week (her last airdate on "TGL" is August 8th) so that she can return to "AS DAYS GO BY" where she'll be representing Dr. Carly Manning, our first order of business is the Phillip and Beth divorce.
SONBC:
Rumor had it at one point that it would appear Olivia had been murdered, any truth to that?
Hawkins:
That was one of the stories that was suggested, however it is not how Olivia will be leaving Springfield. (See below for additional information.) We're dealing with Michelle and her yet unnamed daughter's storyline, the stories are moving a little more quickly.
SONBC:
That can be a good thing, just not to quick...
Hawkins:
Preaching to the choir here. When I penned the original web-series "All Or Nothing" I could stretch a story like no other, but not here. I have a large cast to play with and a lot of stories to tell with them.
SONBC:
You have three very big stories coming up, care to share what they are?
Hawkins:
I do! We're tackling a medical issue that has never been done to my knowledge in daytime: testicular cancer. It will impact one of the young leading men on the blog and we're very excited to tell this story. There have been so many blotched medical stories in daytime, we hope that this is not one of them.
SONBC:
So you've done your research?
Hawkins:
Every step of the way! Also make sure to RSVP now for August 17th, Ross and Blake will be married and two other stories reach their climatic high points also, the Lewis family will be changed forever!
SONBC:
Some great stuff is coming it sounds like. One last question, when will Ed open Roger's letter?
Hawkins:
August 17th! I am looking forward to this episode more than anyone knows! Episode 086 is going to feature your favorite "LIGHT" characters, we invite you to join us...
<HR>
REVOLVING DOOR: CASTING NEWS
<HR>
RECAST ALERT




In a shocking casting move, <b>Alexa Havins</b> is OUT as Marah Lewis and replaced by former "World Turns" darling <b>Jennifer Ferrin.</b> Get the inside story…
"A change was needed," confirms Hawkins about the exit. Havins who beat out Martha Madison and Bree Williamson for the coveted role last summer prior to the blog's debut last aired on July 4 in Episode 075.
"Alexa's departure is completely storyline related," Hawkins explained. "When she began she was our Marah, but we feel the part has outgrown what Alexa had to offer."
"Marah is becoming a woman, we're progressed forward with her relationship with Danny Santos and the relationship between Marah and her mother must be repaired. We felt that a more mature looking Marah would help in that vision," said Hawkins.
Therefore, after an exhausting search that brought back Williamson and Madison as well as other younger leading women with daytime credits, including Lauren Woodland and Jennifer Finnigan, executives decided upon Ferrin.
"It came down to Madison and Ferrin," Hawkins recounted. "In the end it was Ferrin who won us over."
Ferrin who is a two-time Emmy nominated actress for her role as Jennifer Munson-Donovan on "ATWT" will debut on August 6 in Episode 081 as a brunette. "It was important for to maintain her brunette hair color and show some red." Hawkins laughs, "She is after all Josh's daughter."
So how will Ferrin's arrival affect the TGL/ATWT crossovers? "We maintain that what is happening with ATWT on-air at the moment is what is happening in the blog, Jennifer is dead."
Ferrin has signed an exclusive contract with the blog.
<HR>
COMING IN
"Another World" Legal Eagle Return
<b>Stephen Schnetzer</b> who created the role of Cass Winthrop on the now defunct "Another World" will step back into the lawyer's shoes on "The Guiding Light." Schnetzer who began playing Cass in July 1982 and continued until the show was canceled by NBC in June 1999. "We wanted to continue the AW/GL connection that has been established many years ago," executiver producer of the SONBC blog Josh Hawkins stated. "Soaps are about family and we're very pleased to continue to use the Proctor & Gamble connections," he concluded.
Cass arrives on August 6 (Episode 081) to represent Beth Raines-Spaulding [beth Chamberlain] in her divorce hearing against estranged husband Phillip [Grant Aleksander.] Schnetzer is slated to make two more appearances later this fall in a separate storyline. "Originally it was supposed to Jessica Griffin [Tamara Tunie] from "As the World Turns" crossing over but things did not pan out," explains Hawkins.
<b>Olivia's Sister Returns</b>
In what was thought to be a role meant for <b>Lisa Peluso</b> insiders are reporting that negoations with the former "Another World/As the World Turns" starlet have fallen through. Instead <b>Judith Blazer</b> who appeared in 1999 as Marissa Randall will return. "Marissa's arrival will help bring Olivia [Crystal Chappell] back to the canvas after her run on
"AS DAYS GO BY."
Hawkins also went on to say, "We're working towards bringing Reva's son Jonathan onto the canvas and Marissa will be an important part of that story." Look for Blazer to return as Marissa on August 22.
<b>Negotiation Time</b>
The blog is the final stages of negotiation with <b>Jay Hammer</b> who played the role of Fletcher from 1984-1998; 1999. "We have the abilitiy to bring back characters with rich history that have made The Guiding Light what it is today," co-head writer Dan Gobble said. Rumors are circling that executives what Hammer back for a handful of episodes during Ben's upcoming storyline.
In addition, to Hammer's hopeful return behind-the-scenes sources are reporting that once Roger's letter to Ed is read the studio will be on lockdown! Producers are keeping mum about what is in the content of the letter, but report it's classic Roger! "Someone is returning!" An unnamed source claims, "And the only people who know who it is, is the co-head writers."
OVER & OUT
<b>Melina Kanakaredes</b> wraps up her return as Eleni Cooper on August 20.
<b>Alexa Havins</b> wrapped up her year long-plus role as Marah Lewis on July 4, see above article for more information.