The Truth Shall Set You Free PT2
---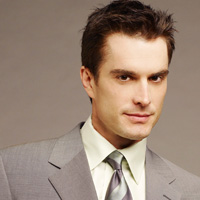 INT. ALAN MICHAEL'S OFFICE
Picking up where we left off with Holly standing in front of the door, stunned.
Holly: Did I hear you correctly?
Holly steps into the office closing the door. Alan Michael and Hope are uneasy at this point.
Holly: Hope?
Hope: (sighs) Yes. Its me.
Holly covers her mouth, at a loss for words. She tries fighting back the tears.
Holly: But you are supposed to be--
Hope: Dead. I know. (glances at Alan Michael) Some people even wish that I stayed that way.
Holly: No! No! (grabbing Hope and holding her tight) Don't say that. We all mourned you at the funeral. We all thought that you were dead. (pulling away, looking at Hope) Does Ed know about this?
Hope: No and I want it to stay that way too.
Holly: Oh no. Oh HELL no. Ed needs to know about this.
Hope: No!
Holly: Why?!
Hope turns away from them, grief stricken.
Hope: Because this is a new lease on life -- a new one for me. That crash was not only a curse but a blessing also. Hope Bauer is dead. I am now Caroline, the woman everyone adores and looks to for help. Not some drunken mess.
Holly: (reaching out to her) Hope...
Hope snatches away.
Hope: No! Holly, you have to promise me that you'll keep quiet. PROMISE ME!!
Holly looks to Alan Michael for assitance; however, he shurgs his shoulders and turns away.
Hope: Holly!
And on Holly conflicted,
CUT TO


INT. MEL'S CLASS
Mel is still stunned from Kevin's accusation.
Mel: How do you know?
Kevin: I was just guessing. I mean you throwing up, you being really emotional as of late -- it doesn't take a doctor to say that.
Mel: Funny you'd say that, but I am gonna need you to keep quiet about this.
Kevin: OK. I mean it is none of my business anyways.
Mel: Right. Now we need to talk about this paper.
Kevin: Do we have too?
Mel: Yes. Your mother seems to think that you are a sure win for the Ross Marler Undergraduate Award this year, and I'm sorry to burst your bubble but you're not. No offense, but I'm beginning to think that this is not your passion.
Kevin: It's not.
Mel: (confused): It's not? Then why are you--
Kevin: My mom. She wants me to be like my dad, but I'm not nor will I ever be. My passion is for the people but law.
Mel: Then what?
Kevin: Medicine.
Mel: That's great! (gloating) I use to be a doctor you know.
Kevin: I know which is why I want to do it.
Mel: Because of me?
Kevin: Well not just you but all the other great doctors at Cedars.
Mel: Then why not go into medicine.
Kevin: How can I?! What I am suppose to do? Tell my mother that I want to go into medicine like my idol, Dr. Rick Bauer, the same doctor, who had a hand in Phillip going on the run, which result in my father's death!
On Mel taken back
CUT TO


INT. REVA'S DINING ROOM
Trista plays with Colin in his highchair when Reva enters dangling the locket. Trista turns to see Reva holding it. She is at a loss for words.
Reva: What is this?
Trista: I-I can explain?
Reva: You better because right things aren't looking up for you. You befriending Rocky then Daisy, coming to my Thanksgiving dinner, and now you are carrying a locket around with my brother's picture in it. You better have an explaination.
Trista: Well see --
Reva: Spit it out! Who are you!
Trista: I'M YOUR NIECE!
Reva: ...What?
Trista: You heard me. I am your niece. I am Rusty's bastard child.
And on Reva shocked,
FADE OUT