Episode#442: State of Drunkeness

Entry posted by daysfan ·
502 views
Flight 720 lands at Salem Airport as night falls.
The plane opens its door and Nicole is the first passenger to get off the plane. Nicole is clearly distraught and crying, with dried up black eye mascara on her face. As she walks into the airport, she wipes tears as she thinks of Travis's death.
"I can't believe some one killed my Travis. We were going to be so happy. Who would do this? Who would kill Travis?" She is now inside the airport and sees her mother Faye waiting for her. Faye walks over to her and gives her a hug.
Faye
"I am so sorry for your loss."
Nicole
"I just can't believe this is happening. Cyanide,... that's really serious. I didn't know that stuff was still made." Who would do something like this?"
Faye
"It is scary. I am just glad it wasn't you."
Nicole
"I bet I know who did this." Nicole stops for a minute and think of Greta.
Faye
"Honey who? Who did this?"
Nicole
"It's not important mother but trust me I will get to the bottom of this."
Faye
"Nikki, you're scaring me. I don't like when you talk like this. It always leads to trouble."
Nicole
"No trouble at all mother. It's time to turn the tables. I have to put an end to this madness. This rabied Bitch has to be stopped! Take me to the police station; I need help in brining this person to justice." Nicole storms out the airport with Faye following.
As they leave, Greta enters the airport disguised as an older blonde. She watches Faye and Nicole drive off.
"So you want to play a hero now huh Nicole? You want to turn me in to the police? You think you're smarter than me? You think you know it all? I got news for you Bitch. You're next. You're going to die too." She says, chuckling to herself as she thinks of how she is going to kill Nicole.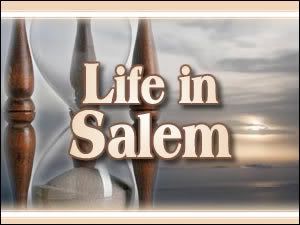 Episode 442: State of Drunkenness
Written by ML Cooks
Executive Story Consult: Tara Smith
Salem Place Apts.
Sami who was doing her hair, gets a knock on her door, she stops to answer her door. She is happy when she sees her son Will, his daughter Arianna and his girlfriend Destiny.
Sami hugs them all.
"Come in. I just ordered a pizza." She picks up Arianna and cuddle's her.
"How is my little grandbaby?' She looks at Will.
"I can't believe you've made me a grandmother so early in life."
Will
"Come on mom. Let's not go there again."
Sami
"I am just so thankful she is safe and with you. You are her father and she should be with no one else. Thank God Benard and Crystal are out the picture."
Will
"I feel the same."
Sami
"So how has school been for the two of you? Who's been watching my precious grandbaby while you two are in school?"
They don't answer at first.
Will
"Uh, we take turns staying home from school so we can watch Arianna."
Sami
"WHAT? Why didn't you ask me? I would have! Will you must have an education. You don't want to be a bum trying to raise your daughter."
Destiny
"He's not a bum and he won't be one. He loves his daughter very much and we are trying to do this on our own."
Will
"Destiny, it's ok."
Sami
"I don't think I like your tone with me Anna."
Destiny
"You know that's not my name."
Will
"Mom, please don't start. I know an education is important. I am going to make my daughter proud of me."
Sami
"Good! I am glad to hear it. You need help raising this little one. You are only 17. You must get your diploma and go on to college. You're going to need my help."
Will
"What help mom?"
Sami
"I heard about your father's fiasco with Eugenia and Jan."
Will
"Yea, Jan did some vial things. "
Sami
"With Jan back, I assume all of you guys won't be living at the Spears Mansion. Where have you two been staying at?"
Will
"Dad is putting us up in a hotel."
Sami
"Non sense. You two will move here. I have a spare bedroom. I can watch Arianna while you two are at school. Then when you get home, I will pitch in and help watch her while you do your home work."
Will
"Mom please. Arianna and I are managing just fine at the Salem Inn."
Sami
"A hotel room is no place to raise a baby. You don't have a job and barely going to school. You two are going to live here, go to school and get part time jobs. You will be responsible parents. You two can stay here rent free, just save money to get your own place when you turn 18."
Destiny
"Will I do think it's a good idea.'
Sami
"Good Anna agrees, It's settled."
Will
"Under one condition.'
Sami
"OK……?"
Will
"Call Destiny by her rightful name."
Sami
"Of course." She hugs her son. "This is wonderful. I am going to invite your dad and his wife over for dinner. So we can tell them the news."
Will
"Oh God. Why me? You, me, Destiny, my dad and Eugenia in the same room? It's a disaster waiting to happen."
It's morning on Padre Island
Kristen is lying in Bo's arms on the couch as they both sleep. They hear a loud pounding at the door. They both jump up and look at each other's naked bodies and remember they had sex.
Bo
"Oh my God. I can't believe we did it again.' He says putting his jeans on. He opens the door and sees the receptionist.
"You have an important call down stairs padre. The caller said it was urgent and something about a Pete Blake."
Kristen, fully dressed now, coming from around the corner,
"Oh my God, It's about Peter. It's for me."
Bo
"Let me handle this."
Kristen
"I'm a big girl Bo, I can handle this." Kristen follows the receptionist downstairs to take the call.
Bo just stands in the doorway feeling guilty, that he betrayed Hope again last night. After he vowed and promised he is over Kristen, after he gave her his word she could trust him on this trip.
"How could I be stupid? I've hurt Hope again. "He then leaves the room to go downstairs to see about the phone call. Kristen comes up running to him.
Kristen
"Bo we have to go. A man named Paco wants to meet us by the bar on the ocean front. He is going to hand us an envelope with a name in it, and pictures of the person who really killed Peter."
Bo
"And what does this Paco want in return?"
Kristen
"5 million dollars."
Bo
"Oh come on. You're really going to fall this trap?"
Kristen
"We have to at least try Bo. This could be are only chance. Are you going to come with me or what?"
Bo
"Yes."
Kristen
"Good." They leave the hotel to head to the bar.
Jan throws herself through the front door of her Mansion with a bottle of whiskey in her hand. She looks around and sees family pictures of her, Lucas and Bentley. She takes it and throws it at the wall as the glass in the frame shatters.
"It was all a waste of time. All thanks to Greta. It all started when Greta kidnapped me. That's when Lucas met that ugly Eugenia. She did this to me. She has to be stopped. This has gone too far." She takes a big gulp of her bottle. She then sees a picture of her true love Shawn Brady. She stumbles over to the picture and picks it up. She kisses it.
"I will not let Lucas take our son away from us. Bentley is my key to you. My connection to you. He has your blood and I will never let that go. He is all I have. He's all I got from you lover." She takes another swig of the bottle.
"I love you Shawn. I wish you were here to ease the pain. 'She begins to break I into tears, as she begins knocking over furniture and breaking expensive glassware in a fit of raging anger. She completly destroys the first floor. She takes another sip of her whiskey and then collapses to the ground, drunken.
Back on Padre Island
Bo and Kristen are sitting at a table drinking Cosmos.
Bo
"Do you know what Paco looks like?"
Kristen
"No, He'll have a large orange colored envelope."
Bo
"This is so absurd."
Kristen
"Maybe not." Kristen sees a man approaching her with an envelope. "There he is!"
Paco, approaching them
"Are you Ms. Dimera?"
Kristen
"I am. You have info for me on who killed my brother?"
Paco
"Do you have the money?"
Bo, interjecting
"Now wait a minute!"
Kristen
"Shut the hell up Bo! Don't screw this up!"
Bo
"Fine!"
Kristen pulls out an envelope filled of cash, 5 million dollars to be exact and hands it to Paco. Paco hands her the envelope and rushes off.
Bo
"See he left to fast. He's up to something. This was too easy."
Kristen
"I am about to prove you wrong. We are about to find out who killed my brother." Kristen opens the envelope and pulls out a picture and is stunned to see…………