Kendall OR Greenlee...

51 members have voted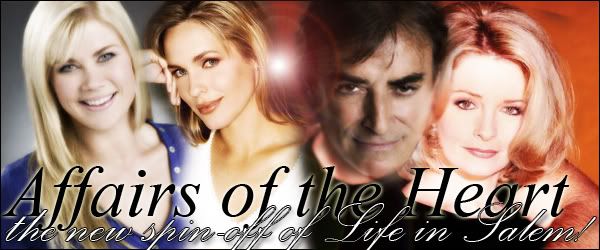 VALERIE WILDMAN, MATT CEDENO, JULIANNE MORRIS, AND AMBYR CHILDERS HEAD TO AOTH...AND ML COOKS RETURNS TO LIS AS CO-EP/CO-HW!
Some BIG announcements are here for AOTH and LIS! Matt Cedeno(Brandon Walker), Valerie Wildman(Faye Walker), and Julianne Morris(Greta Von Amberg) have all reprised their former "Days" roles on AOTH! LIS fans might remember Morris from the 2006-2007 era, when Greta returned and the Nicole/Eric/Greta triangle was re-ignited for a short time, but later left when Nicole and Jan forced her out of town. However Greta's returned and is out for blood, and has a nasty raccoon bite! "I won't reveal too much but...lets just say ML has some whacko plans for Greta." Tara Smith says. Cedeno and Wildman are Nicole's true family, and are playing a big role in the reveal that Nicole lied about being Tony and Marlena's child. "We've planned to bring them back for a very long time, ML finally got to it on LIS. I can't say they will have huge storylines on AOTH or anything but we've got stuff in store once they return to LIS."
Also, AOTH has a newcomer! Ambyr Childers(ex-Colby, AMC) has joined the cast as teenage friend of Will: Destiny Stoke! "Destiny is a character ML himself created, all on his own, and I only helped a little with her creation. Its time for the new generation to be built up, because while LIS has had a twenties scene before we never had a teen scene." Childers, unlike the other three, is on contract.
Also, ML Cooks, the sole EP and HW of AOTH, and former full Co-HW/Co-EP of LIS...will be returning to LIS after AOTH ends!!!!!! "I am so happy when he told me he wanted to return full time, it was such a joy because he brings so much to LIS and he really is a strong writer who knows what he's doing. And he really made me realize how much we gotta move forward. He and I don't want to be stuck in the past forever...we have to start moving forward and building up the younger characters, or just getting fresh blood in, no matter what age." Now, its not like we can't tell stories for the older characters because we'd NEVER do what people like Hogan Sheffer or Tom Langan did on Days during their tenures. Our vets will always have a story in place for them, and its also not like we are forbidding ourselves from ever bringing back another character from Days' past or ever re-telling a classic story. Believe me, we care about the vets and they WILL have story, but slowly we are building up future generations for the years to come on LIS." Tara Smith commented