WEEK OF 2/11/08 EDITION
INSIDER IN DEPTH: FRANKIE'S DEATH

Salem Lives fans were left in shock as the month of January brought an end to the life of Frankie Brady (Billy Warlock). EP/HW Tom Lowery sits down to talk about the controversial decision and it's aftermath.
Salem Lives Insider (SLI):
How did the decision to kill off Frankie Brady come about?
Tim Lowery (TL):
First off, let me say that we love Billy Warlock and he will be missed by all of us. We wish we could've done more with him prior to his character's demise but sometimes things don't work out as planned. We had put him on contract last year and while he appeared often, he wasn't as active as we would've wanted. Anyway, to answer your question, my partner and I began discussing it at the end of summer, shortly after the many cast cuts we had decided on back then. I had tossed the idea around in my head for awhile and once I had become determined to do it, my partner and I discussed it and we went ahead with it. This is a tragic tale but it's one we felt would affect the whole canvas in such a way that it progresses story and takes some characters in new and exciting directions. We just felt the story was too good to pass up.
SLI:
Did killing Frankie off have anything to do with adding some emotional weight to the fallout from Hope (Kristian Alfonso) and Steve's (Stephen Nichols) affair:
TL:
In a way, sure. I mean, there is enough fallout there, especially with Kayla (Mary Beth Evans) losing her baby. I guess what it does is layer yet another problem on the pile of problems the Brady family has. It just ups the stakes and adds another wrinkle. Ultimately, this was more about Greta (Julianne Morris) and starting to tap into her "inner Kiriakis" if you will. It also adds fuel to the fire that is Nicole (Arianne Zuker). She played a big role in the events leafing up to Frankie's demise and she will have to pay the piper for that.
SLI:
The Frankie/Greta romance had finally seemed to hit it's stride so why kill him off now?
TL:
Well, that is the one regret I have. The romance itself I feel was progressed almost too slowly. That was more to do with pacing and our cast then anything else. We have alot of characters and take on alot of umbrella stories and sometimes those things happen. The romance aspect was adjusted a little and we went with the whole "she didn't admit her feelings for him until it was too late" idea because it set things up to give us the same result anyway. It wasn't the original direction we had desired but it ended up ok. As for why kill him now, we had always intended to kill him in this time frame. We knew what stories were coming to a head and what events we had going and felt it was the perfect time to do so.
SLI:
Were you concerned with killing a major character off and then going ahead and killing the unborn child of a supercouple (Steve and Kayla)?
TL:
Sure. There is always that concern, especially with us because last year had alot of doom and gloom. That is why we had things so lighthearted during the holidays and wanted things to be of a celebratory manner, sort of like the calm before the storm. The Brady's have been through so much and are going through so much so it is of concern to keep throwing more and more at them but it makes the payoff worth it in the end. Sometimes you just have to tell a story when writing, even if it leads to backlash. We believe in risks and I think sometimes you just have to go forward and put the story out there and assure the fans to stay with you because it will lead to a great payoff. Things don't always end up with a good result but if the story has a good result, the fans will begin to trust you and will be willing to take the ride with you. You just have to hook them first and that often means taking a chance.
SLI:
How you feel the scenes of Frankie's death turned out?
TL:
Wonderful from my view. It was very draining for us to write. The emotional stuff always is and this especially was with all the Steve and Hope fallout as well. I will say that when writing the scenes right after the death, I even began crying. There I was writing the final scene with Greta laying next to Frankie and then I added the song for the "One sweet Day" montage and I lost it. I think from the point Frankie died until his funeral I must have cried or came close about 4 times. I hope the fans found it just as effective. We both worked hard on making it special and a tribute to the character and hope that was the case for the fans.
SLI:
Salem Lives underwent many cast cuts last summer and brought back many fan favorites for short runs during the holidays, some of which still remain on the canvas. Is Billy Warlock the last cut for awhile or will there be more? And what will happen to some of the holdover returns from the holidays?
TL:
Well, Billy is the last big cut for awhile. Many of the short-term returns will be ending. Things will begin to stabilize in the next month. There really won't be anymore upheaval until summer.
SLI:
Thanks for sitting down with us.
TL:
Your welcome!!
DON'T MISS THE BIG SWEEPS EVENT!!! CARRIE UNDERWOOD AND LIFEHOUSE GUEST STAR AS MAGGIE AND MAX'S CLUB, "RADIUS" OPENS!!!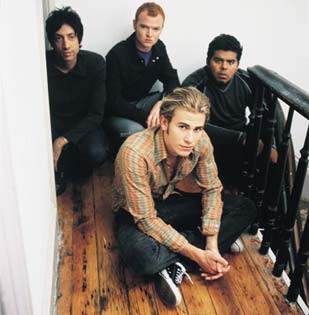 It's a big week in Salem this week as Maggie (Suzanne Rogers) and Max (Darin Brooks) open their new nightclub..."Radius." As previously reported, the event will feature most of the cast and will feature special musical acts. Those musical acts are country music superstar Carrie Underwood and current chart-topper band Lifehouse.
"We wanted to make this a unique and special event and we felt it was fitting to do it during sweeps,"
says EP/HW Tim Lowery.
"It provides a fun atmosphere for Salemites, which is needed after the emotional year we've had so far, and it advances lots of story. We are so happy to have Carrie and Lifehouse with us. They are huge right now and the fans should love it."
How did the club get it's name? Well, Lowery has a funny story about that one.
"We were going to do a fan poll but our last few fan polls went practically un-noticed and circumstances prevented us from getting a poll up to give fans enough time so while we were selecting pics for the club, we came across one with the name "Radius" on it and felt it was perfect. Fans can expect the name to be explained on air in connection with Max and there will also be other little tidbits too, like the name of the stage area. Fans will get a kick out of it."
Expect Underwood and Lifehouse to appear between Thursday February 14 and Friday February 22.
CASTING ALERT!!! CHAPPELL RETURNS!!! DELHOYO BACK!! THOMSON AND LONGORIA-PARKER IN!! EVANS, ROSE, AND BAUER OUT!!!







The Salem Lives casting merry-go-round continues. Fans were shocked when Crystal Chappell made her long-awaited return to Salem on January 24 after nearly a 14 year absence. "We had been hinting at two big returns and she was one of them," EP/HW Tim Lowery says. "We wanted to go the surprise route with her and it seemed to be effective. We love having her back. Crystal is one of the best and Carly is such a rich and vibrant character. I've always wondered what the Carly/Bo/Hope dynamic would be and now we get the chance to see. With Bo (Peter Reckell) and Hope's problems, it was the perfect time." As for the second hinted at surprise return, Lowery is keeping mum.
"Our fans should have an idea based on the stories we are telling,"
Lowery winks.
As for Delhoyo, whose character Orpheus stunned fans by returning from the grave this past Friday, Lowery insists it was always the plane.
"We love Orpheus and feel he has great potential. It wasn't utilized in the 80's so we are doing just that now. We had to rest him so the holidays could be peaceful and happy. It also allowed us to tell other stories. He is back to be a part of our huge umbrella story and we are glad to have him."
In other words, Salem better watch out. Also, expect to see Mark Wahlberg return as Orpheus's special agent, Micheal Stone, in the days ahead.
In regards to Thomson, Lowery is mum. "His character will be involved with Anna getting her business up and running again but I won't say anymore then that. There is more to him then meets the eye for sure." No word on the name of Thomson's character but insiders confirm the role is contract.
Longoria-Parker joining the cast is perhaps the biggest shock. The "Desperate Housewive" siren and former Y&R star will be coming on board for what is now a 3 episode stint, but sources hint it can turn into more and that the gig is essentially recurring.
"With the strike, we were able to get her and she loved it,"
says Lowery.
"She is playing Silvana Vargas, a friend of Joelle's who Sami (Alison Sweeney) and Kate (Lauren Koslow) seek out on an undercover mission at a strip club. It's fun role and Eva loved it. It was great having her."
In other casting news, the short-term runs of Judi Evans (Adrienne), Shayna Rose (Stephanie) and Jaime Lyn Bauer (Laura Horton) are over. Evans and Bauer will last air on Wednesday and Rose will end her run sometime in early March. Rumor has it that Rose will not be back in the role if and when Stephanie makes a return but Lowery would not make any comment on that.
"All I will say is their runs are coming to an end but we will see all three characters again at some point."
Lowery states.
COMINGS AND GOINGS
Nick Benedict (Curtis Reed):
Benedict returns in a dream of Billie's on February 11.
PREVIEWS AND PEEKS INTO WEEK OF 2/11/08
-Billie battles her demons.
-Nicole and Joey are forced on to the streets.
-Sami and Kate's undercover mission goes haywire.
-Salem gathers for the opening of Maggie and Max's club.
-Nicole decides to take desperate measures as the walls begin to close in.
-Kate makes an alarming discovery.

HIGHLIGHT OF THE WEEK: THURSDAY AND FRIDAY FEBRUARY 14 AND 15

VALENTINES DAY BRINGS THE OPENING OF MAGGIE AND MAX'S CLUB AS ALL OF SALEM GATHERS TO CELEBRATE!!
NEXT WEEK:
Nicole and Joey say goodbye. Tony and Anna disagree over her new business partner. Nicole is at the end of her rope. Billie lies to Kate. Abby is in danger.