1/21/08: DIFFERENCES ASIDE
---
Kendall OR Greenlee...

51 members have voted

JANUARY 21, 2008-EPISODE #418: DIFFERENCES ASIDE

SALEM POLICE STATION
Lucas is led into a waiting room and sees his family there. Bill walks over and asks him how he's doing and Lucas says if Bill were going to a maximum security prison, how would he be doing? Bill smiles and admits it was a stupid question and both men laugh. Julie tells Lucas that everything will be ok and Maggie tells him that Victor will do his best to get both him and Roman out of there. Alice tells him to be strong and Doug says that this D.A. is just trumping up charges on him, to which Marlena agrees with.

She then goes over and stands next to Bill, telling Lucas that they will fight like hell to bring him home. Lucas appreciates that but says that it doesn't look too good for him. He'll keep the faith though.

Philip and Belle then come in and Philip walks over to shake his brother's hand. Kate slowly walks in and says that she will do whatever she can to get him free. Lucas tells Kate her kind of help isn't needed. It's probably one of the reasons why he's in prison. Billie also comes in and hugs Lucas, saying that she will do what she can. He tells her she doesn't look well and she says it's fine. She just has a lot on her mind. Lucas says that both her and Philip can drop by and see him or to talk, to which they appreciate the offer.

Bill then asks for Lucas to not be so hard on Kate and Lucas says Bill never had to really deal with her. Everything she touches, she poisons. Kate doesn't care how angry Lucas is....he is her child and she will do what a mother has to do. Sami, who is standing off to the side, agrees, saying that with both families behind him, how can he lose?

The Brady women tell Sami that after what she's been through, she shouldn't get involved. Sami is stunned, saying that she should just let her man rot behind bars for something he didn't do.....while the true guilty man goes free. Belle says this could really cost her her life and Sami doesn't care. She has no life without Lucas and this actually makes Kate smile. Philip sees this and tells Kate not to get involved. Kate is then asking if he is saying she can't help her own son.

Philip is just saying it's too dangerous. Kate asks where the sudden affection is coming from. Sami says that she and Kate have to do this.....and Will is not to find out. Kate agrees. Sami then says they both will do what they have to in order to get Lucas out of this mess....

And make Patricia pay for what she's done.

Billie, in the meantime, can't seem to shake the headache from the hangover she has. She stands off to the side and Kate walks over to her as Philip watches. Kate asks her if she is ok and Billie snaps at her, saying she didn't care when she was keeping her father away from her, so why does she care now? Philip walks over as Billie tells Kate that she should spend her time thinking about how she's going to screw up Lucas' life more by trying to help him.

As Billie walks away, Kate tries to follow but Philip grabs her arms, telling her to leave Billie alone. As a worried and saddened Kate looks at Billie leave....

Bill looks at Lucas and shakes his hand. He tells him that he is proud of how Lucas is handling this travesty and will someday be home, free and clear of these bogus charges. Sami and Will come up to Lucas and both hug him. Will says he'll keep the Xbox 360 in the box until he gets home and Sami says that their home will be very empty until he returns. Lucas keeps a stiff upper lip, saying that if anyone can get him out of this mess.....it's his family and friends.

Marlena tells him how right he is. The guard knocks on the door and tells Lucas it's time. Everyone looks at Lucas as he says.....
Lucas:
Well......see ya in the funny papers.
Sami and Lucas hug deeply as he pulls away from her and Will has to stop her from chasing after him as Lucas leaves the waiting room quickly. Everyone looks at each other and, in a show of solidarity, Kate walks over.......

And takes Sami's hand, as both women tell the other they have to work together....

To bring Lucas home. The scene freeze-frames on these two adversaries holding hands........as it slowly fades to black.

ON THE NEXT SALEM LIVES...

SALEM GATHERS TO MOURN FRANKIE!!!
THIS WEEK'S PROMO:
ANNOUNCER:
LAST WEEK...
Clip of Greta crying on a lifeless Frankie's chest and of Stephanie comforting a distraught Kayla.

TRAGEDY ROCKED SALEM...
Greta to Jack:
I don't know how I will get through this.
Kayla to Caroline:
It's like a part of me...a part of me and Steve's love...died with that child.

NOW...THE AFTERMATH...
Steve to Kayla:
I love you. I love you and I think our love is strong enough to get through this.
A tearful Greta wheels up to Frankie's coffin and says:

Greta:
I will never forget you.

THIS WEEK....SALEM MOURNS...
Clip of Frankie's coffin next to a picture of him and clip of Caroline holding a devastated Kayla.

IT'S A WEEK YOU CAN'T MISS!!!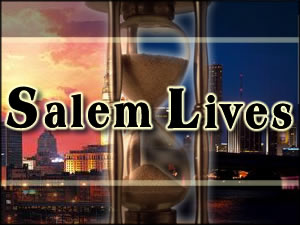 IMPORTANT INFO!!!HELP SAVE DAYS AND SHAWN AND BELLE!!! CLICK HERE TO JOIN THE FIGHT!!!