Cast Lists and Descriptions for The Anderson Family
---
CJ Thomason brings the character of Shawn Anderson to life. Shawn is the baby of the Anderson family. He came to Valley Falls with his brother and mother from Alanville. Back in Alanville, Shawn had a pretty good life, but his parents divorce and subsequent fighting resulted in the move to Valley Falls. Shawn is pretty much the All American Boy Next Door. He means well and is a real sweetheart at heart. He genuinely cares about his friends and loves his family to a fault. He would do anything for those close to him. When he falls for someone, he falls hard and typically fast. He's a real romantic and sometimes even believes to much in romance.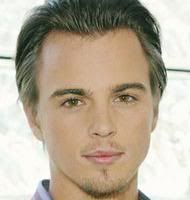 Darin Brooks plays the lovable Seth Anderson. Seth has a lot in common with his brother Shawn, but his life tends to be a little bit more serious. He's been in a long term relationship with Amanda Smith for a few years now, much to Seth's mother's chagrin. Back in Alanville, Seth was very committed to Amanda, but when he moved, he thought they could work through a long distance relationship. He really loves Amanda, but like many young men, he has some doubts about their relationship, which are only amplified by the distance between them. Seth is a good guy at heart, but doesn't always make the best decisions and often times lets his heart get the best of him.
Nancy Lee Grahn stars in The Market as Jenny Anderson. Jenny is a devoted mother who tries to do the best for her family. She thought she had the prefect life back in Alanville, but then her marriage dissolved. Jenny is an accomplished Lawyer and was on the verge of making partner in her former firm, but was passed over. Jenny was looking for a new start in Valley Falls, with a new town and a new house, Jenny very well may find that. Her number one priority is her two sons. She doesn't approve of Seth's relationship with Amanda Smith, and although she will never admit it, their relationship could have played apart in her decision to move. Jenny is a typical "momma bear" and will defend her children no matter what.