No longer going to paraphrase from SOD, sorry ladies and gents.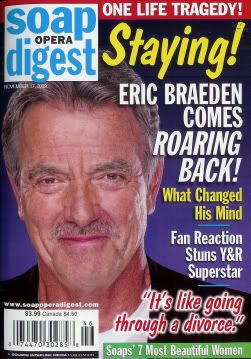 LATE-BREAKING NEWS
Reeves Checks Into GH
Mark Collier's ATWT Return
DAYS: Sami Learns the Whole Truth
OLTL: Mitch's Return Brings Tragedy
Carly Chases Jack on ATWT
Chloe Confesses Her True Fellings to Chance on Y&R
B&B's Bill and Katie Head Down the Aisle
AMC's Madison: She's Alive!
HOT PLOTS PREVIEW
GH: Claudia's Aftermath
AMC: Amanda Sleeps with David!
Y&R: Phyllis Threatens Patty
DAYS: Hope Wants To Go Home
EDITORS' CHOICE:
Birth Announcement, DAYS
PERFORMER OF THE WEEK:
Colleen Zenk Pinter (Barbara, ATWT)
FEATURE INTERVIEWS:
Bridget (Bold and Beautiful) , Ex-Becca (AMC), Lulu (GH)