Odd occurrence: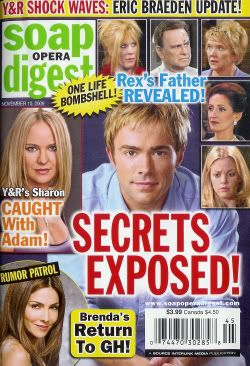 LATE-BREAKING NEWS
Budig, Consuelos, Ripa Return to AMC
Bonner Rides Into AMC
DAYS: Sami and Rafe Reunite!
Guza Addresses GH Shake-Ups
Y&R's Nick Plots to Keep Adam Away From Sharon
ATWT: Carly Returns!
AMC's Adam and Annie Wed!
Sarah Brown on B&B Debut
HOT PLOTS PREVIEW!
ATWT: Lily and Holden: Over
OLTL: Kim Goes After Clint!
Y&R: Chloe Makes Her Choice
DAYS: Hope/Carly Showdown
EDITORS' CHOICE:
Stormy Return, ATWT
PERFORMER OF THE WEEK:
James Scott (EJ, DAYS)
FEATURE INTERVIEWS:
OLTL's Nora and Bo, ATWT's Maddie