I don't think GL is getting a cover.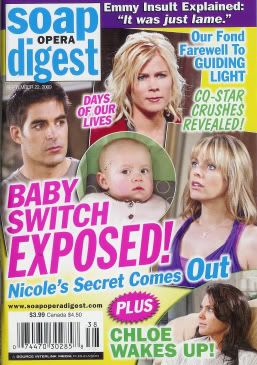 LATE-BREAKING NEWS
Backstage BUZZ! (from the Emmy's; Gina T. is in preliminary talks to join Y&R)
Damon Joins the Mob - on ATWT! (Stuart Damon)
DAYS: Chloe Wakes Up!
GL: Emmy Tribute Controversy
GH's Nikolas and Liz Have Sex
OLTL: Rex Proposes to Gigi!
Y&R's Ashley Tells Victor That She Hit Nikki
Dance Fever on AMC
B&B's Eric to Adopt Marcus
HOT PLOTS PREVIEW
B&B: Bill and Katie Have Sex
ATWT: Lily and Damian Do, Too (have sex that is)
Y&R: Victoria Tells J.T. that She Slept with Deacon
OLTL: Fish Comes Out to His Parents
EDITORS' CHOICE:
Family Ties, ATWT
PERFORMER OF THE WEEK:
Crystal Chappell (Olivia, GL)