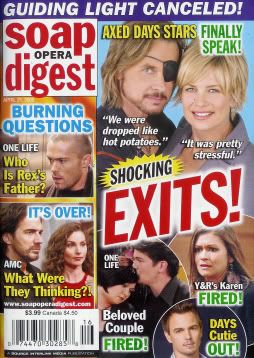 LATE-BREAKING NEWS
Jill Contract Drama on Y&R
GUIDING LIGHT Canceled!
OLTL Axes Two More Actors
Zach and Kendall Divorce on AMC - Pratt says polls show them that 50% of long-term viewers want Ryan and Kendall, so like it or not. I'm thinking he probably only polled himself and Brian. Liza and Zach have no-strings sex, read: in with a bang.
DAYS: Nicole's Wedding Drama
GL: Decision Time For Natalia and Olivia
Y&R's Sharon Has Sex With Nick - Then Is Arrested! - Really hot Picture of them getting it on here.
Shocking Reveals on B&B
OLTL: Who Is Rex's Dad? - OLTL is looking to cast a popular soap vet
Roche on GH Return
HOT PLOTS PREVIEW:
DOOL: Philip and Stephanie Have Sex!
ATWT: Noah Is Nabbed
GL: Edmund Kidnaps Reva's Baby!
Y&R: Billy Kisses Mac!
EDITORS' CHOICE:
Gotcha, DOOL
POTW:
John-Paul Lavoisier and Farah Fath